Back to the list
XMR Technical Analysis: Trading Price Below the Pivot Point of $272 with FIB Resistance Level at $269.51
cryptoknowmics.com
10 August 2021 10:20, UTC
Reading time: ~2 m
---
In 2014, Monero was launched with a simple goal in mind: to allow transactions to take place privately and anonymously so that no one can track them. Even though it is commonly assumed that BTC conceals an individual's identity, it is often possible to trace payments back to their original source because blockchains are transparent. The following XMR technical analysis will predict the price trends for the next two days:
Past Performance
On the 31st of July, the trade for XMR opened at $242.40 and on the 8th of August, it closed at $256.85. During this week, XMR increased approximately by 5.94%. In the last 24 hours, XMR traded between $254.29-$271.75.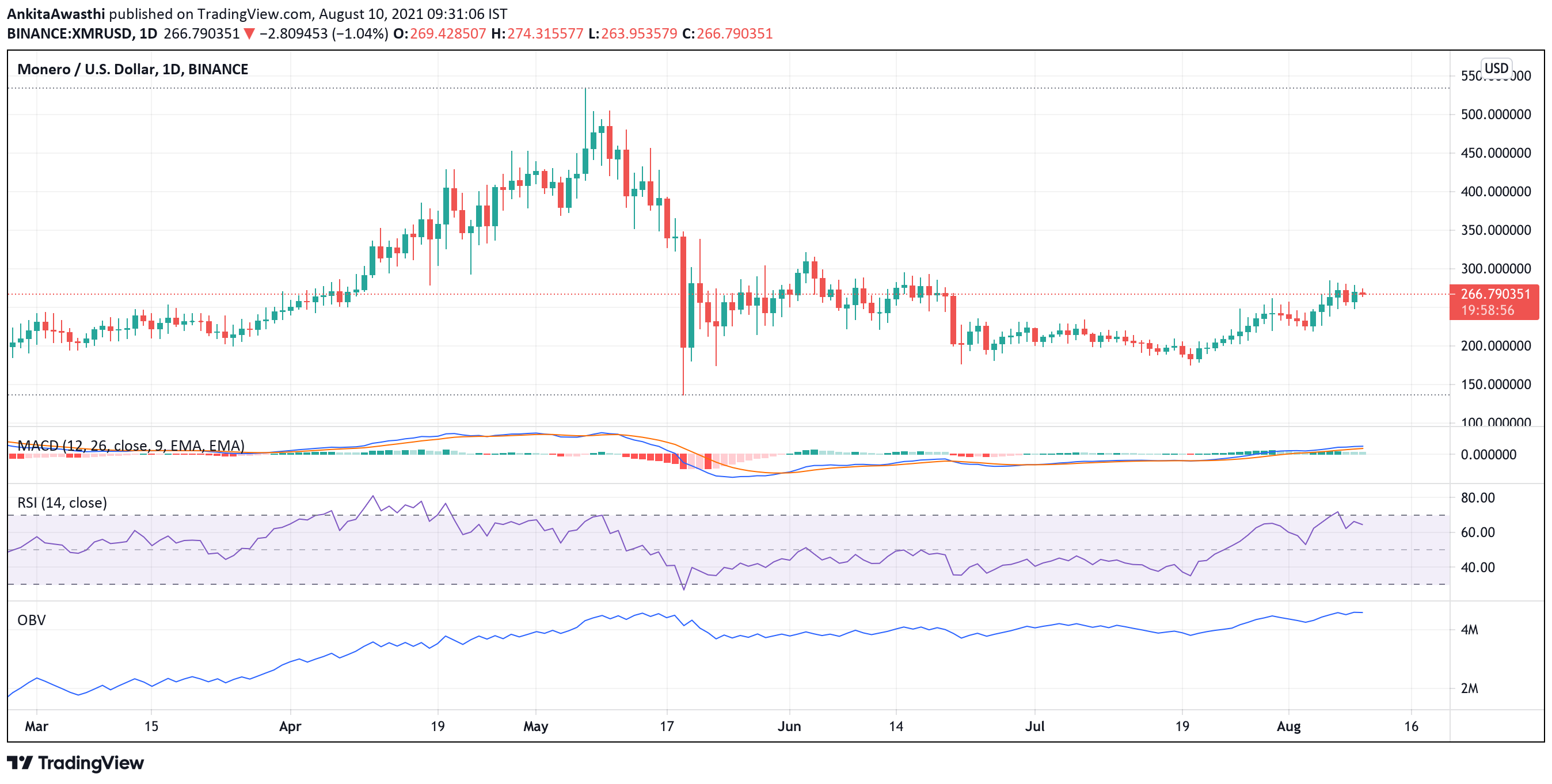 https://www.tradingview.com/x/NmAl0hIC/
XMR Technical Analysis
Currently, the RSI is at 64.48%. It has faced rejection at 66.23% and took a divergence. If the buying pressure continues, the RSI might take support and might take a bullish momentum. The traders shall wait and watch the market as this is an unpredictable zone.
MACD and EMA lines are above the zero range. Indicating a positive market. Moreover, we are witnessing a bullish crossover, therefore, the price is expected to further rise. However, we can not rule out the possibility of a trend reversal.
The current trading price is below the pivot point of $272. The FIB resistance level is at $269.51, there is some time for the XMR price to reach the resistance level. If it breaks the immediate resistance level, we can see a short bull run towards the $285 level.
However, if the price falls, it will take support at these levels of $255.58, $251.27, and $244.31, respectively. Thus, traders can go short after the price breaks these levels.
Day-Ahead and Tomorrow
In the last 24 hours, the price has risen by 4.14%. There has been some glitch reported in XMR which might affect its transaction privacy. This news can affect the buying pressure and might lead to a bearish trend. The traders shall be very careful. The indicators suggest a neutral market for today and tomorrow as well.
---
Source
---
Back to the list