Back to the list
SOL Technical Analysis: The Global Target Is At $75
cryptoknowmics.com
10 August 2021 09:09, UTC
Reading time: ~2 m
---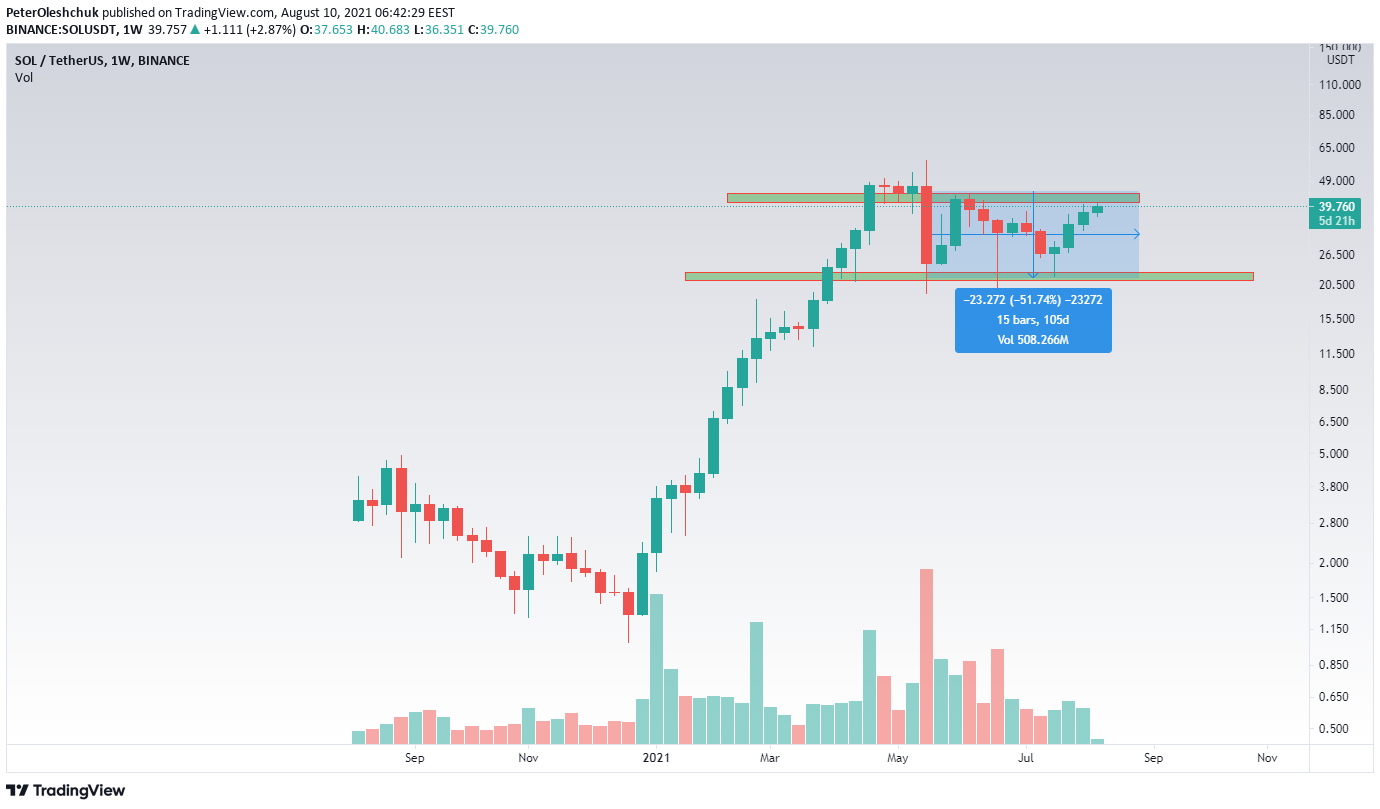 https://www.tradingview.com/x/3Redm2zX/
After the rapid price growth of the Solana project, the market entered a protracted phase of consolidation. For more than 3-months, SOL market participants have been playing ping pong in the 50% range. After repelling attacks from sellers three times in the range of $21.4-$23, buyers began to storm the upper limit of consolidation. In the weekly timeframe, we see that before the May fall, the range of $41.7-$44 served as a support function of buyers. However, after 4-weeks of trying to fix over this range, the SOL collapsed before setting a new all-time high of $58.38.
Technical Analysis of SOL on the Daily Timeframe
The trading volumes through which buyers in the daily timeframe continue the local growth wave is quite low: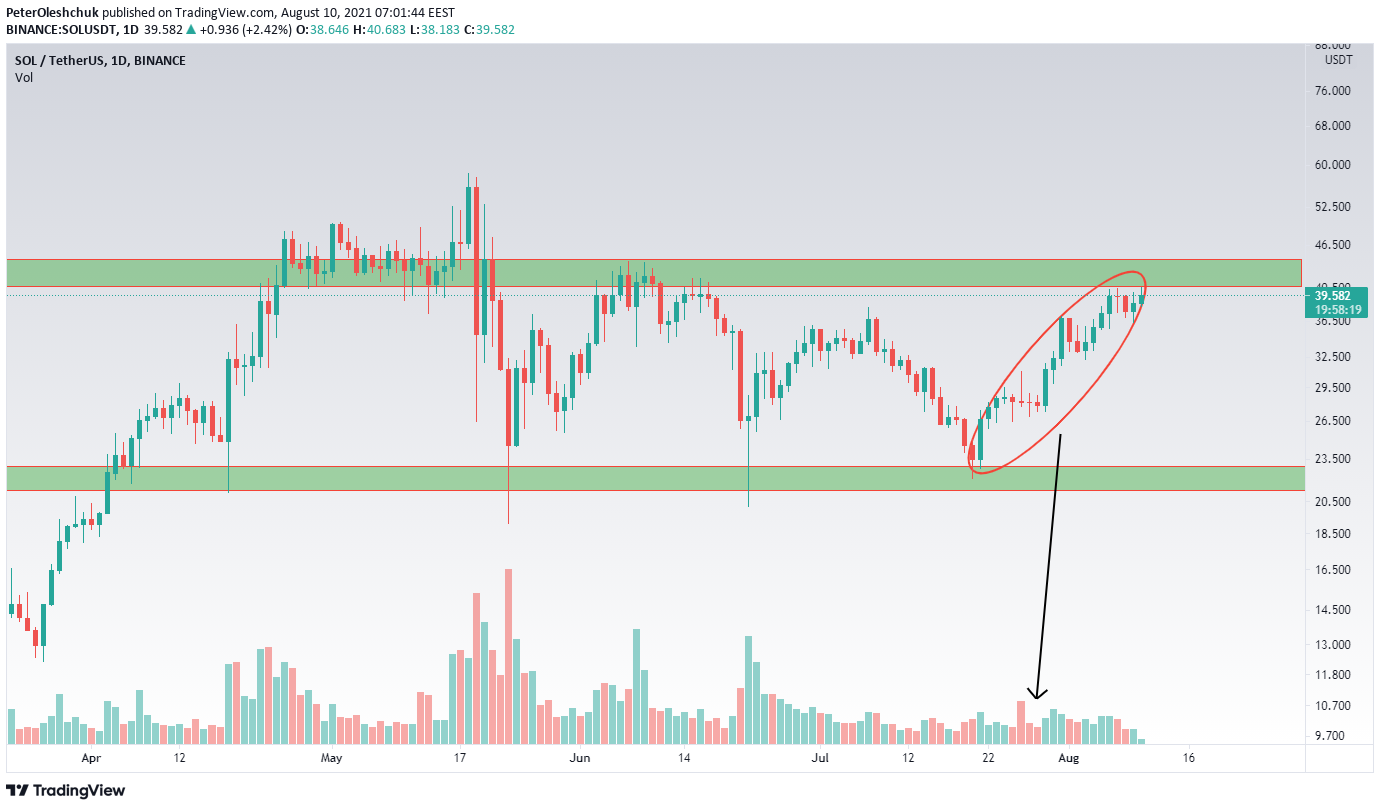 https://www.tradingview.com/x/MUB7tXps/
This fact indicates a high probability of continued movement of the SOL price in the global consolidation. In general, buyers have not yet entered the liquidity zone of $41.7-$44, but are only preparing to storm it. Starting on 7 August, the SOL coin price stopped before the critical range. And it formed a local consolidation to accumulate strength before trying to break the liquidity zone of $41.7-$44.
The BTC market helped this scenario, which has high hopes for continued growth in the range of $48,000-$50,000. Given the fact that the dominance of BTC is not growing, but remains around 47%, the chances of the continued growth of the SOL market are high. Though, in order not to buy SOL at local highs and not to feel discomfort at the beginning of the correction, we should wait for a confident price fixing above the range of $41.7-$44. This fact will open the door for buyers to continue to form a new medium-term growth wave with the first target of $75.
Solana Correction Offers Great Prospects for Continued Growth
Given the fact that after the global growth wave, which brought investors more than 5,000% in less than six months, the correction was only 38.2%, the mark of $75 can only be the first stop.
The critical point for the continued rise in the SOL price within the current attack of buyers is at $36.5: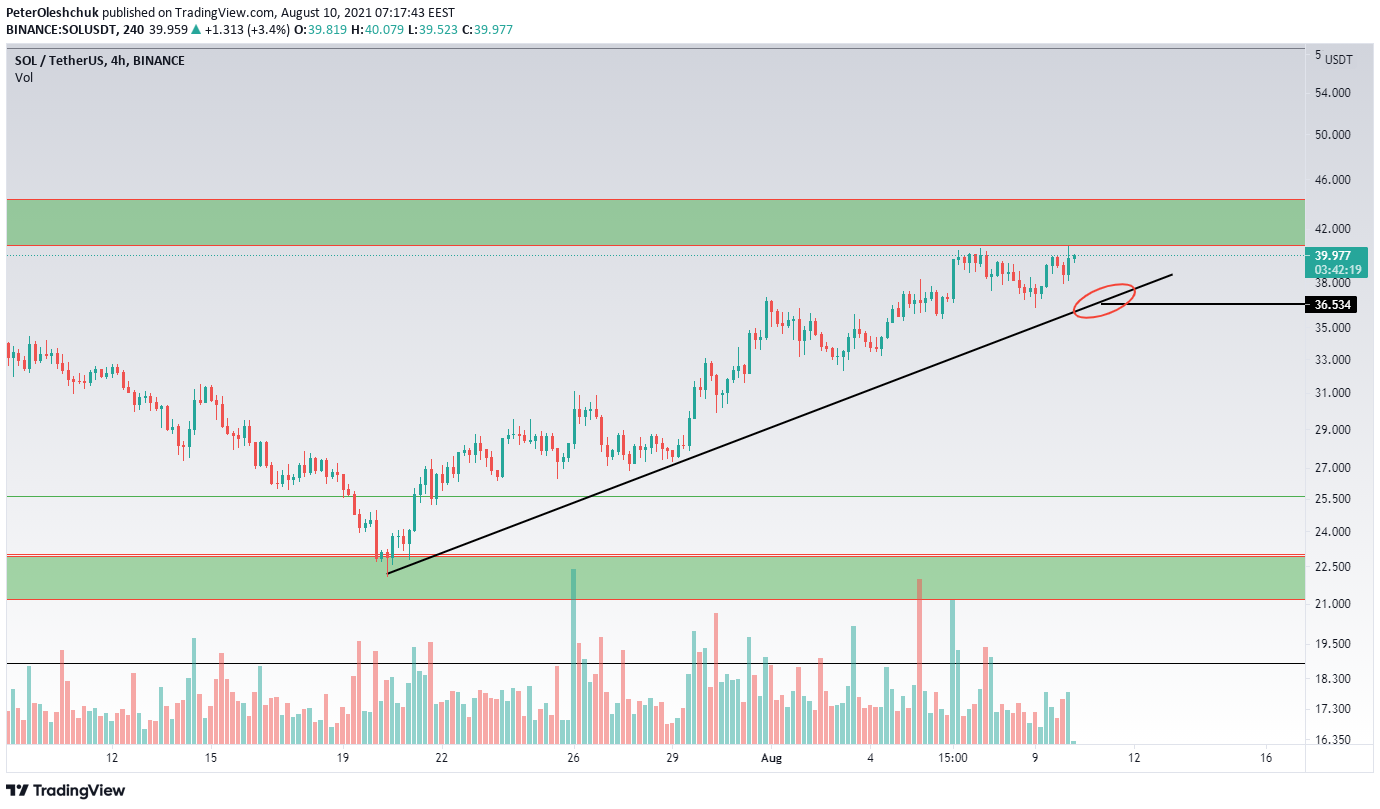 https://www.tradingview.com/x/3D0AhGSp/
In the 4-hour timeframe, we see that below this mark, the initiative will pass into the hands of sellers. In this case,  it is better to wait to buy Solana for at least up to $31.6.
---
Source
---
Back to the list