Back to the list
DGB Technical Analysis: Upsurge of 5.97% in the Price of DGB
cryptoknowmics.com
10 August 2021 08:15, UTC
Reading time: ~2 m
---
Open-source platform DigiByte (DGB) is an asset creation and blockchain technology platform. The DGB token was forked from Bitcoin (BTC) as a fork of the genesis block in January 2014. Development began in October 2013. The DigiByte blockchain and cryptocurrency use five different algorithms aimed to increase the security, capacity, and transaction speed of the Bitcoin blockchain. Let us look at the technical analysis of DGB.
Past Performance
On the 31st of July, the trade for DGB opened at $0.04 and on the 8th of August, it closed at $0.05. During this week, DGB has increased by approximately 25%. Thus, indicating high volatility in the market. In the last 24 hours, DGB traded between $0.051-$0.056.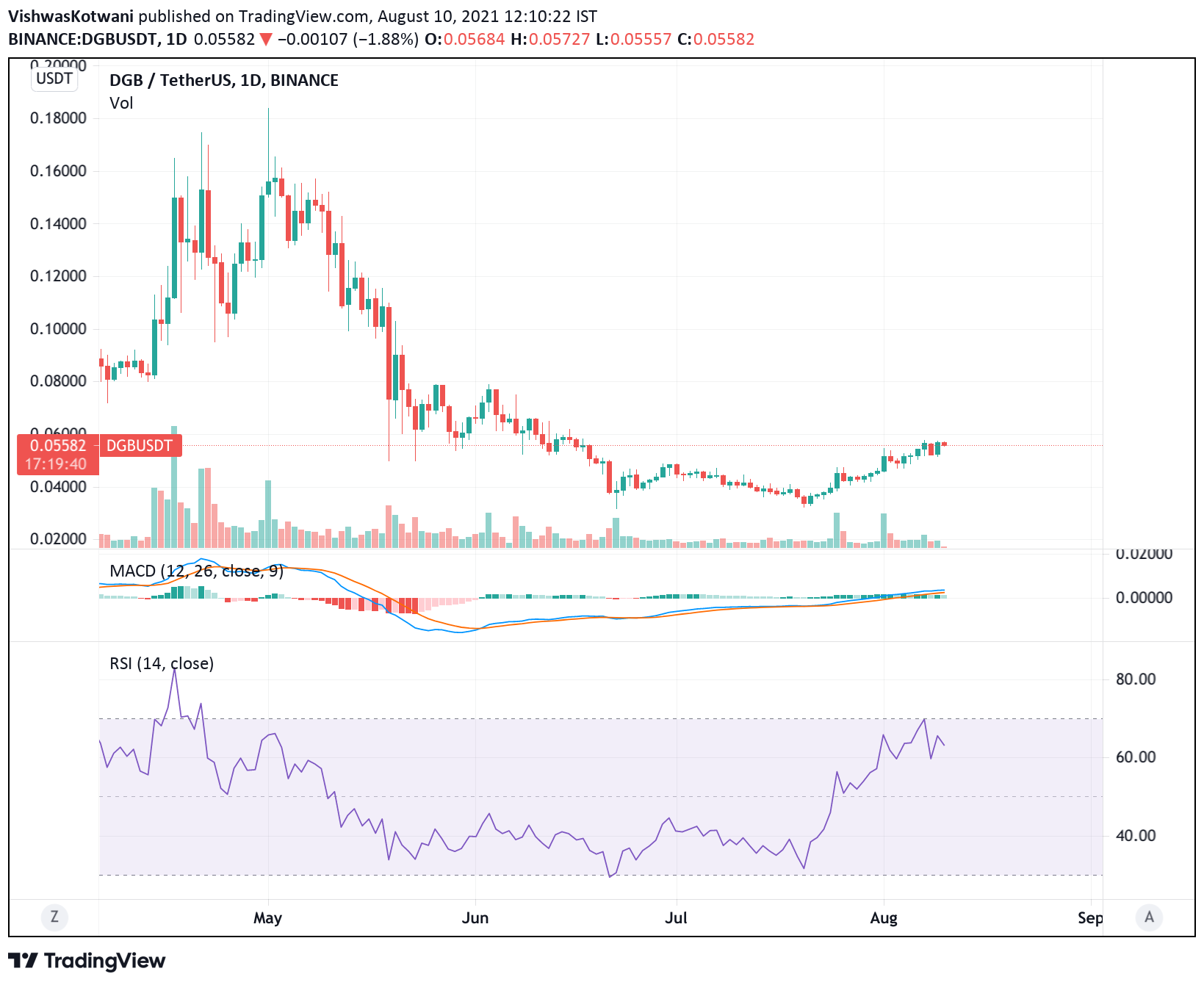 https://www.tradingview.com/x/IqliiKHW/
DGB Technical Analysis
The RSI is currently at 65.34%. The RSI took support at 60.23% and gained a bullish momentum. There is high buying pressure which has pushed the RSI further. We can expect DGB to go overboard at 70. The market indicates a bullish trend. Moreover, the RSI is forming a bullish divergence. We have to wait and watch to see if buying pressure becomes strong enough to bring about a bearish trend reversal.
On the daily chart, MACD and EMA are near the zero range. This indicates that the trend reversal is on the horizon. If it forms a bullish crossover above the zero range, then we can expect the price to further rally.
On the daily chart, OBV is in a constant trend, suggesting that the volume trading is neutral, the pressures of selling and buying are in balance.
The current trading price is below the pivot point of $0.053. The resistance level is at $0.055. If the bullish trend pushes for tomorrow the price might reach the resistance level, if it breaks out of the level it will highlight the next resistance level, which is at $0.057.
However, if it tests and falls below, it will try to gain support at first $0.052 then at $0.051 and $0.0494 respectively.
Day-Ahead and Tomorrow
In the last 24 hours, there is an upsurge of 5.97% in the price of DGB. The indicators suggest a more neutral market. The traders are the key players, if buying pressure continues then we can expect a bullish and vice versa.
The traders must brace themselves for price fluctuations for tomorrow. As the traders' trend will set the market trend for tomorrow.
---
Source
---
Back to the list