Back to the list
ZEC Price Prediction - Technical Analysis
www.altcoinbuzz.io
31 July 2021 16:05, UTC
Reading time: ~3 m
---
Zcash is based on peer-reviewed cryptographic research, and built by a security-specialized engineering team on an open source platform based on Bitcoin Core's battle-tested codebase. 
Zcash payments are published on a public blockchain, but the sender, recipient, and amount of a transaction remain private. It encrypts the contents of shielded transactions. Since the payment information is encrypted, the protocol uses a novel cryptographic method to verify their validity. This has led to an increase in ZEC price.
zk-Snark
Zcash uses a zero-knowledge proof construction called a zk-SNARK, developed by our team of experienced cryptographers based on recent breakthroughs in cryptography. These constructions allow the network to maintain a secure ledger of balances without disclosing the parties or amounts involved. Instead of publicly demonstrating spend-authority and transaction values, the transaction metadata is encrypted and zk-SNARKs are used to prove that nobody is cheating or stealing.
A Better Way to Pay
In addition to using Zcash to pay friends, family and service providers, you can use Zcash at your favorite stores or online merchants.
Zcash for Merchants and Platforms
Merchants, app developers and point-of-sale providers need easy-to-integrate solutions that provide privacy protections for consumers, and audibility at the same time. Zcash was built for this.
Let us review ZEC price.
ZEC Price Prediction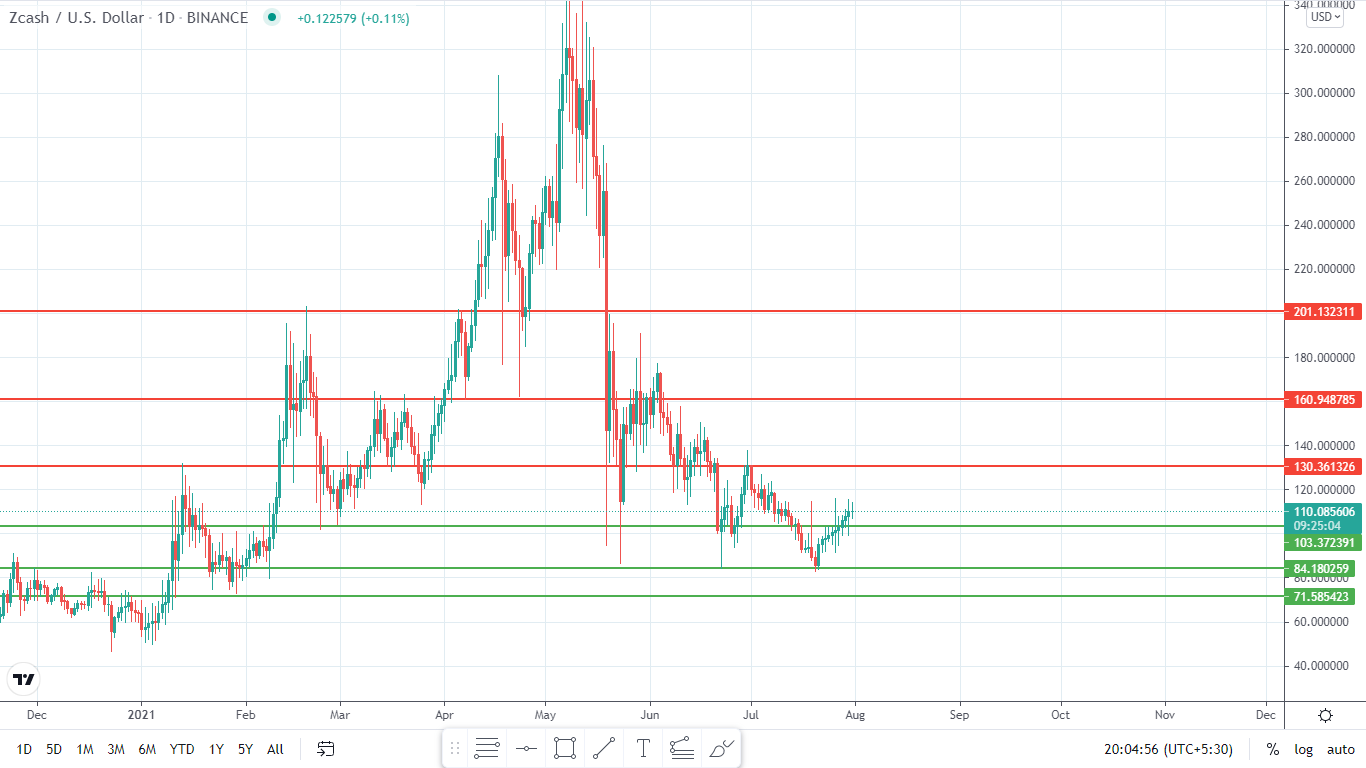 ZEC is trading above the support zone of $103. If it can stay above this support, we could start seeing a move towards $130, $160 and $201. This move may be expected in a short time frame. Failure to hold the support at $103 could lead to a drop towards $84 and $71. These would be good areas to add ZEC for long term spot bags.
Join us on Telegram to receive free trading signals.
For more information on cryptocurrency, visit the Altcoin Buzz YouTube channel.
Images courtesy of TradingView.
Disclaimer
The information discussed by Altcoin Buzz is not financial advice. This is for educational and informational purposes only. Any information or strategies are thoughts and opinions relevant to accepted levels of risk tolerance of the writer/reviewers and their risk tolerance may be different than yours. We are not responsible for any losses that you may incur as a result of any investments directly or indirectly related to the information provided.
Do your own due diligence and rating before making any investments and consult your financial advisor. The researched information presented we believe to be correct and accurate however there is no guarantee or warranty as to the accuracy, timeliness, completeness. Bitcoin and other cryptocurrencies are high-risk investments so please do your due diligence. Copyright Altcoin Buzz Pte Ltd. All rights reserved.
---
Source
---
Back to the list