Back to the list
Dash Price Analysis: Looking to test $100, will it hold?
www.chepicap.com
29 March 2019 16:30, UTC
Reading time: ~2 m
---
Much of the market has been showing some nice growth lately, and Dash has certainly not been left behind. Though the coin saw some rough news earlier this month, the price isn't reflecting it. Currently we are looking poised to test up to $100, a major resistance level for the coin. Will we rise above? Let's look.
Highlights:
- Currently just a couple of dollars away from $100.
- The price has been rejected here before.
- Little resistance above $100 until $140.
- If rejected, probably down to $90.
Looking at the Daily, we can see that not unlike Bitcoin, Dash is in a wedge with rising support and some serious resistance at $100. We can see the rising support is aided by the 50/100 Moving Averages as well. Finally, we can see how there has been some psychological support in increments of roughly $10 below us (as in $90, $80, etc).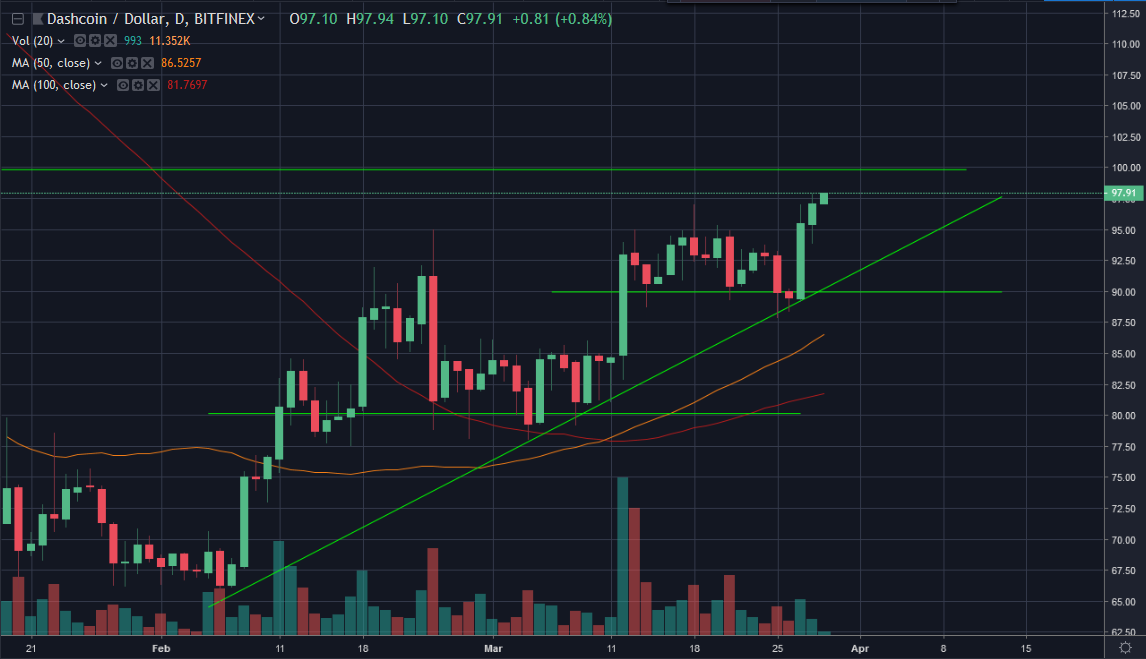 Zooming in to the 4 hour, we get better resolution on the support levels. We can also see the 50/100 MAs are about to cross in a bearish reversal, however there is good evidence it will be short lived due to the rising price. One point for concern is relatively low buy volume over the last several hours.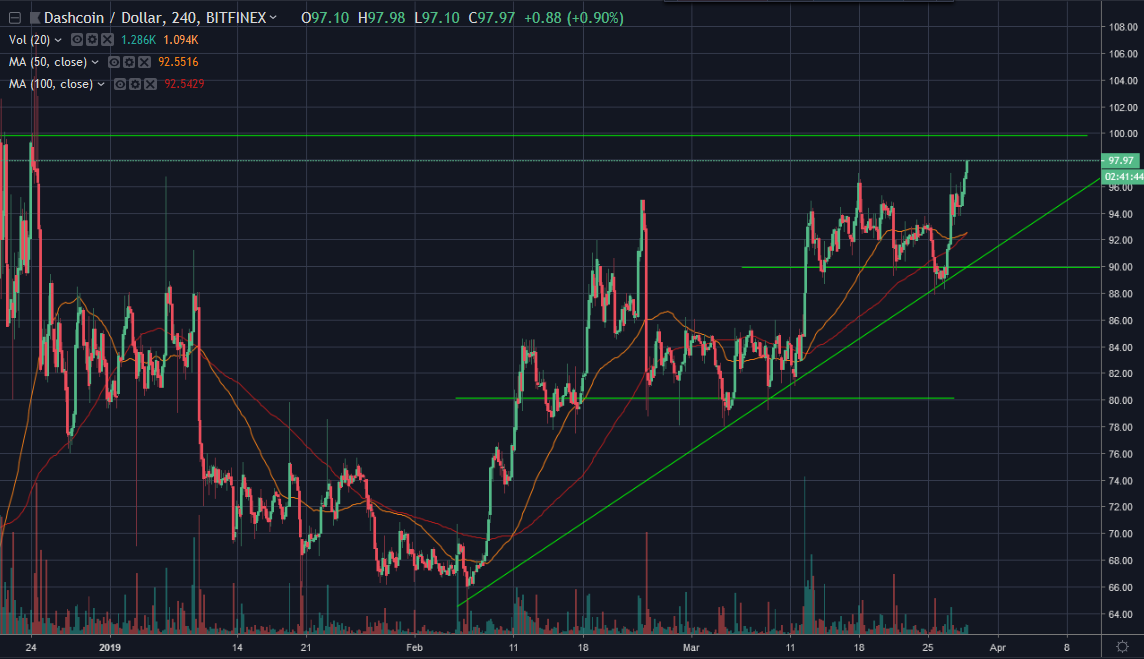 Bull Scenario:
The price pushes through $100, and since there isn't much resistance above, it's hard to say where it will stop. It is reasonable to assume we could lose momentum around psychological $110, but the TA isn't very clear.
Bear Scenario:
We get rejected off of $100 and then our most likely target is down to $90. Further drops are possible, but $90 is showing pretty solid historical support.
Much of the market is in a similar place right now, with many coins testing major resistance levels. Dash has been one of the stronger Altcoins as of late, so it may have the strength to get above resistance. In any event, stick here with Chepicap for all price action updates!
Read more: Dash CEO claims "Bitcoin (BTC) won't survive long-term"

---
Source
---
Back to the list