Back to the list
XRP/USD Price Analysis: Token awaits transition of consolidation into breakout
ambcrypto.com
14 March 2019 11:30, UTC
Reading time: ~2 m
---
XRP community has seen massive developments in the past two days as Xpring partnered with Forte Platform, Binance's Trust wallet added XRP, and Blocktrade.com added XRP. Apart from the above, Tsinghua University Institute launched Ripple's UBRI program, Pay Global decided to integrate XRP into their roster, SIX Group announced that they will offer XRP ETP.
However, the price of XRP was at $0.3167, while the market cap hovered at $12.8 billion, at press time.
1-hour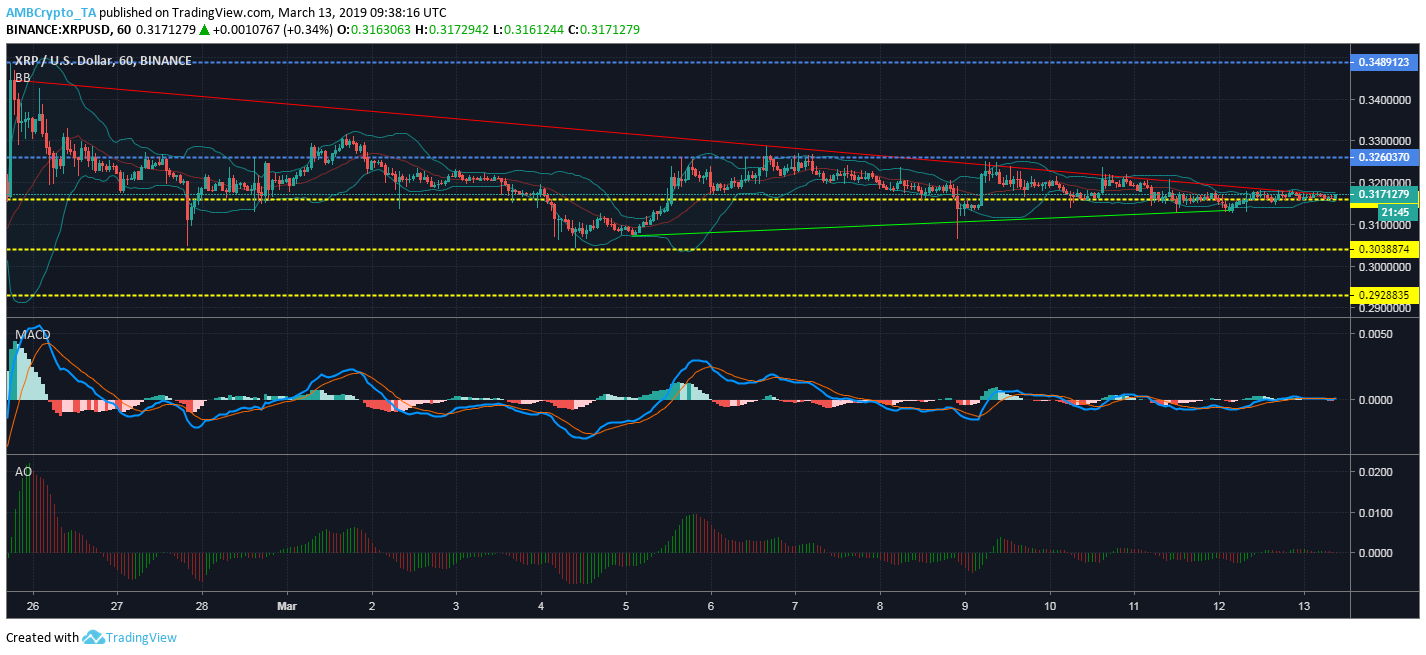 Source: TradingView
The one-hour chart for XRP showed a dominant downtrend that extended from $0.3445 to $0.3171, while the uptrend ranged from $0.3072 to $0.3134. The price was hugging the support at $0.3160. Resistance points were seen at $0.3260 and $0.3489.
The Bollinger Bands were undergoing a squeeze, indicating that the volatility of XRP was drained out. The prices hung above the simple moving average, indicating the presence of bulls.
The MACD indicator showed the signal and MACD line intertwined, which indicated the tussle between the bulls and the bears.
The Awesome Oscillator showed small histograms of red and green over the zero-line.
1-day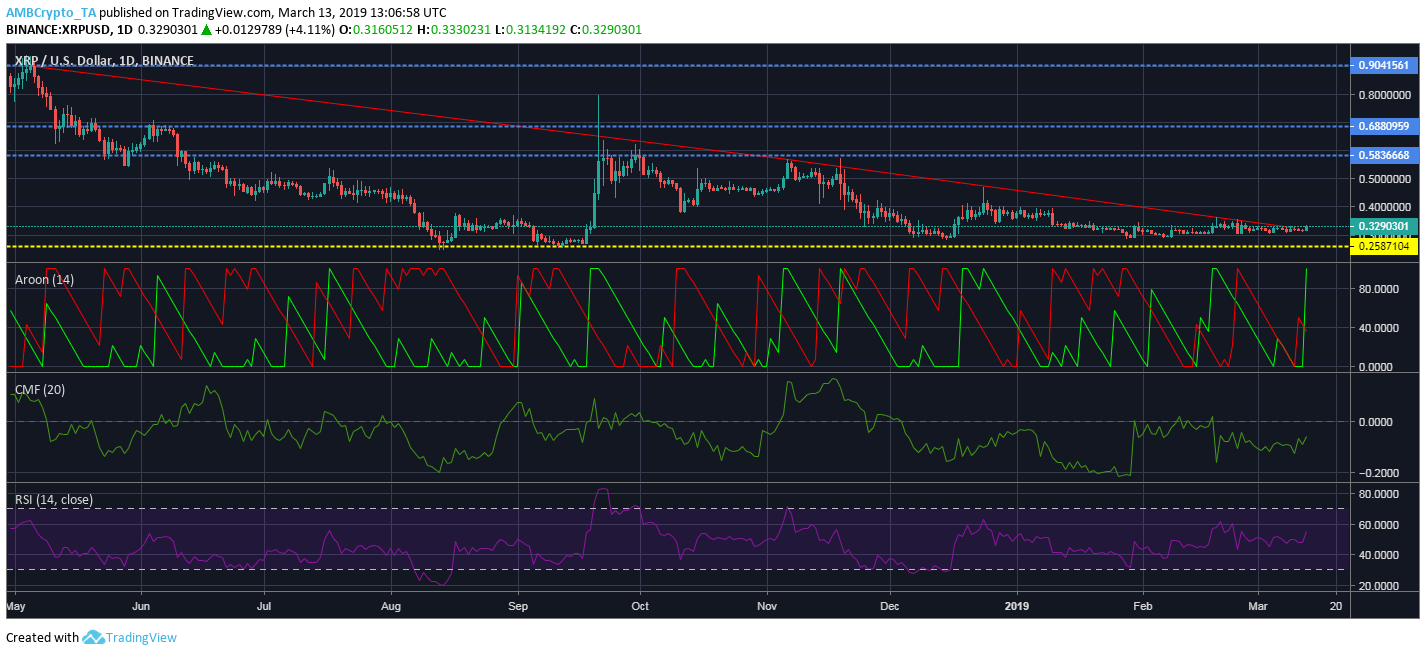 Source: TradingView
The one-day chart showed a dominant downtrend that was progressing since May 2018. It extended from $0.9027 to $0.3257. The support at $0.2587 was holding XRP from dipping further below. Long-term resistance points were seen at $0.5836, $0.6880, and $0.9027.
The Aroon indicator showed a rising downtrend with the uptrend line closing in. The downtrend showed dominion over the uptrend.
The Chaikin Money Flow line showed a sub-zero condition, indicating that money was flowing out of the XRP market.
The Relative Strength Index showed a balance between the momentum of sellers and buyers.
Conclusion
The one-hour chart showed a fight between the bulls and the bears to take control of the price. This was confirmed by AO, MACD, and Bollinger Bands. The CMF, RSI, and the Aroon indicator showed a bearish trend for XRP. However, both the charts showed that price candles were consolidated and ready for a breakout.
---
Source
---
Back to the list