Back to the list
TWT Technical Analysis: Bearish Influence Weakens 100-day SMA 
cryptoknowmics.com
02 September 2022 11:06, UTC
Reading time: ~2 m
---
TWT prices show a power struggle at the 100-day SMA as the selling pressure grows at the 50-day SMA. Will sellers break the support level of 100-day SMA? The bearish breakdown of the symmetrical triangle pattern in the daily chart results in a price drop to the 100-day SMA. However, we see a post-retest reversal from the 50-day SMA challenging the buyers at the 100-day SMA. Hence the possibility of a downturn continuation below the $0.90 mark increases. Key Points:
The TWT prices revert by 10% from the $44 support level.
The RSI slope trends lower below the 14-day SMA.
With a market cap of $419 Billion, the intraday trading volume of TWT has increased by 6.53% to reach $31.3 Million.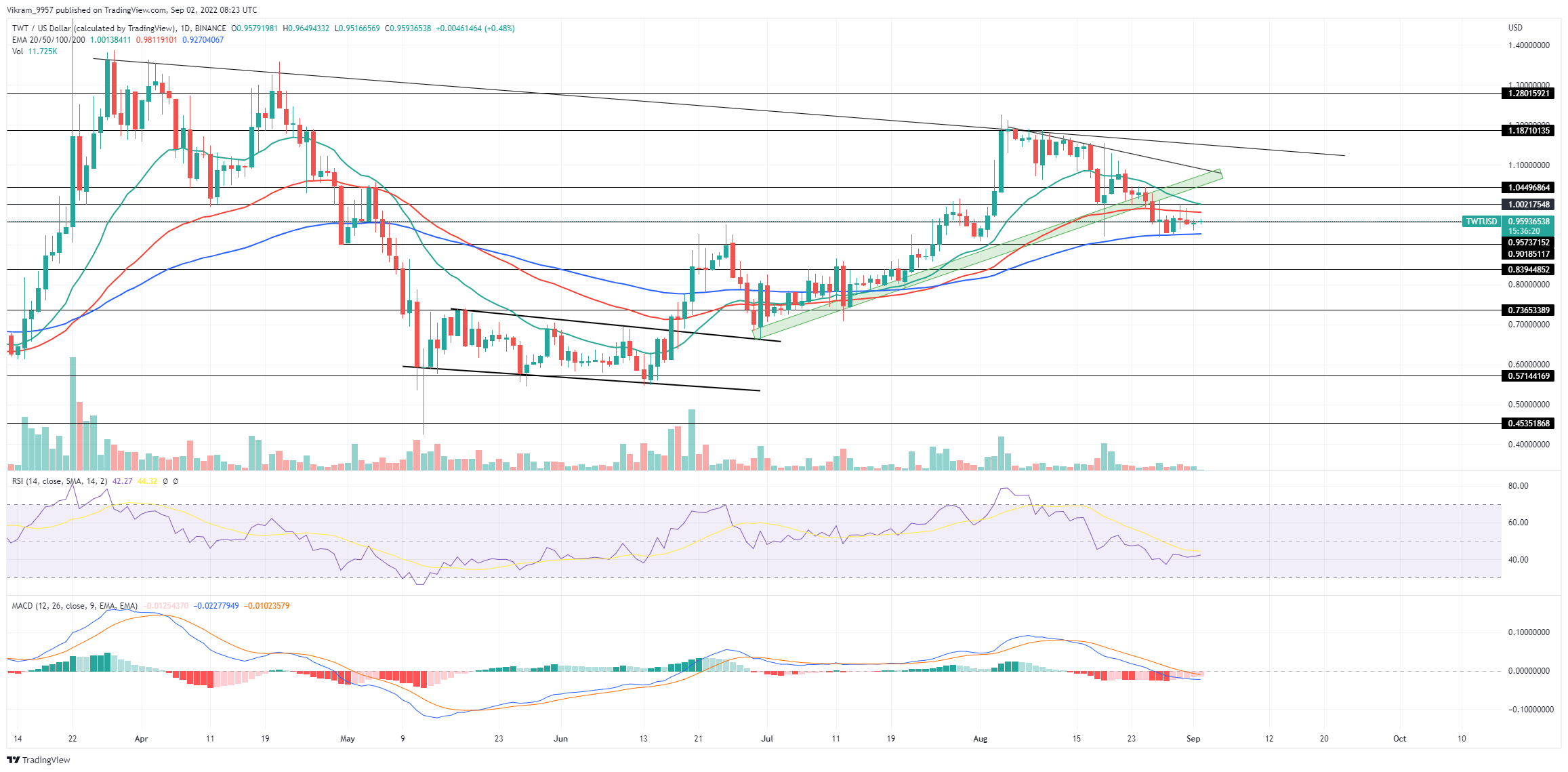 Source- TradingView
TWT Technical Analysis
The TWT prices break below the ascending demand zone in the daily chart to test the 100-day SMA after facing a position at the $1.18 horizontal level. The bearish breakdown rally retains the 50-day SMA before facing higher price rejection, teasing a downtrend continuation. The price action displays a sideways continuation between the 50 and 100-day SMA close to the $0.95 mark. Hence, a breakout of either side will unleash the trapped momentum, giving an entry spot to the sideline traders. A breakdown of the 100-day SMA seems more likely as the selling pressure grows, which will test the $0.083 support level. Conversely, a bullish breakout of the psychological mark of $1.0 will lead to a price jump to the $1.18 overhead assistance.
Technical Indicators
The RSI slope continues a downtrend continuation within the influence of the 14-day SMA but develops a sideways trend in the nearly oversold zone. The MACD indicator Displays a declining trend in the fast and slow lines, but the decreasing bearish gap increases the possibility of a bullish crossover. Hence, the technical indicators reflect a growth in the underlying bullishness retaliating against the new bearish trend. Resistance Levels: $1 and $1.18 Support Levels: $0.90 and $0.83
---
Source
---
Back to the list