Back to the list
SushiSwap (SUSHI) and Avalanche (AVAX) Technical Analysis: What to Expect?
cryptoknowmics.com
22 July 2021 12:16, UTC
Reading time: ~2 m
---
SushiSwap and Avalanche prices posted gains resulting in reversals in the daily chart. AVAX/USDT is steady above $10. On the other hand, SUSHI/USDT could soar towards $10 as buyers take charge.
SushiSwap (SUSHI)
The Uniswap fork, SushiSwap, is one of the most active swapping protocols in Ethereum. Central to their activities is the SUSHI governance token.
Past Performance of SUSHI
The downtrend was evident before the intervention of July 21 when SUSHI prices found reprieve.
As of writing, SUSH is up 12 percent versus the USD with increasing trading volumes.
Even so, there must be confirmation of the double-bar bullish reversal pattern of July 20 and 21 if the W-formation is valid.
Day-Ahead and what to Expect
In all, SUSHI/USDT prices are consolidating inside a broader $5 zone with identifiable caps at $10 and $5, respectively.
Therefore, despite gains and upsurge in trading volumes, sellers are technically in control unless there is a follow-through reversing losses of the past three to four weeks.
Losses below $5 invalidate the uptrend, setting the stage for bears to press the liquidation pedal.
SUSHI/USDT Technical Analysis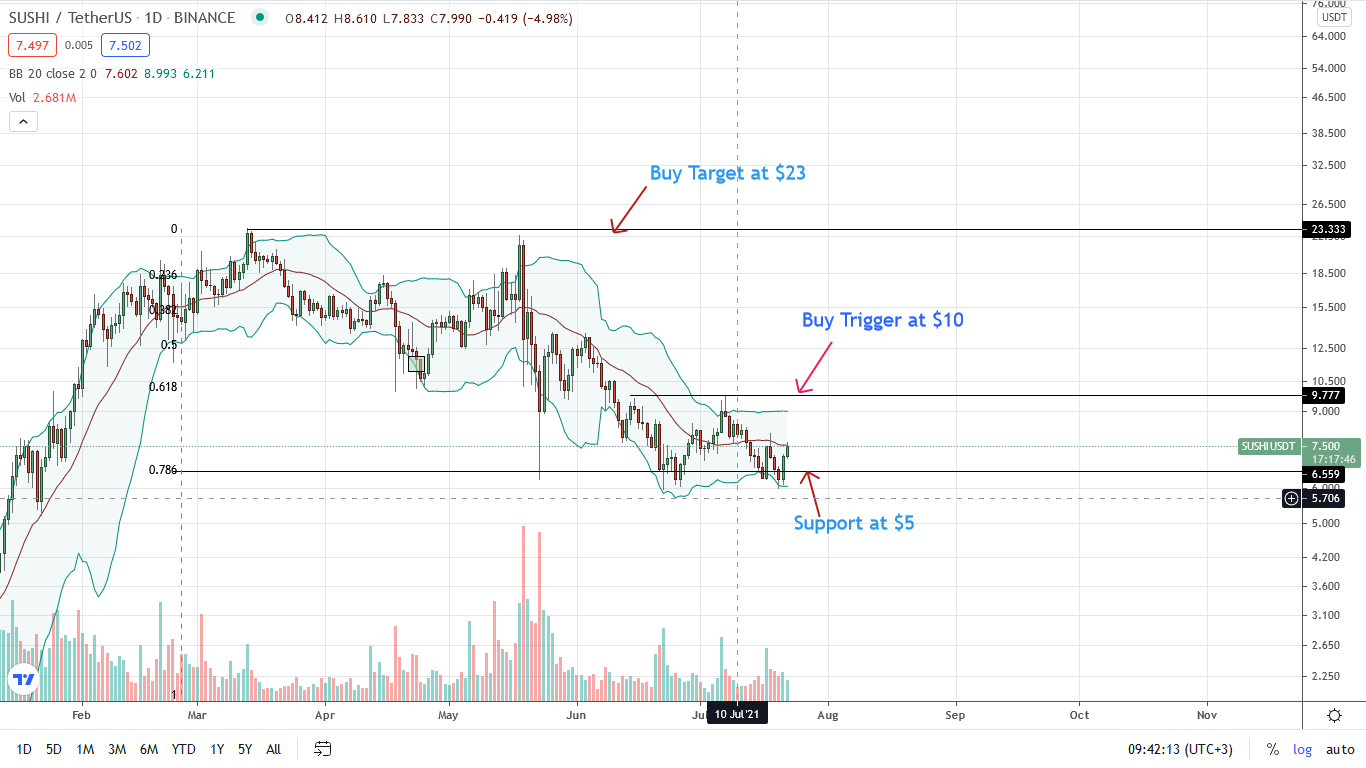 Risk-on traders can take advantage of July 21 gains to double down on dips targeting $10—the main resistance trend line and buy trigger.
If this comes through, resulting upswings will be the base of a W-formation, possibly opening up SUSHI to $23.
On the flip side, unexpected, high volume, and wide-ranging bear bar below $5 nullifies bullish attempts, driving SUSHI to new 2021 lows.
Avalanche (AVAX)
The Avalanche protocol aims to be a global asset exchange, powering DeFi. AVAX is central to operations.
Past Performance of AVAX
Coincidentally, AVAX/USDT has support at June 2021 lows, an exciting development after steep losses of the past few weeks.
Presently, AVAX is up three percent as bulls confirm their presence following July 21 gains.
Day-Ahead and what to Expect
As we advance, how bulls act would determine whether the bear trend is over or traders should be ready for protracted sideways movement.
Critical reaction points in the medium term lie at $10 and $14.
AVAX/USDT Technical Analysis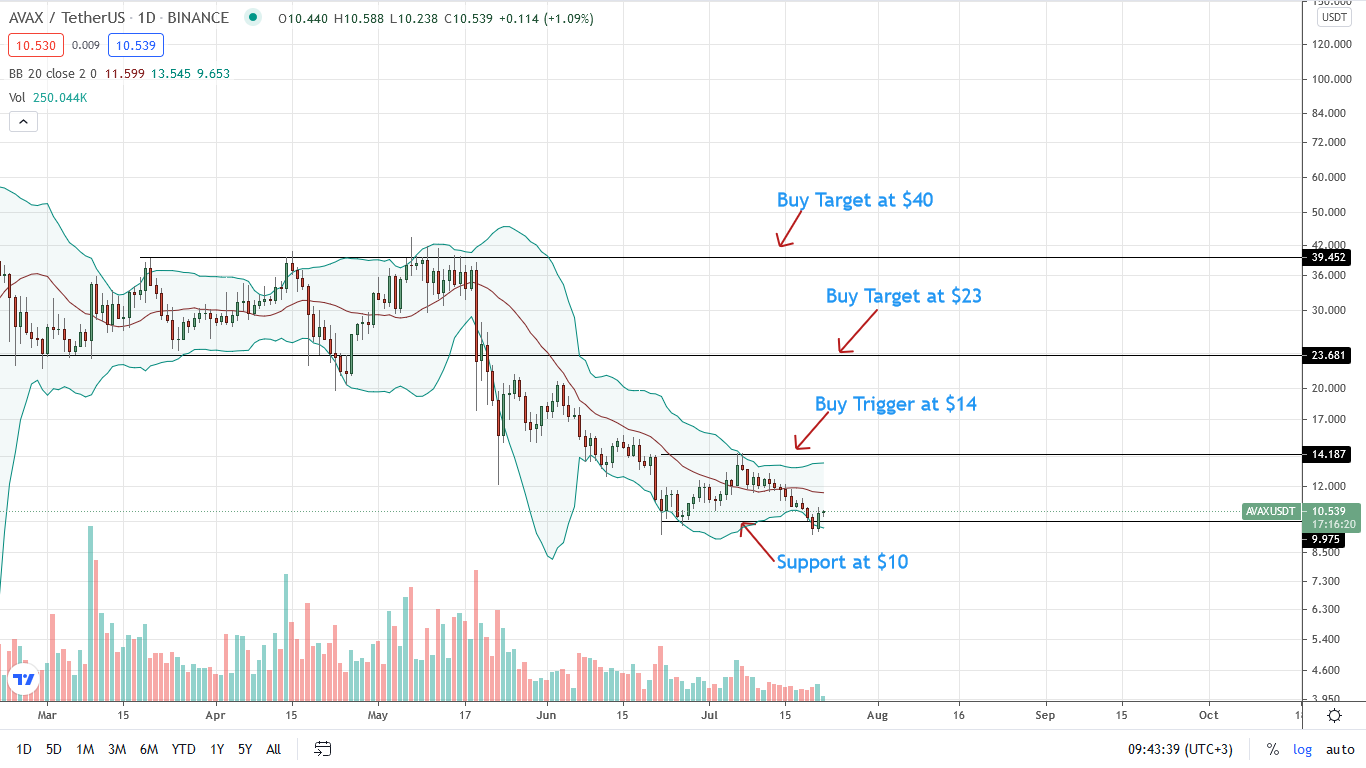 AVAX bulls are flowing back after a superb performance on July 21.
Even so, the medium-term trajectory depends on the reaction at $5 and if there are confirmations of the recent double bar bullish reversal pattern.
In this case, AVAX risk-on buyers can load the dips above $10, targeting $14 in the short term. On the other hand, a correction below $10 could see AVAX/USDT further dump to $5—or worse.
---
Source
---
Back to the list