Back to the list
Chainalysis debunks Bitcoin criminality claims
cryptodaily.co.uk
22 July 2021 12:10, UTC
Reading time: ~3 m
---
The B-Word conference went a long way towards clearing up the usual accusations thrown at Bitcoin, very often by leaders of banks and other financial organisations. In this article, we are covering one of the main allegations - that of Bitcoin as a vehicle for criminal activity.
Philip Gradwell is the chief economist at Chainalysis, the foremost provider of blockchain data to organisations such as government, financial institutions, and cybersecurity companies in over 60 countries.
As Gradwell remarks on opening his lecture: 
"I'm here to address a major myth around bitcoin, and that is that it facilitates criminal activity"
He talks about the "mysterious aura" around Bitcoin, partly due to it being an exciting new technology that was created by an anonymous creator. All anathema for the existing traditional financial system.
Also, he brings up the dark element in cryptocurrency's past of the infamous anonymous marketplace called the "Silk Road". So therefore, the first time that Bitcoin was discussed on a wider level was as a currency for buying drugs and other socially unacceptable commodities of the time.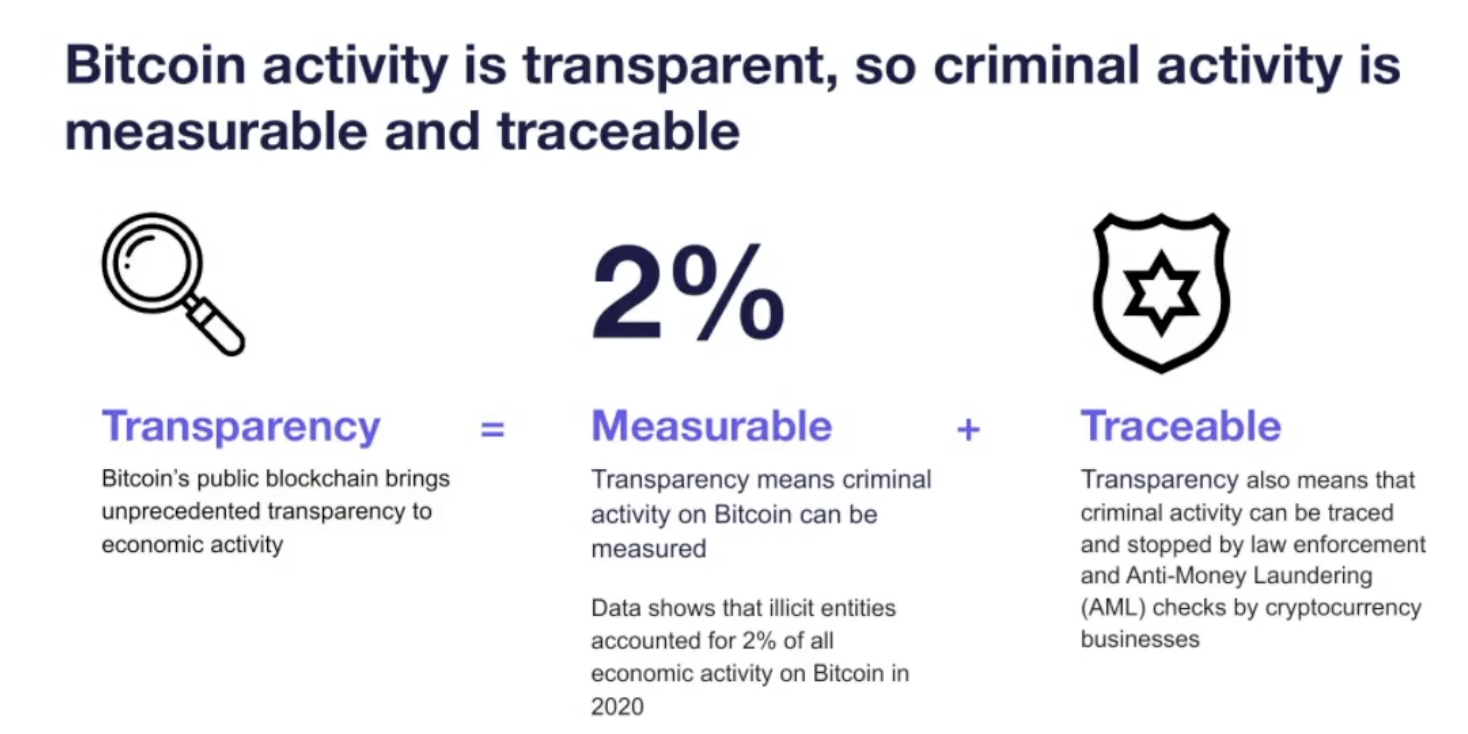 Gradwell stated that there are three facts about Bitcoin that can dispel the myth that it is synonymous with criminal activity. Firstly, that it "brings unprecedented transparency due to its public blockchain", secondly, that because of this transparency, the amount of criminal activity can be accurately measured, and finally, the transparency allows police authorities to trace those responsible for such activity.
Gradwell gives the example of how law enforcement authorities were able to follow the payments of bitcoin on the blockchain and take down a darknet site that hosted the largest child pornography marketplace back in 2019. 
He stated that bitcoin companies around the world were able to carry out anti money laundering checks using the blockchain, that were better than those carried out for fiat currency operations.
"The vast majority of Bitcoin activity is currently trading and investment"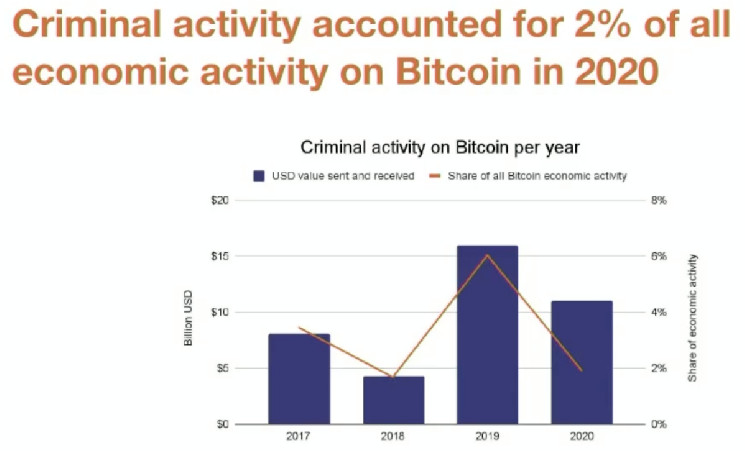 The economist remarks that the $10 billion figure for criminal activity on Bitcoin in 2020 does look quite big, but that it pales in significance when you compare it to what takes place on fiat currency. Also, he states that the criminal activity taking place on fiat is incredibly difficult to quantify given the opaque nature of the banking system.
Gradwell goes on to elaborate on the types of illicit activity that are carried out on the bitcoin network. He points out that most of the activity revolves around scams and darknet markets, and an increase in ransomware last year. He said that educating new investors on how scams work, and the marketing of genuine, regulated investment opportunities would help.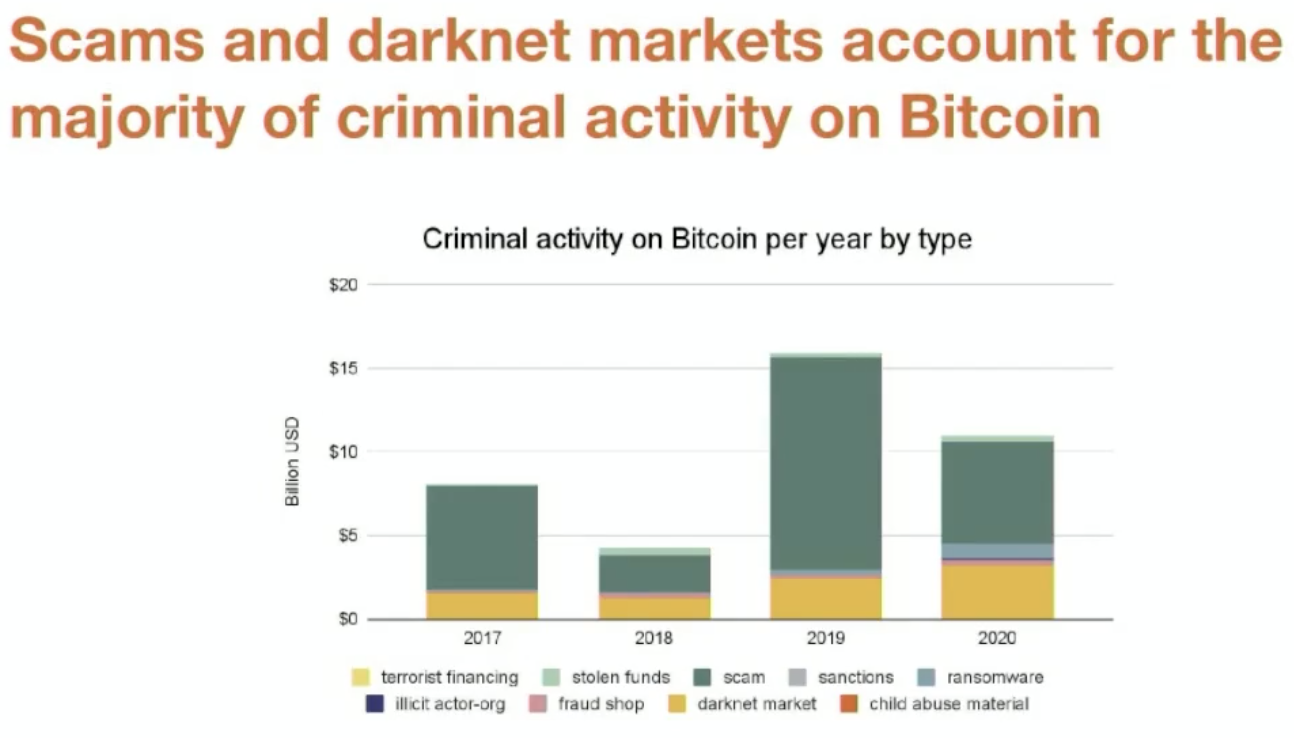 "Criminal activity has been successfully tackled by law enforcement in many cases."
Gradwell explained how difficult it was in the fiat world to follow the money trail when getting bogged down with shell companies and attempting to enter jurisdictions where the data was not accessible. This was not the case when following a trail on blockchain where the data was of much higher quality.
"People have the misconception that Bitcoin is not regulated."
Gradwell points out that Bitcoin comes under existing regulatory frameworks and that in recent years far more comprehensive regulations have been built around the asset. 
"The combination of the transparency of the blockchain, the success of identifying and tracing and stopping criminal activity, and the strong regulatory framework, really helps reduce the amount of illicit activity on Bitcoin."
Disclaimer: This article is provided for informational purposes only. It is not offered or intended to be used as legal, tax, investment, financial, or other advice.
---
Source
---
Back to the list
Similar news