Stack is the layer-1 blockchain solution that is designed to build Decentralized Applications (DApps). These can be brought into bitcoin to make it more secure and safer. It directly connects with the bitcoin blockchain through proof-of-transfer, which makes it easier for the miners to pay in $BTC to mint new STX tokens. Let us look at the technical analysis for STX.
Past Performance
On July 9, 2021, STX started trading at $1.22. As of July 15, 2021, the closing price of STX was $1.26. Thus, in the past week, the STX price has increased by roughly 3%. In the last 24 hours, STX has traded between $1.24 – $1.38.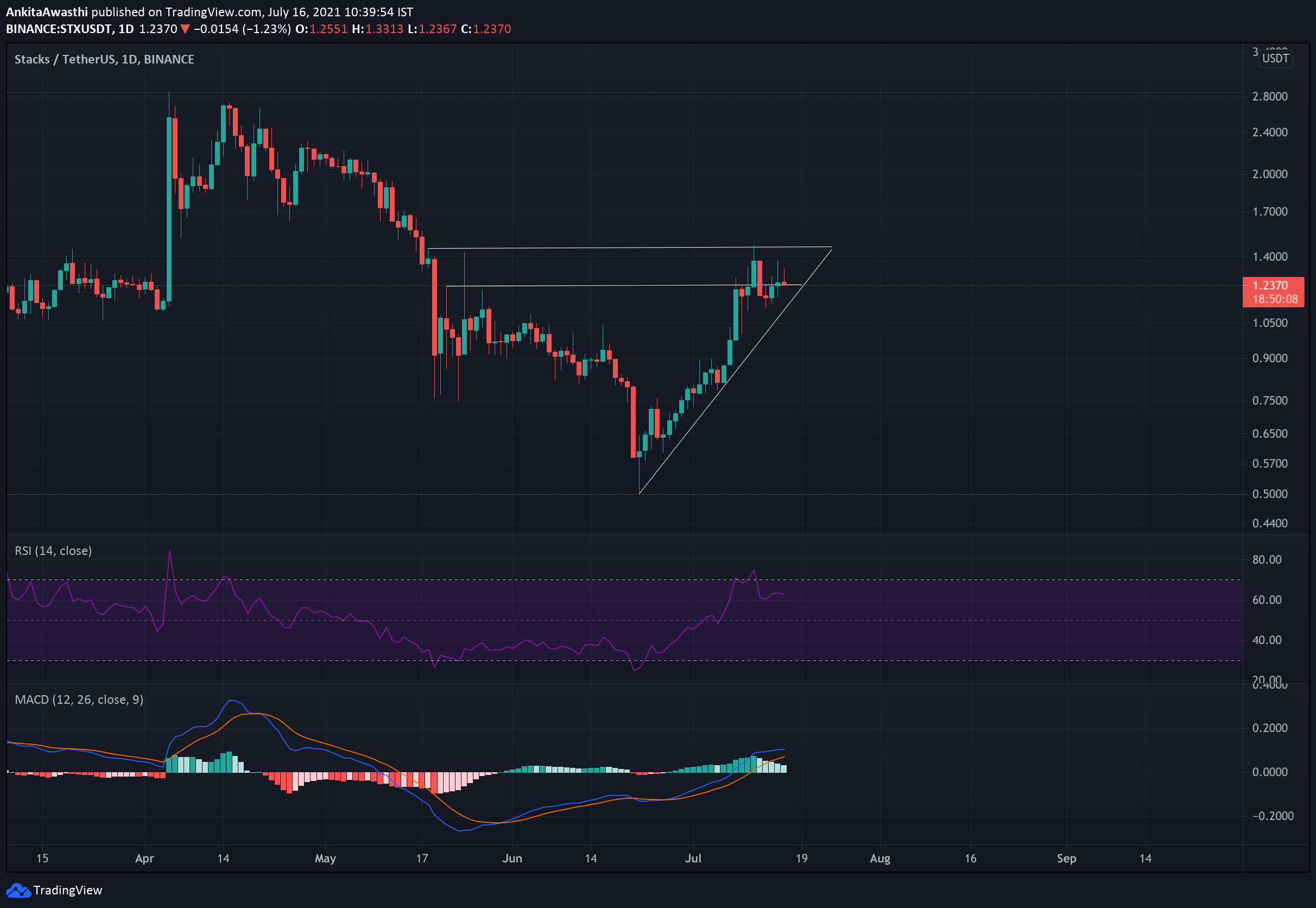 https://www.tradingview.com/x/P2hvlhtg/
Day Ahead And Tomorrow
Currently, STX is trading at $1.24. As the selling pressure is high in the overall market, the price has decreased slightly from the opening price of $1.26. Thus, the market will be bearish for a couple of hours.
However, the MACD and signal lines have crossed the zero range and have entered the positive zone. Moreover, with forming a bullish crossover by the signal line over the MACD line. Thus, the overall market momentum seems bullish, and we can expect the STX price to rise on a daily level. However, both the lines are close to the zero lines and may change signs soon.
Thus, there may be a trend reversal on the horizon. We have to closely watch the immediate support level of $1.23, if a red candle closes below this level, the price will become weak.
The RSI indicator is at 60%. It has been falling and making bearish divergence from the 73% mark. Thus, selling pressure is slowly mounting. Hence, we can expect the price to fall again for a few hours. We have to wait and watch to see if RSI takes the support of this level and starts rising again.
STX Technical Analysis
The price has fallen below the Fibonacci pivot point of $1.23. As some of the oscillators have shown bearish signals, we can expect the price to fall below the first Fibonacci pivot support level of $1.09 soon.
The price has tested and fallen below the FIB retracement level of $1.46, on a weekly chart. If the price tests and rises above the FIB resistance level of $1.45 in some time, this implies that the buying pressure has taken over the selling pressure and the uptrend in the price is strong. In that case, the traders can take a long position.