Back to the list
Tron [TRX] Price Analysis: Bear attack leaves the coin market bathed in red
ambcrypto.com
25 February 2019 20:30, UTC
Reading time: ~2 m
---
On 24 February, the cryptocurrency market saw a sudden rise and drop in the coin prices and the market appeared to be in the red at press time. TRX, the ninth-largest cryptocurrency in the market, was also painted in red as it noted a fall of 5% over the past day.
At press time, Tron [TRX] was valued at $0.0241 and reported a market cap of $1.6 billion. TRX noted a 24-hour trading volume of $1.68 billion while noting a fall of 5.91% over the past day. The coin plunged massively in the bear attack and fell by 1.68% fall in an hour, at press time.
1-hour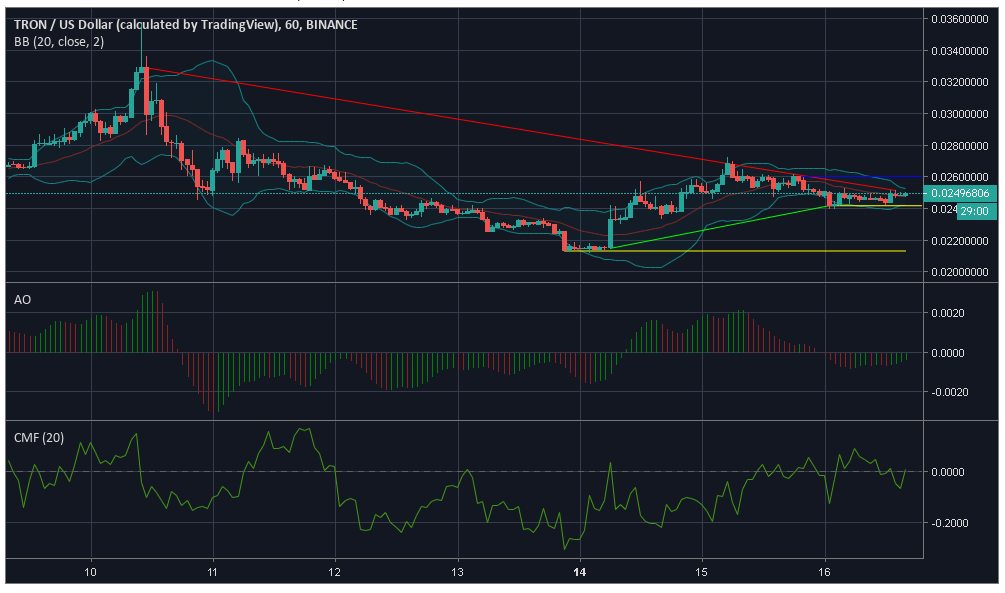 Source: TradingView
The one-hour chart for the coin showed a downtrend from $0.0248 to $0.0237 after which it noted an uptrend from $0.0259 to $0.0277. However, the token slumped from $0.0273 to $0.0248 later. TRX drew a resistance at $0.0277 and support at $0.0237.
Bollinger Bands had diverged, but were starting to converge, suggesting reducing market volatility. The moving average line was over the candlesticks, marking a bearish trend.
Awesome Oscillator was pointing towards a weakened bullish trend.
Chaikin Money Flow also indicated a bearish market as the marker line was under the zero-mark.
1-day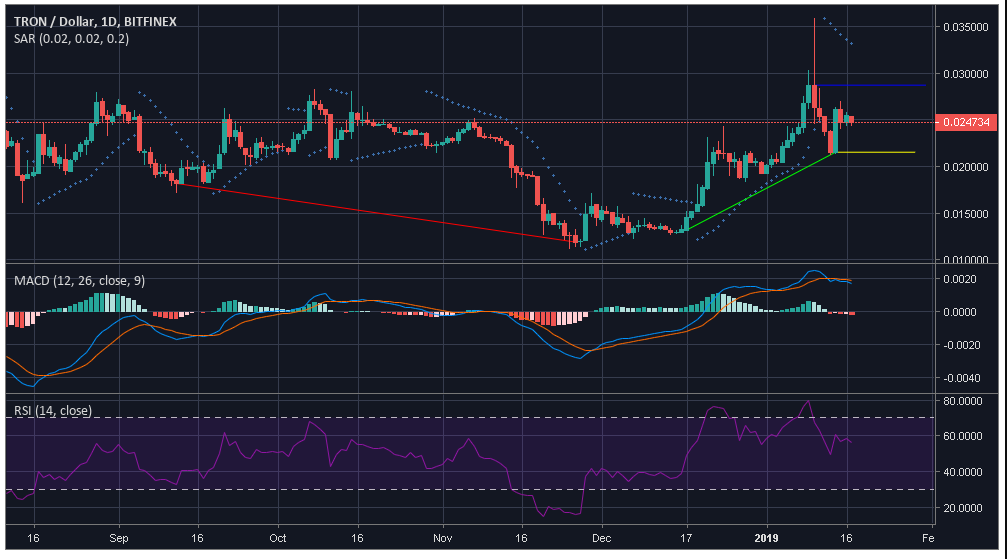 Source: TradingView
The one-day chart for TRX marked a downtrend from $0.0183 to $0.0119, after which an uptrend was noted from $0.0132 to $0.0237. The coin marked a resistance at $0.0294 and a support at $0.0215.
Parabolic SAR indicated a bullish market, as the markers were aligned above the candlesticks.
Relative Strength Index indicated that the buying and selling pressures evened each other out.
MACD line was also under the signal line, indicating a bearish market.
Conclusion
According to a majority of the indicators, including Bollinger Bands, Chaikin Money Flow and MACD, a bearish trend is forecast for the coin. However, Parabolic SAR and Awesome Oscillator predicted a bullish future for the coin.
---
Source
---
Back to the list
Similar news