Back to the list
Bitcoin SV [BSV] Price Analysis: Coin ready for a bull run as markets move steadily
ambcrypto.com
23 February 2019 04:10, UTC
Reading time: ~2 m
---
The twelfth largest crypto asset listed on CoinMarketCap, Bitcoin SV, has moved at a steady pace. Despite failing to breach the $70.00 resistance, BSV has gained momentum in its valuation.
BSV opened at a valuation of $65.14 and gradually recovered to a high of $66.15 during the day, before falling again.
At press time, Bitcoin SV held a market cap of $1.16 billion at a price of $65.86. The trading volume recorded over the past 24 hours was at $72.38 million with an appreciation of 0.70%.
1-hour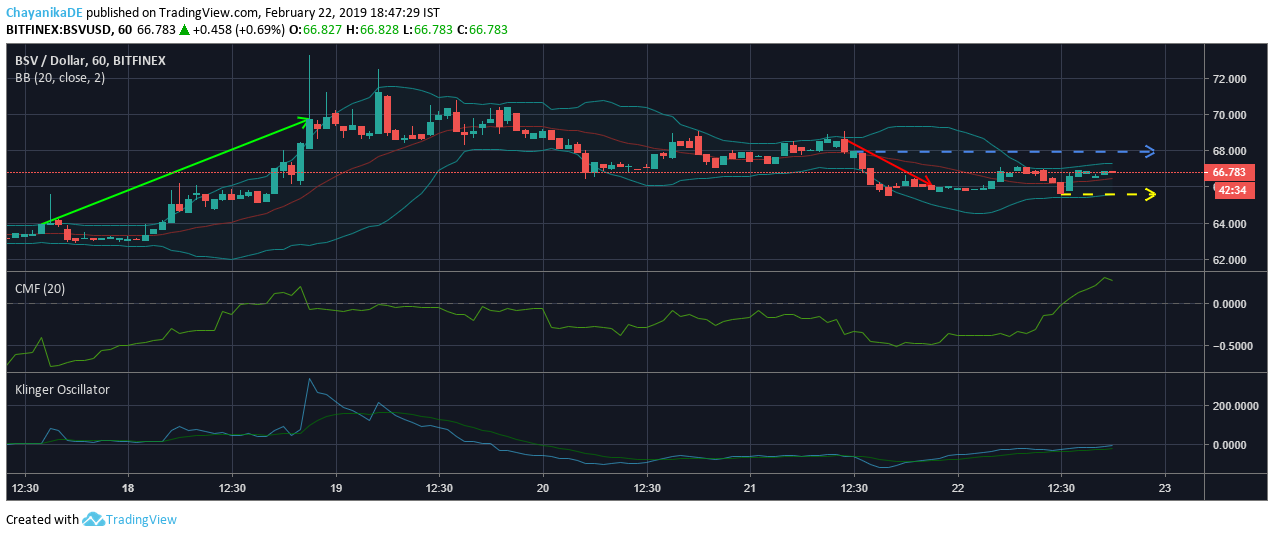 Source: TradingView
A major upward trend from $63.911 to $69.74 and a downtrend from $68.67 to $66.07 has been noted for the hourly chart. The coin is anticipated to break the resistance of $68.00. The support for this chart is marked at $65.56.
Bollinger Bands: The Bollinger Bands exhibit a hint of expansion, suggesting possible price volatility.
Chaikin Money Flow: The CMF graph is well above the zero-level, indicating a bullish run for Bitcoin SV.
Klinger Oscillator: The reading line is above the signal line, further suggesting a bullish trend.
1-day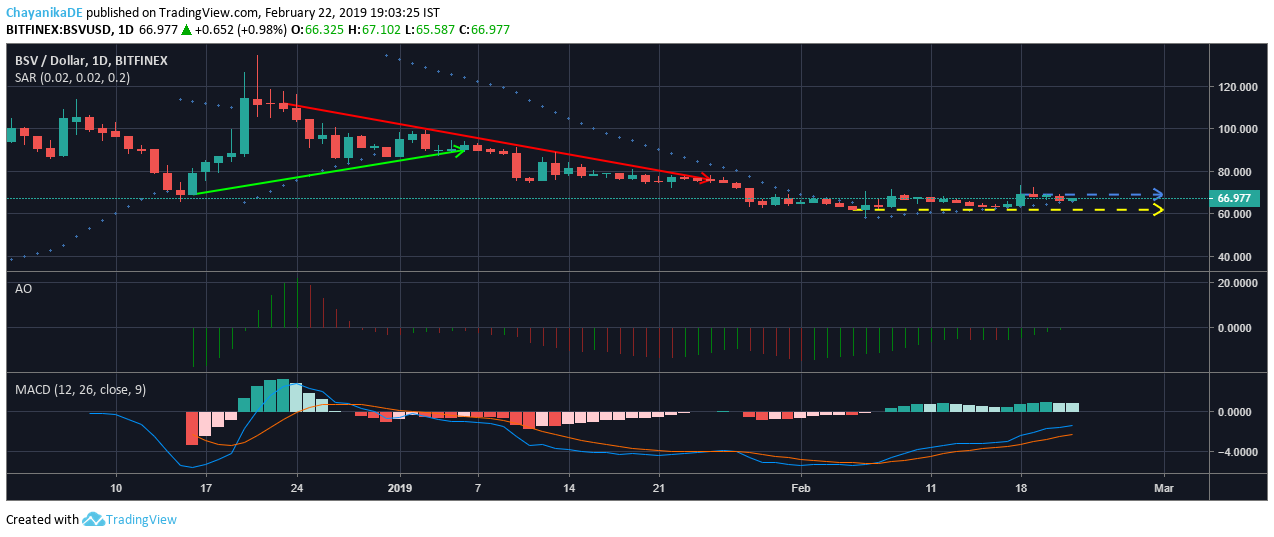 Source: TradingView
According to the one-day chart, an uptrend from $68.68 to $90.07 and a major downtrend from $112.06 to $76.40 has been registered. The immediate resistance is marked at $68.87 and the support is holding strong at $61.71.
Parabolic SAR: The dotted lines oriented below the candles exhibit an optimistic bullish pattern for the coin.
Awesome Oscillator: The lines turning green on the AO further indicate that the coin's price is being led by the bulls.
MACD: The MACD line treading above the signal line also suggests BSV's price momentum following a bullish trend.
Conclusion:
All the indicators, CMF, KO, Parabolic SAR, AO and MACD indicate that the coin is heading for a bullish run with a slight hint of volatility.
---
Source
---
Back to the list