Back to the list
MANA Technical Analysis: Bullish Launch From $1, Eyes 40% Hike 
cryptoknowmics.com
06 August 2022 11:29, UTC
Reading time: ~2 m
---
The MANA prices attempt to beat the selling pressure at the $1 zone to reach the overhead resistance at $1.44. Should you be bullish on this Meta token?
Key Technical Points:
Decentraland (MANA) prices attempt a bullish breakout of the $1.10 mark to unleash the trapped momentum.
The growing bullish influence over the SMAs teases a crossover event between the 50 and 100-day SMA.
With a market cap of $1.95 billion, the intraday trading volume of Decentraland has increased by 11% to reach $287 million.
Past Performance of MANA
As mentioned in our previous analysis, the MANA price action shows a successful post-retest reversal from the broken resistance trendline. The market price halted near the 50-day SMA and reversed the trend with a Morning Star pattern. The reversal trend breaches the 100-day SMA and plans to exit the supply zone at $1. Since the morning star pattern, the market value has increased by 25% over the last 11 days, reflecting an increase in bullish momentum.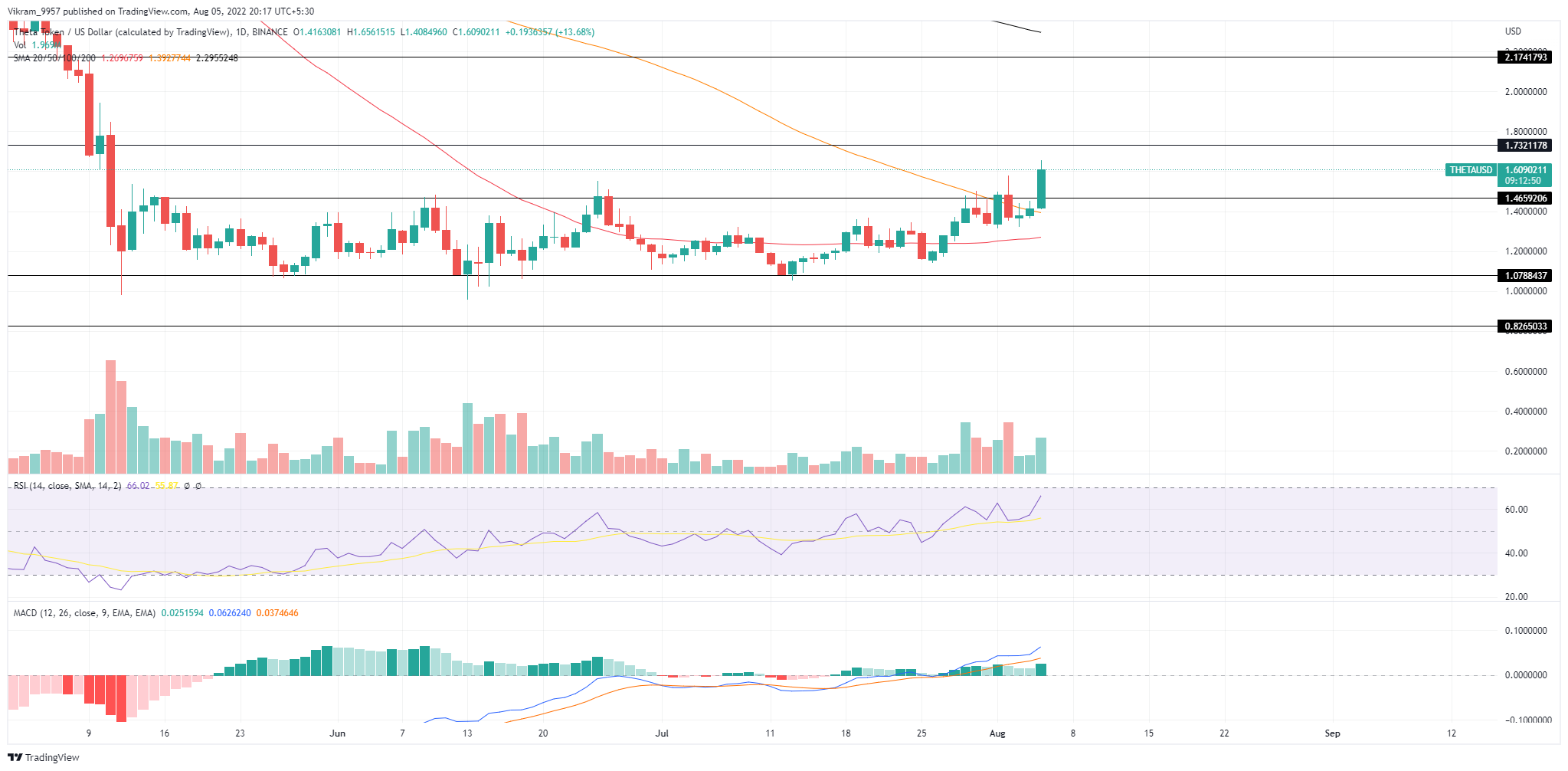 Source - Tradingview
MANA Technical Analysis
The MANA price jumped 7.78% overnight, resulting in a bullish engulfing candle closing near the overhead resistance of $1.10. However, the prices are yet to exceed the supply zone, and traders hoping for a breakout rally must wait for a price action confirmation. The increasing trend momentum grows bullish influence over the simple moving averages, a potential crossover of the 50 and 100-day average line. The RSI slope showcases a gradual diagonal uptrend sustaining in the nearly overbought zone with the support of the 14-day average line. Moreover, the bullish trend of the MACD and signal lines gain spread with a resurgence of positive histograms. Hence the technical indicators reflect an increase in buying pressure and project a potential uptrend continuation. In a nutshell, the MANA technical analysis showcases the technical indicators supporting the price action analysis. Thus, increasing the likelihood of a bullish breakout.
Upcoming Trend
If the MANA price breaks above the supply zone and sustains above $1.10, the breakout rally will likely hit the $1.44 mark. However, if the price trend takes a negative reversal from $1.10, a retracement to the support trendline is possible. Resistance Levels: $1.10 and $1.44 Support Levels: $1 and $0.95
---
Source
---
Back to the list