Back to the list
$XRP Surges 11% to Take 6th Place From $ADA
www.cryptoglobe.com
30 July 2022 18:45, UTC
Reading time: ~2 m
---
On Saturday (July 30), digital asset $XRP is the highest percentage gainer (vs USD) among the top 30 cryptoassets by market cap, which has helped it to overtake $ADA and take 6th place.
BREAKING: $XRP passes $ADA to become the 6th largest cryptocurrency on earth by market cap! 👏🚀

XRP market cap: $19,465,219,025
ADA market cap: $18,429,034,932

— MASON VERSLUIS 🏆🔮 (@MasonVersluis) July 30, 2022
According to data by TradingView, on crypto exchange Bitstamp, at 4:29 p.m. UTC on July 30, the $XRP price hit $0.40954, which is the highest price it has been since June 7. Currently (as of 6:04 p.m. UTC on July 30), $XRP is trading around $0.40357, up 11.16% in the past 24-hour period.

Source: TradingView (24-hour XRP-USD Price Chart)
Source: TradingView (3-Month XRP-USD Price Chart)
On Thursday (July 28), Ripple published its "Q2 2022 XRP Markets Report". These quarterly reports enable Ripple to "voluntarily provide transparency and regular updates on the company's views on the state of crypto markets such as its quarterly XRP sales, relevant XRP-related announcements, and commentary on market developments over the previous quarter."
Regarding Q2 2022 sales and purchases of $XRP, Ripple had this to say:
"Last quarter, total XRP sales by Ripple, net of purchases, were $408.9M vs. $273.27M USD the previous quarter. Ripple has continued to engage in sales solely related to ODL and these volumes have ramped up substantially as Ripple's ODL business expanded globally."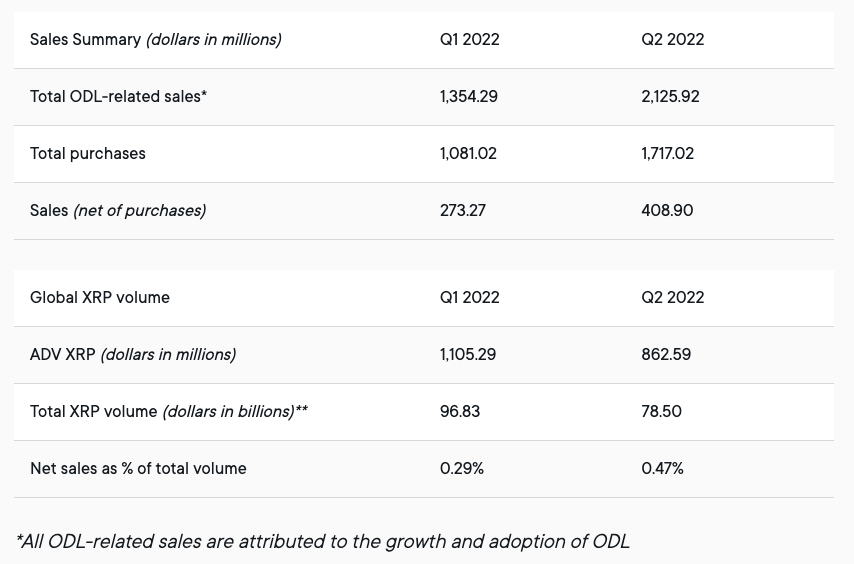 Source: Ripple
Ripple went on to say that it has been "a buyer of XRP in the secondary market and expects to continue to undertake purchases at future market prices as ODL continues to gain global momentum." It also mentioned that "total sales by Ripple, net of purchases, ended the quarter at 0.47% of global XRP volume according to CryptoCompare TopTier (CCTT) volumes."
Image Credit
Featured Image by Andyw1803 via Pixabay.com
---
Source
---
Back to the list