Back to the list
Three Months After A $5 Million Lawsuit, US Rapper, T. I's FLik Token is up 173%
ethereumworldnews.com
08 February 2019 15:30, UTC
Reading time: ~3 m
---
Three months after being sued for $5 million, Rapper T.I's coin, FLik is up 173 percent outperforming the likes of Tron and Binance Coin. Although it is nowhere close to $15, it is better off from the $0.000110 it registered early this week but still far away from the 72 cents it recorded at it peaks in late 2017. Apart from price and the 24 HR trading volumes of $6.65, the coin market cap is up to $22k at the time of writing.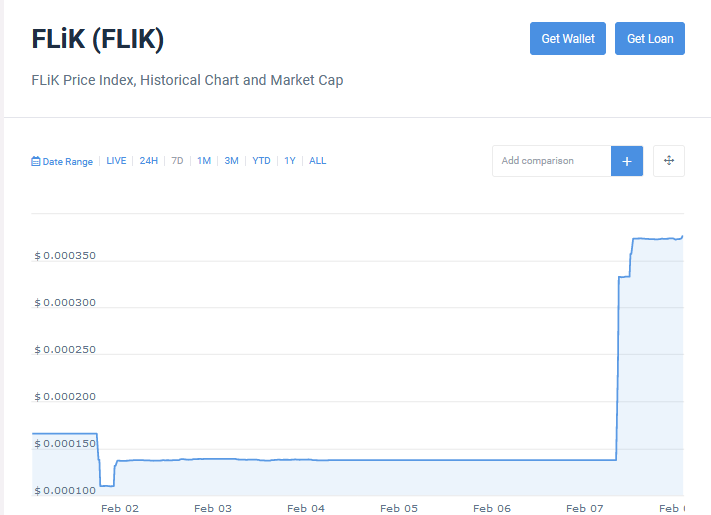 The ICO Hype of Late 2017
Truth is, everyone wanted to cash in during the now distant 2017-early 2018 ICO mania. During those wonderful days, it was common for tokens to post double- or triple-digit gains days after launching. That was regardless of whether the founders had a minimum viable project or not. It was all about potential and after accelerating at terminal velocity, pumping prices of native currencies as ETH, NEO and WAVES, prices cooled off and ultimately crashed in 2018. Of the many coins that didn't recover from the bear stroke of 2018 was FLik, an ERC20 token. Founders were identified as Clifford Joseph Harris, also known as T.I, a US Rapper and his business partner, Ryan Felton.
FLik A "Worthless Token", Investors sue for $5 Million in Damages
The problem with these two is that when prices fell, they attempted to disassociate themselves from the project. It reached a point where, Ryan Felton—a Music Producer, decided to form a new company to "acquire" FLik tokens while stating that he had nothing to do with price dump. All the same, investors heard none of it insisting that the whole marketing and shilling was a well-orchestrated plan to defraud them off their hard-earned money in a pump and dump scheme. An extract from court papers read:
"Felton explained that the devaluation was caused, at least in part, because T.I. had given FLik tokens to members of his family and friends who had sold massive amounts on coinexchange.com causing rapid devaluation."
Because of their earlier involvement and tireless social media shills, users were duped into thinking that the project was a worthwhile investment.  As a result, 25 affected investors sued T.I and his associate for $5 million claiming they spent $1.3 million in a "now worthless securities called FLik tokens."
They go on to say, T.I and his accomplice created fake impressions that Kevin Hart, the Stand-up Comedian, would be the face of the company while Mark Cuban, the multi-billionaire owner of Dallas Mavericks, would invest, pumping prices as a result.
SEC Cracking the Whip
With increasing awareness of what initial coin offerings or crowd funding are coupled with regulator's decision to intervene, there is reprieve for victims. The US SEC is after individuals accused of marketing security tokens and TI is one of them. We expect more cases and suits but, in the meantime, tokens are making a come back printing triple digit gains.
---
Source
---
Back to the list