Back to the list
ONE Gains Over 10% in Last 24 Hours as Buyers Elevate Price
coinquora.com
10 July 2022 12:14, UTC
Reading time: ~2 m
---
The 100th biggest crypto by market cap, Harmony (ONE), experienced a 10+% increase in price over the last 24 hours according to CoinMarketCap.
Harmony ONE's price rose by 12.25% at the time of writing and has climbed to its current price at $0.02366. This comes after it set a 24-hour high at $0.02471 and a 24-hour low of $0.02114.
The double-digit increase in price over the last 24 hours is also accompanied by an incredible 82% pick-up in trading volume over the same time period, as the total 24-hour trading volume stands at $113,602,246.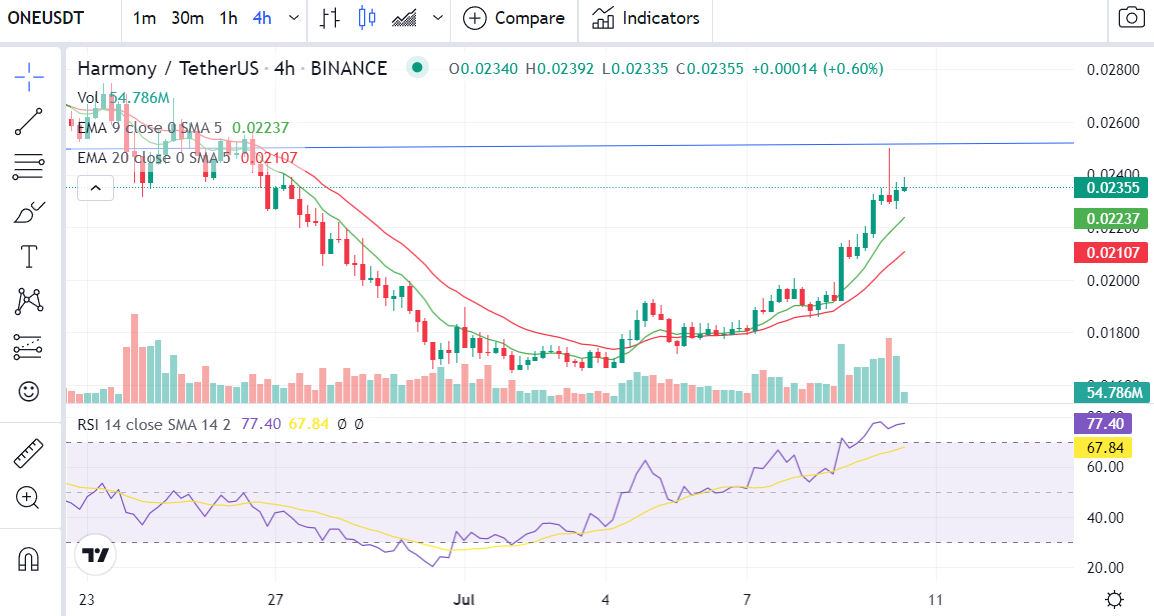 4 hour chart for ONE-USDT (Source-Trading view)
The 4-hour chart for ONE/USDT shows how the price of ONE has rallied from just above the 20 Exponential Moving Average (EMA) line at $0.01925 to as high as $0.02519 before retracing slightly to its current level.
The level at $0.02519 is a major resistance level on ONE's 4 hour chart as can be seen by the sell pressure that ONE's price experienced as it approached it. Nevertheless, the Relative Strength Index (RSI) is positioned above the RSI SMA line and is sloped positively, but is not as positively sloped as it was the previous 4-hour candle.
Furthermore, the RSI is also in overbought territory. There is still room for buyers to come in before ONE's RSI heads into overbought territory on the 4-hour chart. However, there may be a slight pull back before a further move upwards to attempt to flip the resistance level into support.
Although the RSI is positioned above the RSI SMA, it is sloped towards oversold territory as it looks to close the margin that exists between itself and the RSI SMA. Furthermore, the 9 MA and 20 MA are almost touching each other, which could result in a bearish cross on the daily chart if bulls don't step in.
Disclaimer: The views and opinions expressed in this article are solely the author's and do not necessarily reflect the views of CoinQuora. No information in this article should be interpreted as investment advice. CoinQuora encourages all users to do their own research before investing in cryptocurrencies.
---
Source
---
Back to the list