Back to the list
Altcoins on the run: Waves up over 20%, many projects making gains
www.chepicap.com
23 January 2019 09:28, UTC
Reading time: ~2 m
---
With Bitcoin relatively stable these days, the rest of the cryptocurrency market gets a chance to shine. In the last 24 hours, many altcoins have made significant gains. Waves is the top performer in the top 100, being up almost 23%.
$WAVES is now trading at $3.08. There is not one single reason for the surge of Waves - it seems that a series of positive announcements and developments has made the demand for the $WAVES token higher. Last weekend, Waves founder Sasha Ivanov summed up what the next period of the project will bring:
Next week in $Waves world:
- Big $waves client update
- New games on Waves, don't fear to miss out ;)
- Behemoths are slow, even micro ones :) So the promised ann will happen next week.
I go to Davos to #WEF2019, some cool stuff should happen there as well.

— Sasha Ivanov (@sasha35625) January 19, 2019
Next to those developments, there is an upcoming airdrop of Vostok ($VST) to Waves holders in April.
Yes! $VST airdrop to $WAVES and $WCT holders is coming in April! See the pic attached to get all the details and mechanics of the #Vostok #airdrop#WavesPlatform #Waves #Blockchain pic.twitter.com/mh0dXMkNNc

— Waves Platform (@wavesplatform) January 17, 2019

Waves is not the only project on the rise today. Ravencoin has seen gains of 20%, and Reddcoin is up 16%. Stratis is also on its way up, with the price surging 12% to $1.07. Bitcoin Cash is standing out as well, being up 7%. Other good performers are Nano, Steem, IOST, Loopring, Bytom and THETA.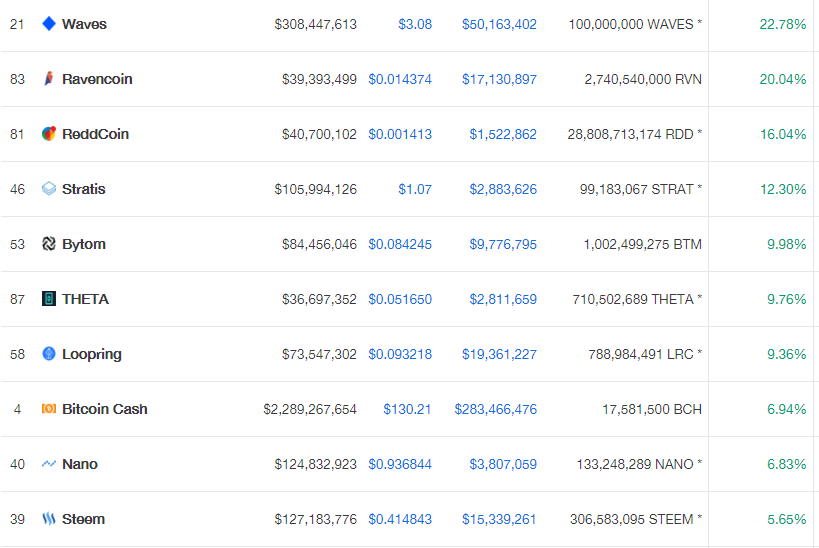 Meanwhile, there is some movement in the top 20 as well. As mentioned before, Bitcoin Cash has seen a 7% growth over the last 24 hours, but Bitcoin ($3602), Ethereum ($118.78) and XRP ($0.31) are relatively stable with gains of 0.35% to 1.37%. EOS is showing promising signs as well, rising $4.25%.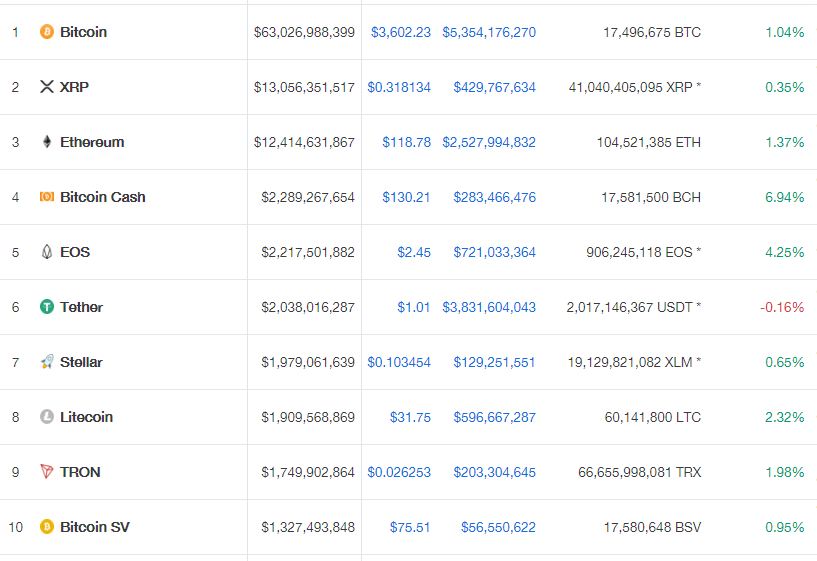 ---
Source
---
Back to the list