Back to the list
Another Ethereum (ETH) Game Has Joined the TRON (TRX) Network
sludgefeed.com
07 January 2019 01:00, UTC
Reading time: ~2 m
---
EtherGoo, a competitive blockchain idle game, has made the decision to switch to the TRON (TRX) network from Ethereum (ETH), following a growing trend fueled by TRON's newfound focus on gaming.
Top ETH DApp @WorldWarGoo has joined #TRONArcade. Create your Goo empire at https://t.co/iS7XuWw9jI today! Learn more about the game here: https://t.co/nYoJ2okur7 pic.twitter.com/qAMc0QOi4a

— TRON Arcade (@TRONArcade) January 4, 2019

According to the announcement, EtherGoo will now be known as TronGoo. The game itself centers around the acquisition of Goo, either through production or by stealing it from opposing players.
Once earned, this Goo can be used to purchase two types of units, production and barracks. The production troops increase daily goo production while barracks units are used for attacks and defense.
The more Goo a player produces or earns, the more real-world money he can earn. Players receive TRX based on their percentage of global goo production, as well as by depositing Goo into the Goo Deposit Box.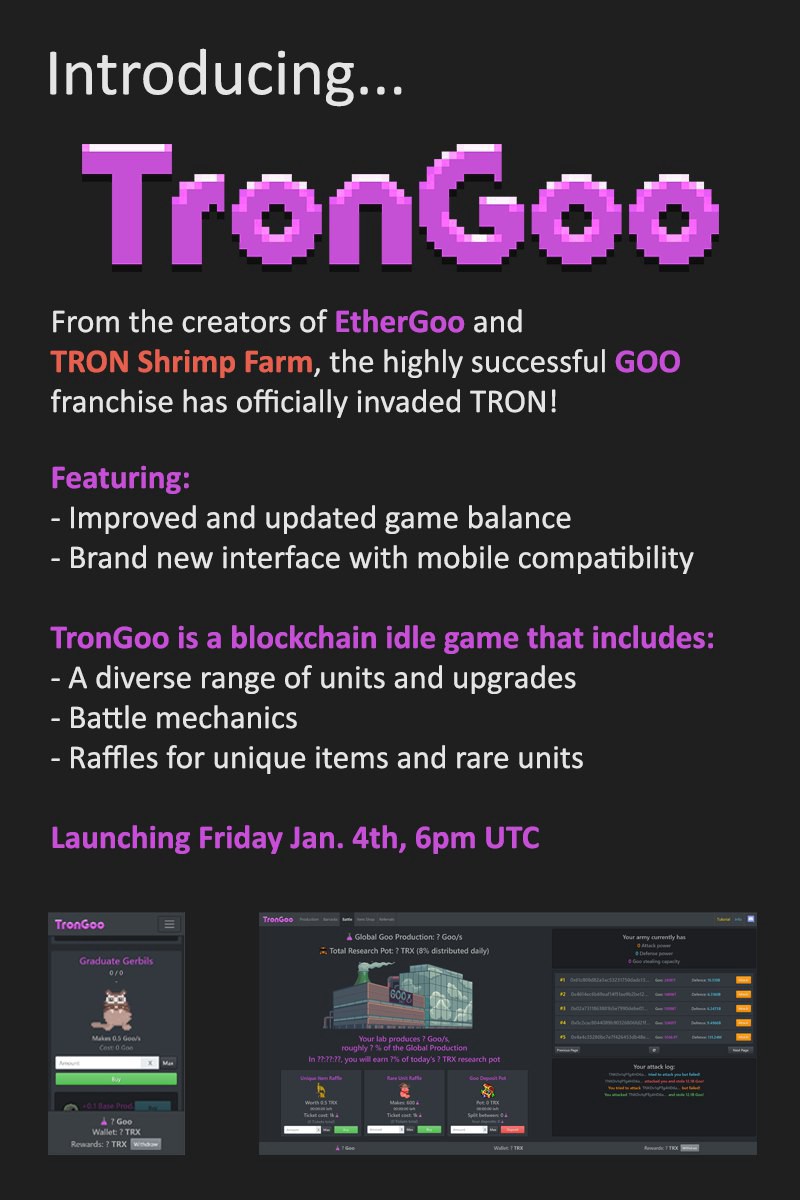 "The TRON network and the TRON Arcade fund will always welcome developers with open arms. We're confident that working together will allow our technology and communities to fuel the next wave of innovation and adoption," TRON said in its announcement.
TronGoo's migration mimics several other notable Ethereum games that joined the TRON network in the last few weeks, including Bitizens, a 3D, blockchain-based avatar game, and Blockchain Cuties, a leading collectibles game.
---
Source
---
Back to the list
Similar news