Back to the list
Watchers Spot Another Crypto Mega Whale Activity, 90 Million XRP Moved – What's Going On?
zycrypto.com
27 December 2018 12:50, UTC
Reading time: ~2 m
---
December 2018 seems to have come into existed with a bang as the crypto community scrambles to decode the meaning of the recent crypto mega transfers. But if the recent transfers have made people's jaws drop, the events of today will leave their heads itching for a scratch.
The Mega Transfer
Just a few hours ago, something really intriguing happened, and now everyone within the crypto space is tiring their minds trying to understand what it means. Such are the cases when a crypto whale makes a little stir in the market. However, today's was a real movement. As mentioned, the spotted whale activity involved a mysterious, unknown wallet from where about 90 million XRP tokens were moved. Interestingly, the destination wallet address is also unknown, something that makes people think that it couldn't possibly have involved an exchange or Ripple Inc.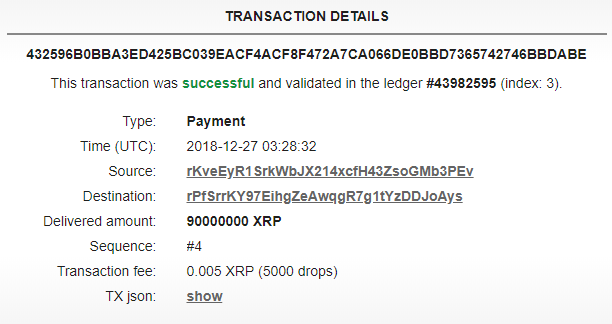 As posted in a tweet through the official Twitter handle managed by Whale Alerts, the 90 million XRP tokens are estimated to be worth a cool $33.49 million, and that's the kind of money that gets people talking. The tweet received responses from various online characters, each expressing their own opinion on the matter. One guy expressed a level of disillusionment by the fact that both the originating and destination wallet addresses are unknown.
It's kind of baffling, you know – especially considering that crypto enthusiasts are always on toes and ready to dig up everything about anything happening within the expanding digital space. In this case, no one seems to have unearthed anything more about the addresses involved, except for the fact that the transfer happened.
There's More
Even more baffling is the fact that the 90 million XRP transfer isn't the only thing that happened within the last few hours. Crypto whales seem to have made a date on this day. There are reports of another 30 Million XRP worth $11 million having been transferred just as mysteriously as the 90 million XRP.
These two transfers stand out from the other recent transfers where the addresses involved were revealed. Just last Friday, a good batch of over 51 million XRP was moved from a known address to Bitstamp. Coinbase has also recently moved about $5 billion worth of cryptos.
The huge whale activity has left many wondering what's really could be happening – or about to happen. It could be that the owner is simply moving their assets around in preparing for trading. It remains to be seen.
---
Source
---
Back to the list
Similar news