The month of May has been especially bearish for the cryptocurrency market. While a few altcoins have increased, Bitcoin (BTC) decreased by a full 31%. The dip was accentuated by one of the sharpest ever falls on May 19.
The ten altcoins that increased the most in May are:
TEL: 241%
MATIC: 137%
ETC: 96%
RLC: 67%
ATM: 54%
EOS: 16%
CEL: 14%
CTSI: 13%
DOGE: 1%
ETH: 1%
Telcoin (TEL)
TEL is a decentralized cryptocurrency based on the Ethereum (ETH) blockchain. It aims to connect the cryptocurrency and telecommunication industries. Its goal is to be able to send mobile money instantaneously at a very low cost.
Considering its focus on the remittance markets, it's targeting an average cost of 2% per transaction.
TEL had been following a descending resistance line (dashed) since May 4 when it reached an all-time high price of $0.0649. It broke out above this line on May 25.
It's now returned to validate an ascending support line in place since May 19 when TEL created a bullish hammer candlestick.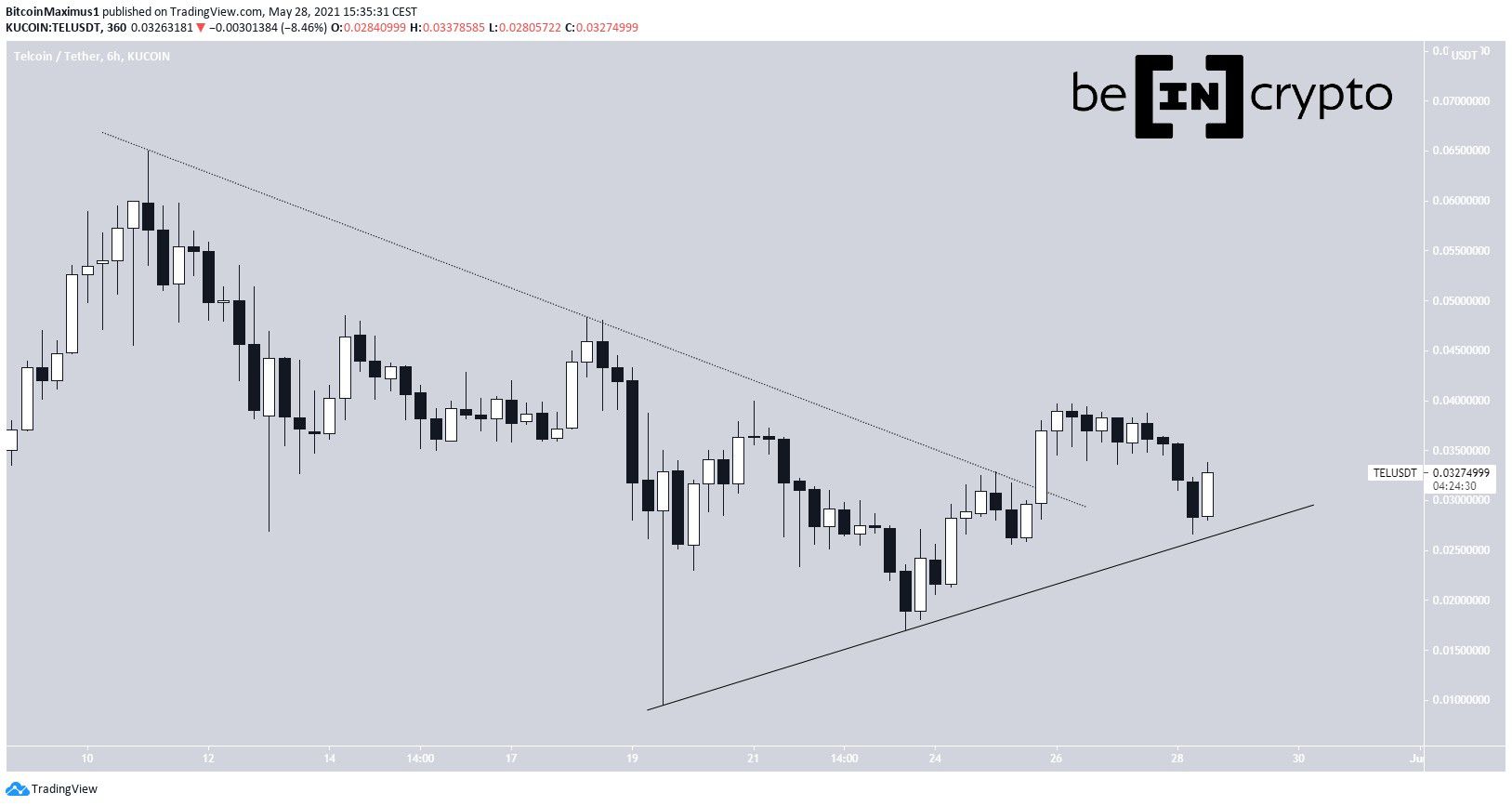 Polygon (MATIC)
MATIC is a platform designed for scaling and building on Ethereum (ETH). With the ongoing success of decentralized applications (dApps), the current ecosystem is having difficulties in keeping up with the scaling demand. This has led to high gas fees and slow block confirmations.
MATIC combines features of the Ethereum blockchain in order to create a multi-chain system. Therefore, it can tackle the issues of slow speeds and gas fees without relinquishing security.
The system is similar to other multi-chain systems such as Cosmos (ATOM), Avalanche (AVAX), and Polkadot (DOT), but also benefits from the Ethereum network.
MATIC reached a low of $0.74 on May 23 and began an upward movement, which looks to be the beginning of a new bullish impulse. In addition to this, MATIC has broken out from a descending resistance line.
Currently, it's very close to the $1.59 support level which is created by:
The 0.5 Fib retracement
Horizontal support area
Previous descending resistance line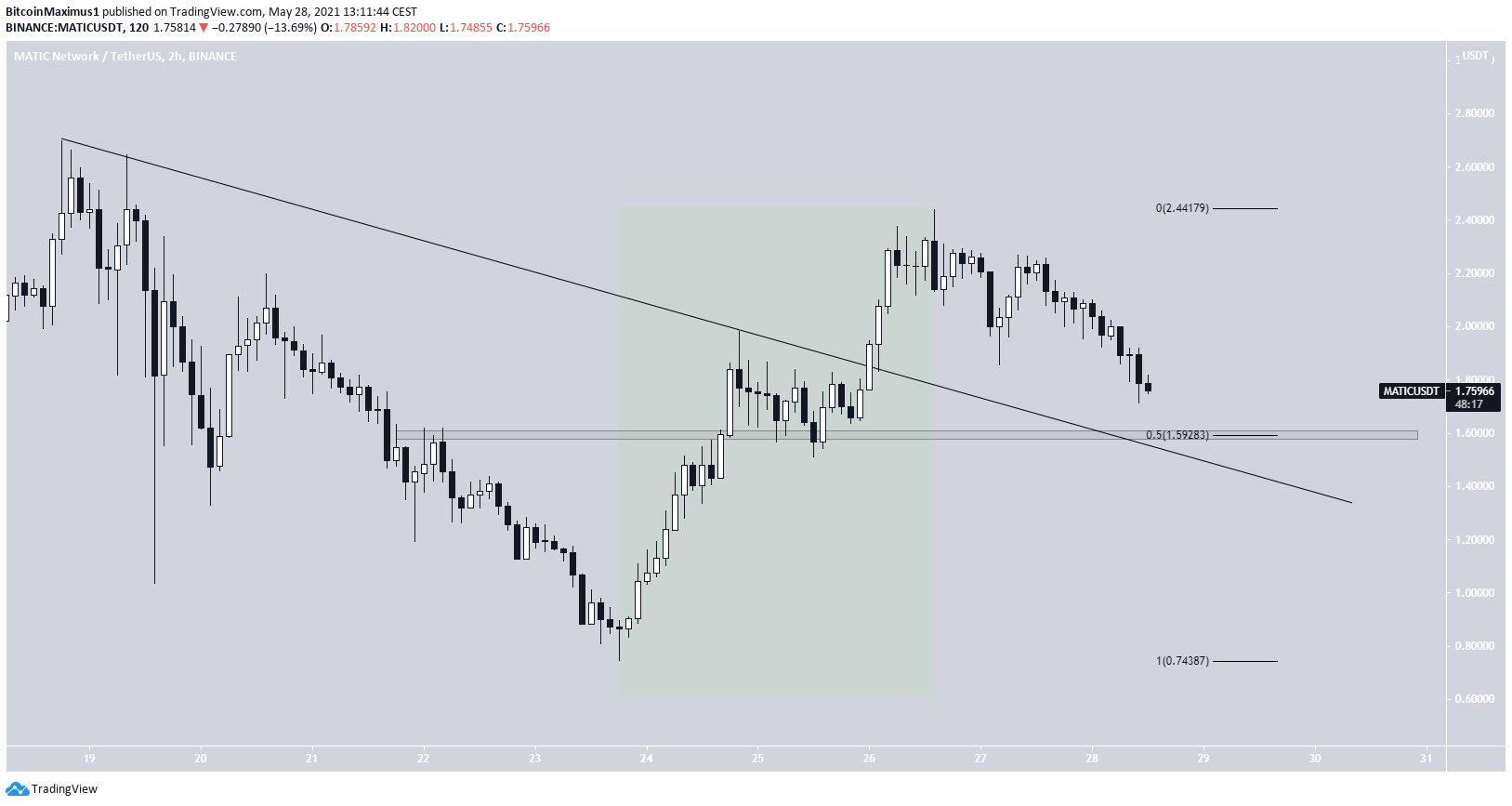 Ethereum Classic (ETC)
ETC is the original Ethereum chain that was first launched in 2016. After a hack on the network, there were different opinions on how to handle the response — whether the blockchain should be reverted or not was the main reason for the disagreement.
It's also one of the investment funds used by Grayscale.
ETC has been falling since May 6. At the time, it reached an all-time high price of $176. The decrease validated the previous all-time high resistance area of $44.50 as support. 
After this validation, ETC began to move upwards again.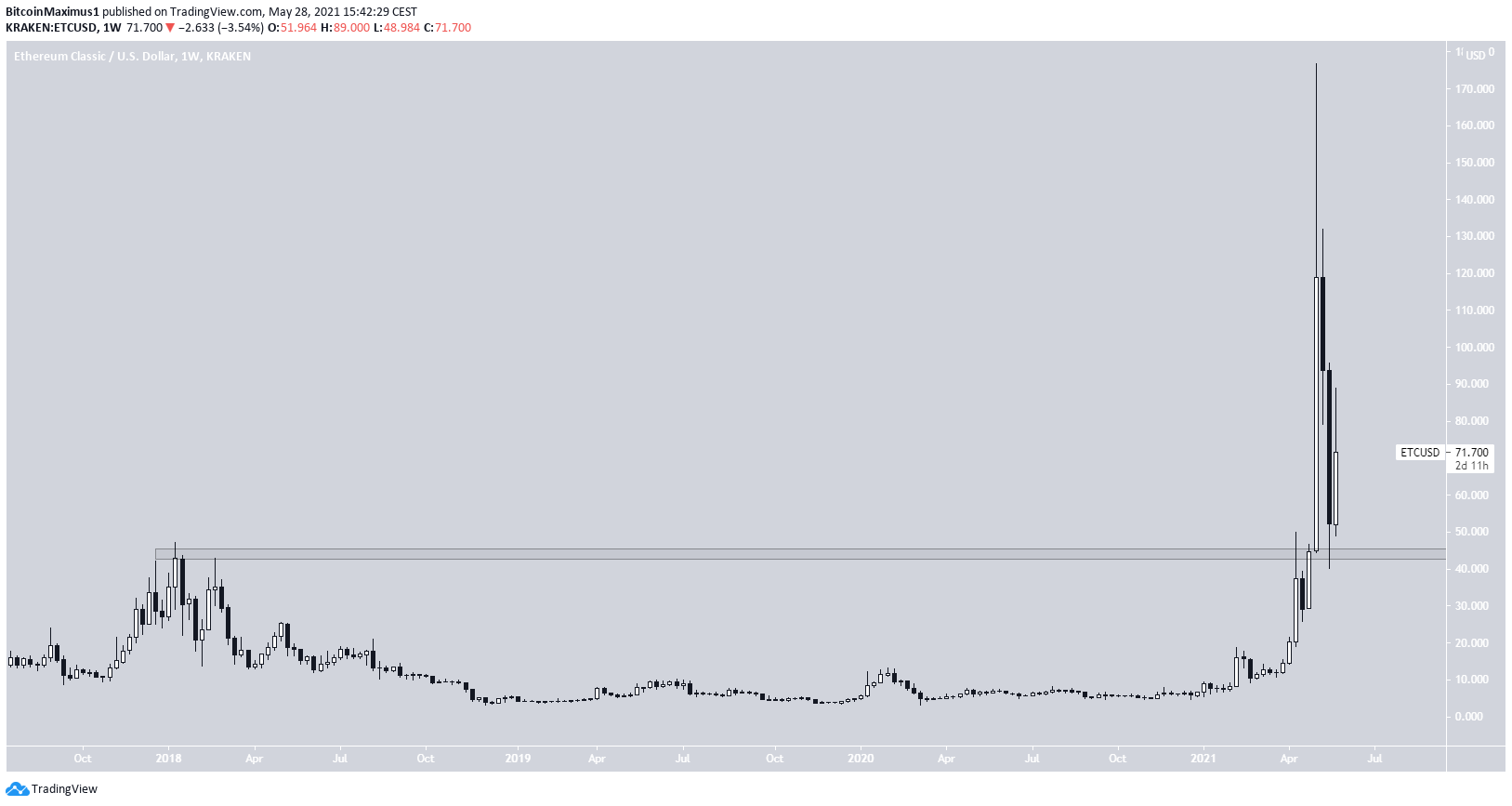 iExec RLC (RLC)
iExec is a provider of decentralized computing. It uses blockchain technology in order to create a market for the monetization of computing power. In addition, it supports applications in various fields, such as artificial intelligence, healthcare, and big data. Furthermore, it provides dApps with easy and secure access to servers.
The network is made up of computing resource providers. These providers receive the native token, RLC, as a reward for their contributions.
RLC has potentially created a triple bottom pattern at the $4.50 support area. The first two touches had long lower wicks — a sign of buying pressure.
A breakout from the descending resistance line would likely confirm the bullish pattern.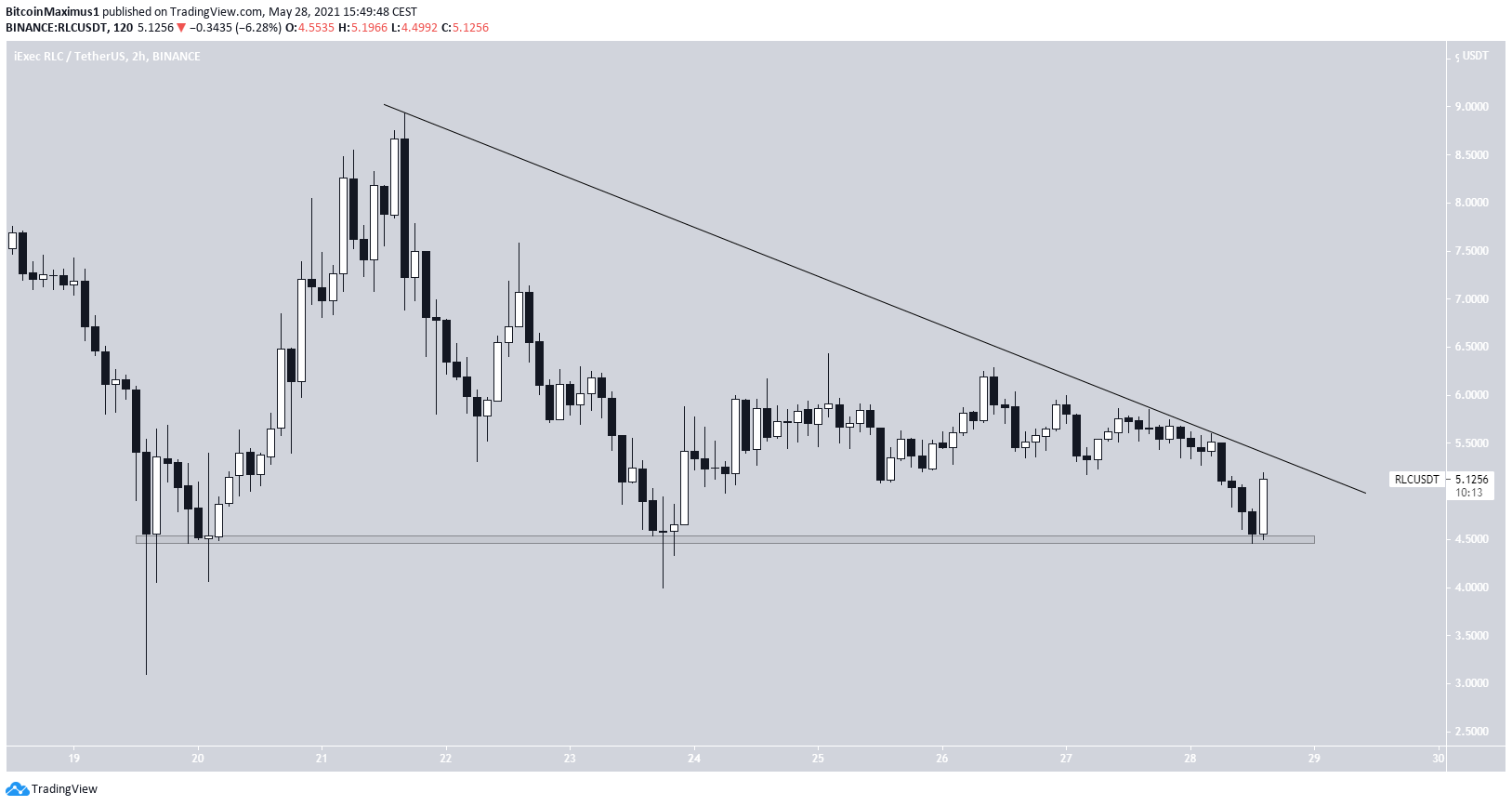 Atletico De Madrid Fan Token (ATM)
Fan tokens are used on the Socios fan engagement platform. They allow holders to influence their favorite clubs' decisions, by providing access to a ledger with voting rights. ATM is the official fan token for Atletico Madrid.
The token has been consolidating in a range between $15-$21 since May 23. In addition, there is a potential symmetrical triangle in place.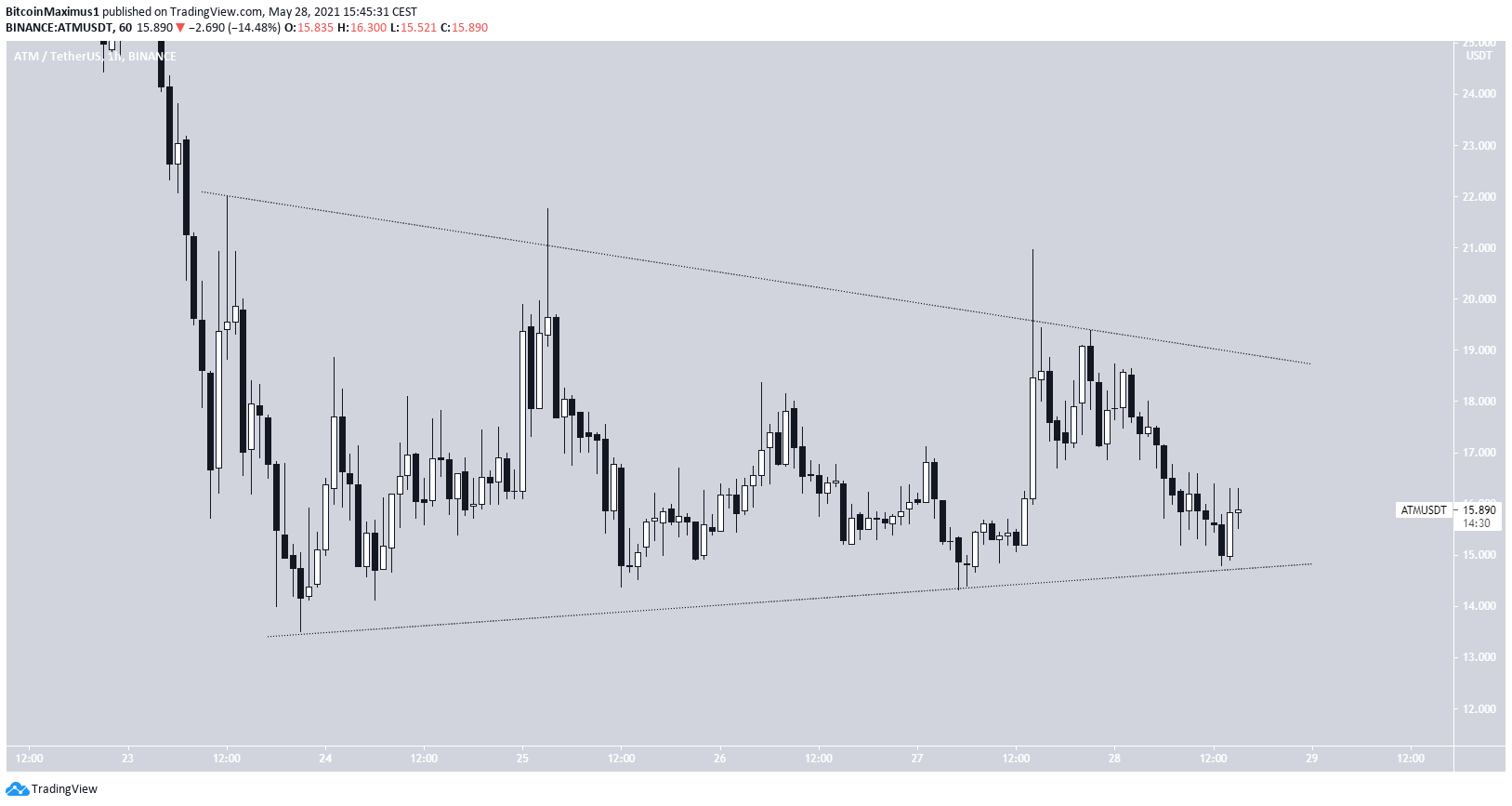 EOS (EOS)
EOS is a platform that enables developers to create dApps, created in 2018.
The native token is EOS, which allows holders to vote in a number of situations, such as protocol upgrades.
EOS increased during the period of May 23-27, reaching a local high of $7.67. It's currently retracing, approaching the main support area between $5.12-$5.60.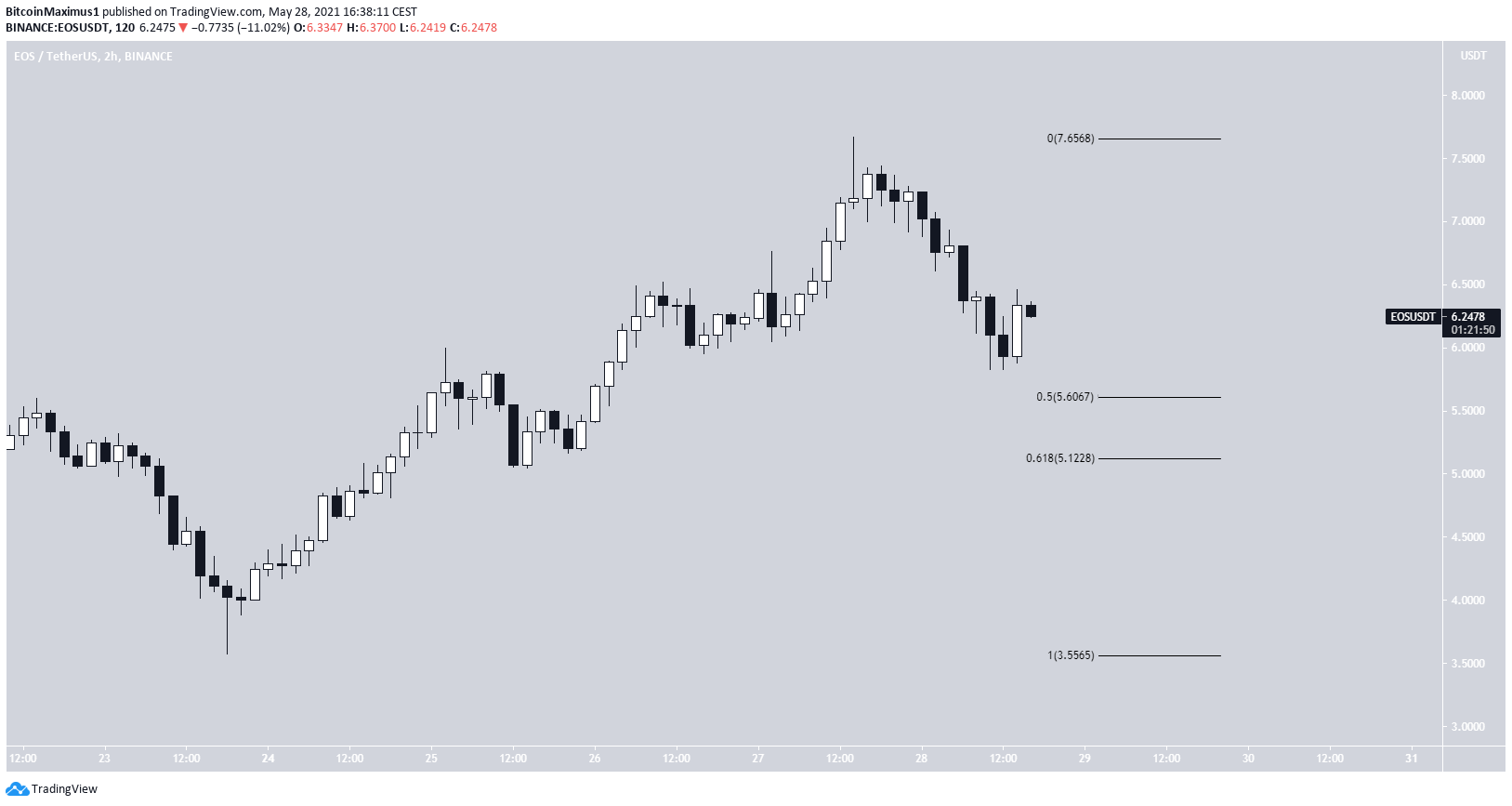 Celsius (CEL)
Celsius is a financial services and banking platform designed for cryptocurrency users. It was created in June 2018. The native token for the platform is CEL.
In comparison to traditional financial institutions, Celsius offers much higher rates of return on both deposits and savings. Furthermore, it has more lenient requirements for loans.
CEL is trading inside a symmetrical triangle. It has been doing so since April 9 and has validated both the resistance and support lines. The symmetrical triangle is considered a neutral pattern. 
Technical indicators are also neutral. The RSI is crossing above and below 50 while the MACD is at the 0 line.
Cartesi (CTSI)
Cartesi is a platform that improves smart contracts for cryptocurrency users. It does this through the implementation of various roll-ups in order to tackle scalability issues.
Moreover, the platform allows developers to code their own dApps and smart contracts through the use of mainstream software. As a result, this could lead to mainstream programmability, opening the doors for mass adoption by non-blockchain programmers.
The native token is CTSI and has a use case in both dApps and staking.
CTSI has been following a descendingsupport line since Feb. 21. It touched this line for the fifth time on May 19 and initiated the current bounce.
On May 20, it created a bullish engulfing candlestick.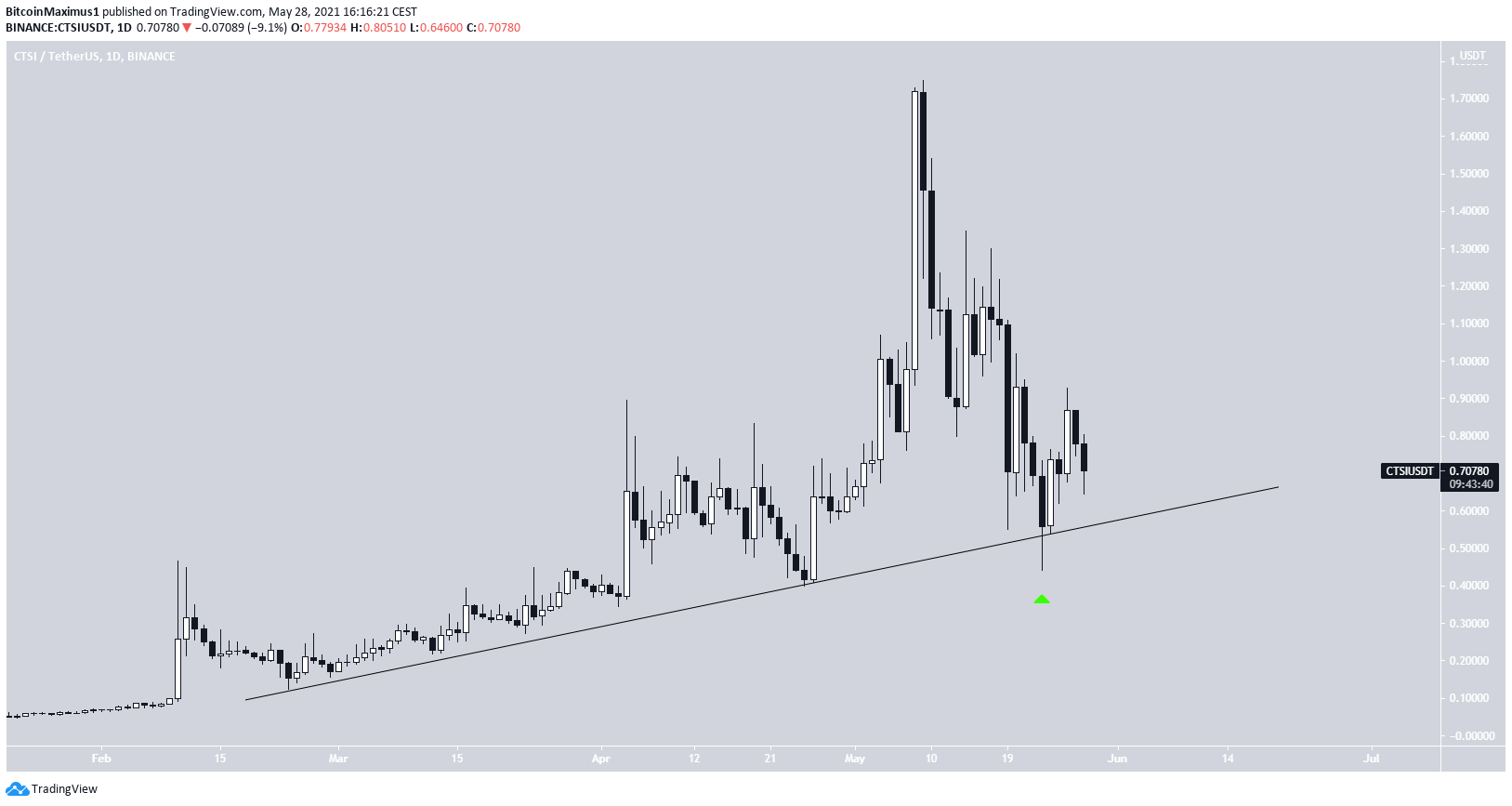 Dogecoin (DOGE)
DOGE is a cryptocurrency based on the "doge" meme. While it began as a joke, it started to gain popularity with celebrities, such as Elon Musk leading to a significant increase. However, its main use case so far has been for rewarding helpful posts in online communities such as Reddit.
DOGE began to decrease alongside a descending resistance line on May 7. This led to a local low of $0.211 on May 19. 
However, an upward movement followed and DOGE managed to break out on May 26. Currently, it's attempting to initiate a rally above the $0.30 support area.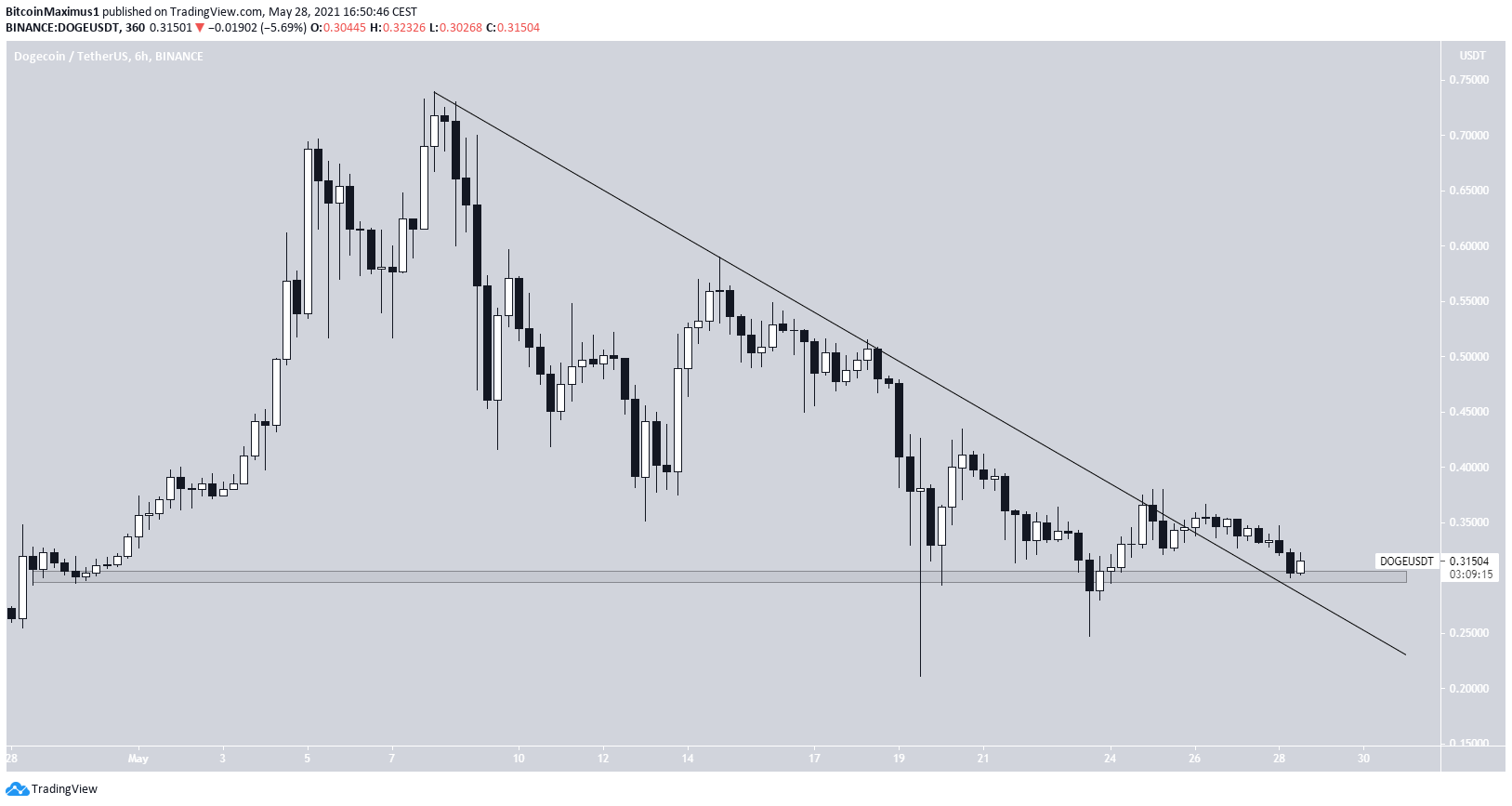 Ethereum (ETH)
Ethereum is a decentralized, open-source blockchain. It's used as a platform for numerous different cryptocurrencies which use the ERC-20 compatibility standard. Some popular tokens built on the ETH blockchain are Chainlink (LINK), Aave (AAVE), and Yearn.Finance (YFI).
Additionally, ETH allows for the construction of dApps and the execution of smart contracts.
ETH has been falling since reaching an all-time high just below $4,400 on May 12. However, the decrease came to an end on May 23. 
Currently, ETH is attempting to create a higher low after being rejected by the 0.5 Fib retracement resistance level.