Back to the list
XRP and Ethereum [ETH] hold consistent double digit gains, bull run continues
ambcrypto.com
24 December 2018 10:25, UTC
Reading time: ~2 m
---
The cryptocurrency market's recent uptrend has caught a lot of people by surprise, with previous comments by analysts predicting the market to continue to tank until the third quarter of 2019. Major coins like XRP and Ethereum have been surfing the bullish wave for a week now, with a double-digit hike holding consistently.
At the time of writing, XRP, the second largest cryptocurrency, was rising by 13.01% with a massive 43.2% spike in the past 7 days. The cryptocurrency was trading for $0.42 with a total market cap of $17.36 billion. The cryptocurrency's $1.4 billion market cap was majorly split within Upbit and Bitbank, the former controlling $216.114 million worth of XRP transactions while the latter had a hold on $210.638 million worth of transactions.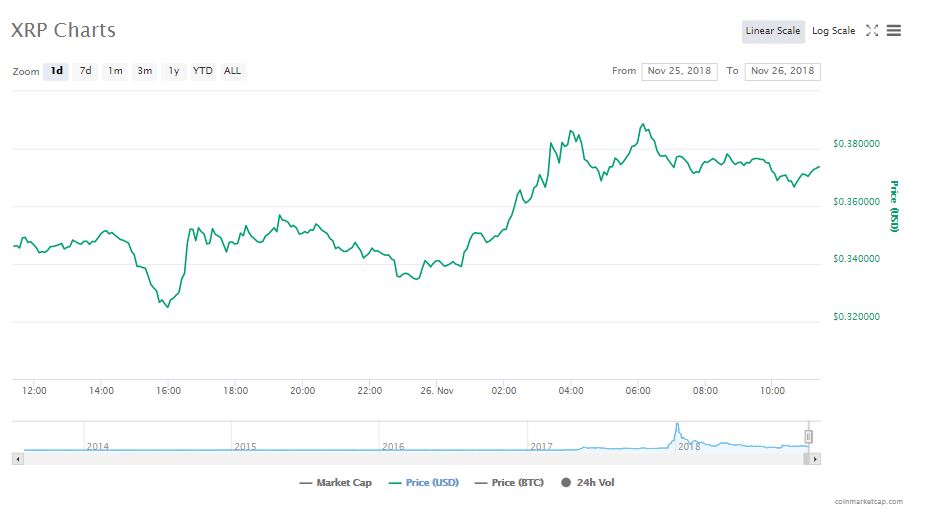 One major boost that XRP received towards the end of the year was Binance's confirmation of XRP being added as a base pair on the platform. Binance's CEO, Changpeng Zhao had tweeted:
"We will be adding a couple trading pairs with XRP as the quote currency shortly.And rename ETH markets to ALTS market. Running out of space on the UI.Merry Xmas!"
The Vitalik Buterin co-founded Ethereum [ETH] was the second-biggest gainer on the charts, growing at the rate of 11.1%. ETH was trading for $145.56 with a total market cap of $15.135 billion and a 24-hour market volume of $3.782 billion. A majority of Ethereum's trade volume was held by OEX which had a grasp on 4.78% of all the ETH transactions conducted. OEX was closely followed by OKEx, which controlled Ethereum transactions worth $180.418 million on its platform.
Ethereum was also in the news recently when one of its other co-founders, Joseph Lubin went ahead and called the crypto bottom. He had said:
"I am calling the cryptobottom of 2018. This bottom is marked by an epic amount of fear, uncertainty, and doubt from our friends in the 4th and crypto-5th estates."
---
Source
---
Back to the list