Back to the list
Flash hike: Litecoin [LTC] surges by 4.80% within an hour, showcases significant growth in bear market
ambcrypto.com
17 December 2018 12:00, UTC
Reading time: ~2 m
---
Litecoin [LTC], the seventh-largest coin on the CoinMarketCap, has been shifting ranks for the past few weeks. However, after a long bearish trend, the bull is siding by coin's side and leading it towards the green pastures. The coin has registered an astonishing 4.80% growth within just the hour, at the time of press.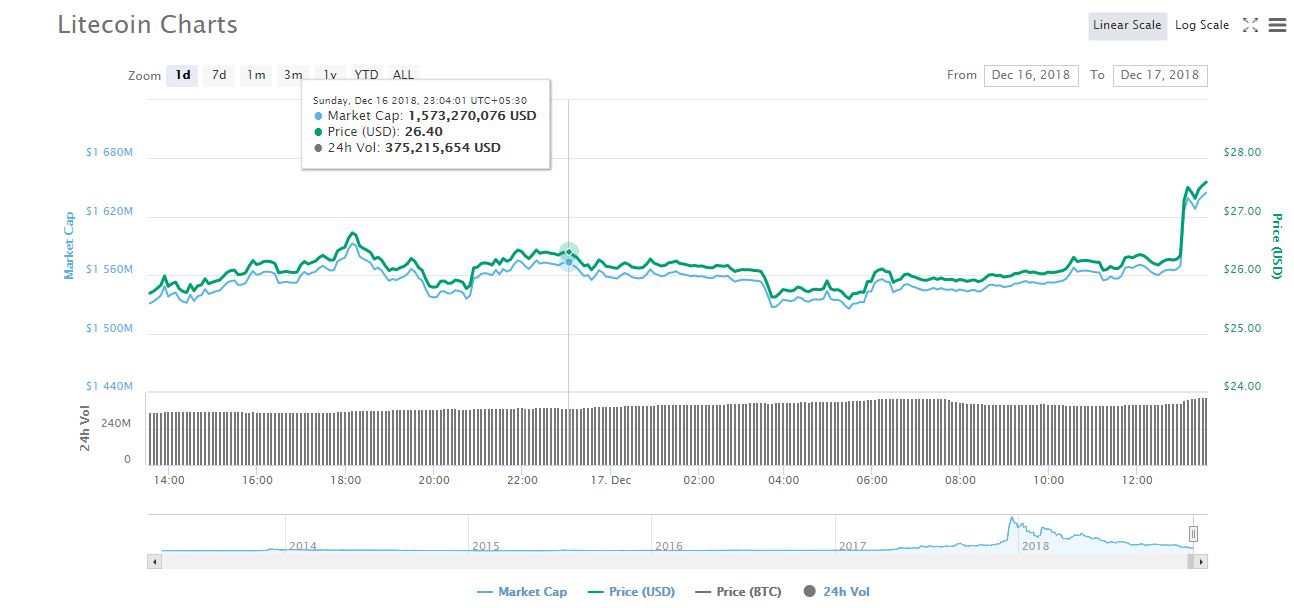 Source: CoinMarketCap
According to CoinMarketCap, LTC was valued at $27.48, with a market cap of $1.6 billion. The 24-hour trade volume of the coin was noted to be $448 million, with a growth of 6.40% over 24-hours. LTC registered an overall growth of 8.48% over the past week.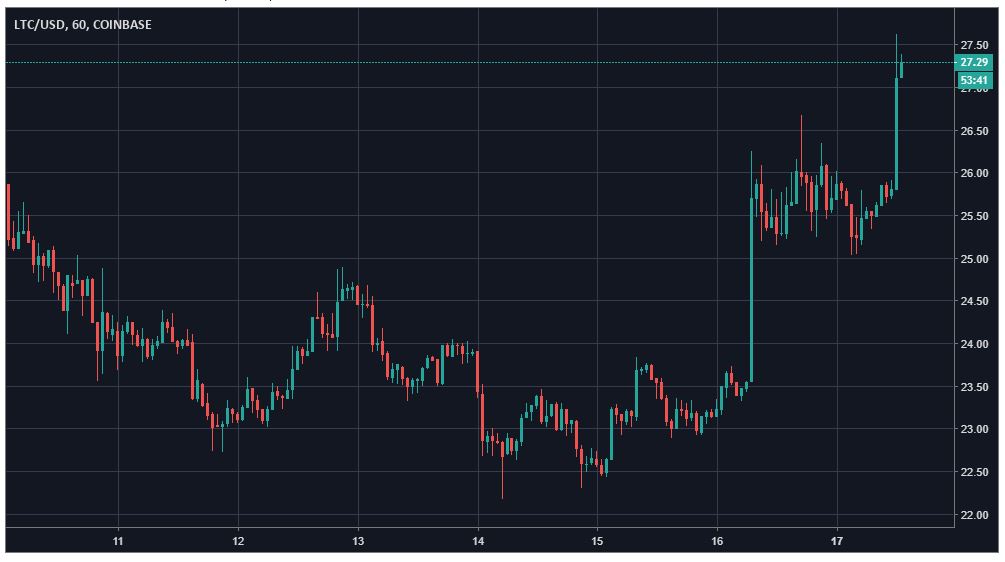 Source: Trading View
DOBI trade registered the maximum trade volume of $67 million on the LTC/BTC pair. Dobi trade was followed by EXX, with a trading volume of $43 million with LTC/USDT pair. At the third place was OKEx, which marked a volume of $29 million with LTC/USDT pair.
The coin's surge came after Atulya Sarin, a professor at Santa Clara University, said that:
"It's like when the sun is going down and there's that eight minute period just before it goes dark. Litecoin is in its seventh minute."
LTC had been performing pretty well compared to other cryptocurrencies and the success of the coin is linked to CoinGate's announcement that pointed towards the deployment of the much-awaited Lightning Network.
Charlie Lee, the creator of LTC, also was in news recently when the coin overtook BCH for a brief time. Lee had predicted that the "flappening" of LTC> BCH will happen this year, and when it did happen, the LTC community expressed their joy through various gifs.
Lee had also tweeted about merchants accepting Lightning Network payment. He tweeted saying:
"Even Litecoin will soon have more than 1000 merchants accepting LN payments! 

 Thanks @CoinGatecom!"
Flappening.watch reported LTC to have registered a market cap of $5 billion higher than that of BCH and had 384% more active addresses, 340% higher daily transactions, and 288% more in trading volume. CoinMarketCap reflected this change in the standings of the two coins with LTC on the seventh position.
The coin is standing strong on the seventh position and seems to grow gradually in this bearish market.
---
Source
---
Back to the list
Similar news