EOS price has officially broken out of its pattern to the upside and was up more than 38% at times on Tuesday. 
The 24 hour low for EOS is $8.86 with the 24 hour high of $13.78.
Despite being +441.4% for the last 12 months, EOS is still -41.8% from its ATH [$22.71] made during the last bull market on April 29, 2018.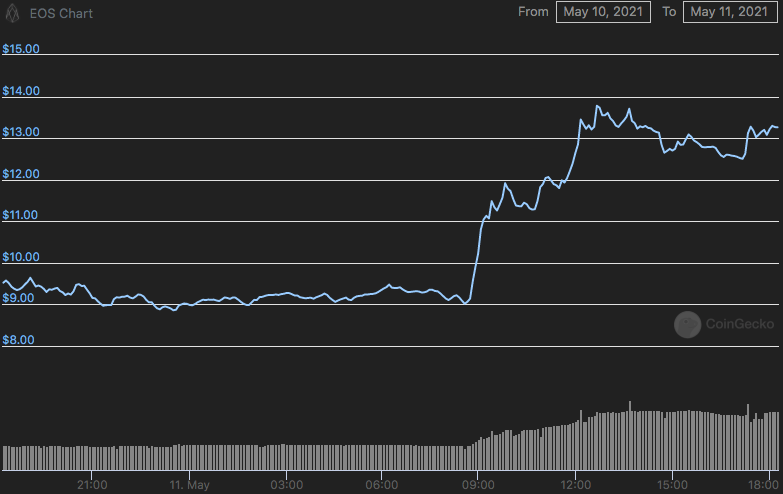 According to Technicals on TradingView, the sentiment around EOS is still in a moderate 'Buy zone' despite marking up so much today. Long term EOS holders will hope that new buyers will be able to come into the market and push the price even higher to cut into the difference between the current price and the ATH. If that happens EOS price discovery could be forthcoming.
EOS was once a Top 5 project by market capitalization. By comparison today it is ranked #17. It's market capitalization dominance is .52% at the time of writing.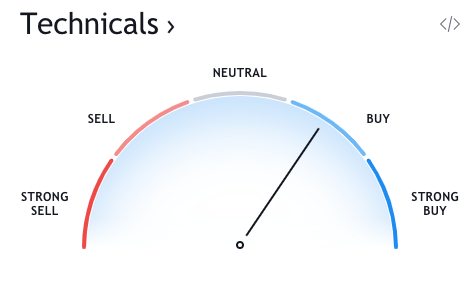 EOS has a current market capitalization of $22,5 billion but many believe it has underdelivered since becoming the largest Initial Coin Offering [ICO] in the history of the cryptocurrency space. 
The EOS ICO in 2018 set a record of over $4.2 billion raised and it more than doubled any other offering of its type in 2018.
In September 2019, Block.one, EOS's parent company, reached a settlement with the U.S. Security and Exchange Commission over the launch of their native token's ICO. The civil charges amounted to a $24 million penalty.
The launch of Voice on the price of EOS
Some speculate that the long awaited launch of Block.One's social media site, VOICE, which is still in beta, has contributed to a bit of a lackluster showing on the charts.  
Those that want to sign up for VOICE are greeted with a landing page that promises the launch is 'Coming Summer 2021.' postponing on a few occasions. 
Block.one announced in January of 2020 that they were not launching VOICE on EOS but on EOSIO, a purpose-made blockchain specific to VOICE. Block.one potentially chose this method to rollout VOICE because instead of launching on the base layer of EOS or EOS at all, they would launch the dApp on a private deployment of EOSIO software instead; moreover, basically generating the opportunity for specialization and tailoring the software to VOICE in particular. 
With a lot of concerns about social media censorship over the last 12 months in particular, it's curious that Block.one hasn't delivered the product sooner to market.