Back to the list
Market Cap of Meme Cryptocurrency Dogecoin Spikes to Unprecedented Level | Finance Magnates
www.financemagnates.com
05 May 2021 12:31, UTC
Reading time: ~3 m
---
Dogecoin, a crypto asset featuring the popular meme of a Shiba Inu dog and originally created as a meta-joke, reached a market capitalization of $51 billion in April. Since the beginning of the year, the altcoin value has increased by 5,000%.
The cryptocurrency has made a cosmic rise to $0.50-0.55 from $0.005 at the beginning of the year.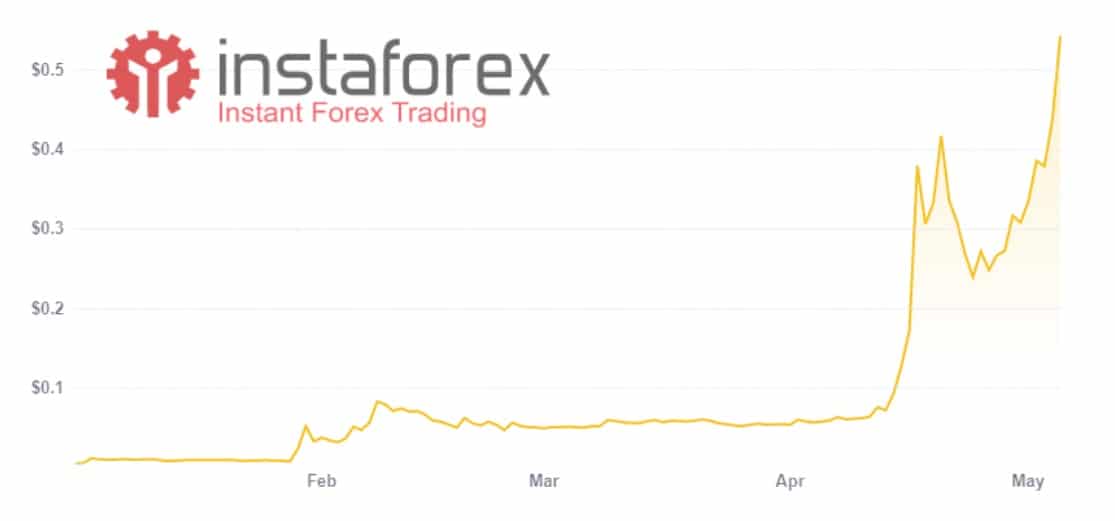 Lucky April. Funny enough, fans of the Dogecoin cryptocurrency have dubbed 20 April as "Dogeday 4/20," or 4/20, which is more widely known as "Weed Day".
Twitter and Reddit users are actively sharing jokes and memes to celebrate "Doge Day", whereas it is unknown who is responsible for this buzz and why this date was chosen.
"As we saw with the GameStop frenzy earlier in the year, traders have once again adopted a game mentality, trying to propel the price higher using hashtags and rallying cries on internet forums", Susannah Streeter, the senior investment and markets analyst at Hargreaves Lansdown, said.
Everyone's favorite, Elon Musk, is also betting on this altcoin. He has long been a proponent of this virtual asset. Not long ago, he tweeted that he plans to take Dogecoin to the moon with his SpaceX rocket.
After that, the value of the cryptocurrency has started to grow slowly but surely.
On April 16, after another Elon Musk's tweet and a buzz in social networks, the dogecoin value neared an all-time  high of $0.42, rising by 800%.
Notably, this price spike enabled InstaForex traders, who actively purchased altcoin at the beginning of the month for $0.05–0.10, to enlarge their deposits markedly.
Crypto analysts strongly believe that dogecoin's future looks promising
Analyst Ryan Watkins and popular crypto trader Alex Kruger are certain that the value of the token will advance to $1 on the exchange. In March, dogecoin's rally was fostered by the BitPa crypto payment system. Now, in a number of services, clients can make real purchases by using dogecoins. 
Given the growing popularity and mainstream attention of Dogecoin, the holders of the coin are in no hurry to sell it off. They are betting on its further steady growth.
Despite the fact that Dogeday has already passed, InstaForex analysts continue to monitor the fluctuations of this altcoin, tracking changes and news related to Dogecoin. We are sure that we will find out more than once groundbreaking news on the "joke" coin.
Stay tuned and read our forecasts so as not to miss a new spike in the value of dogecoin. The cryptocurrency, whose bright future has been predicted by ingenuous Tesla CEO Elon Musk, is definitely worth paying attention to.
---
Source
---
Back to the list