Back to the list
EOS down almost 13 percent to its yearly low
www.chepicap.com
03 December 2018 18:30, UTC
Reading time: ~1 m
---
The price of EOS has fallen almost 13 percent in the last 24 hours. The 6th-biggest crypto token is now worth $2.57, after dipping to its lowest price for over a year in the last hour or so.
All of the top 10 crypto projects suffered major losses in the last 24 hours, with the promised BTC recovery now looking to be unsustainable. Yearly lows were seen by most major tokens, but the double-digit losses of EOS were the worst of the lot.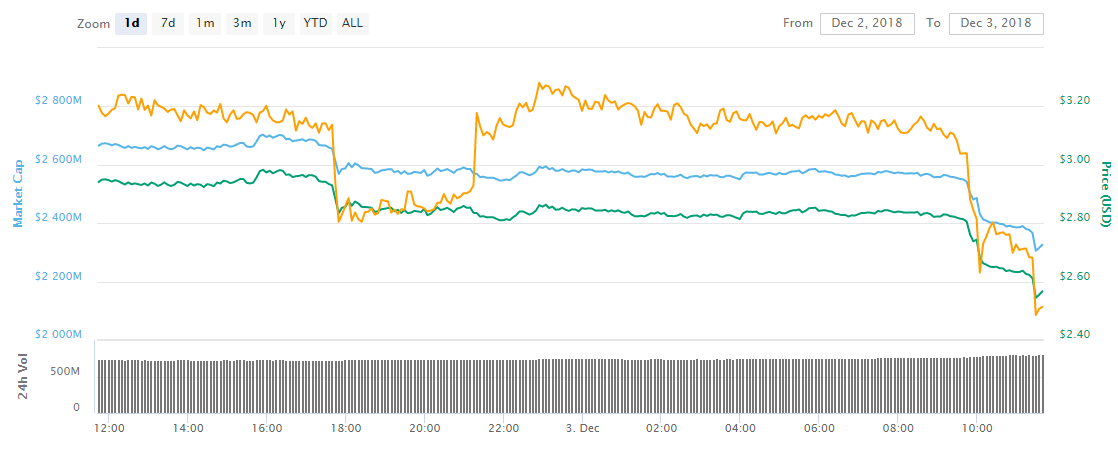 After falling to $2.55, the EOS token creeped back up from this level, which was the lowest it has been since the end of November 2017. 

The total maket cap of EOS is now $2.3 billion, down $300 million for the 24h period. At just over $800 million, trading volume for the token is also down significantly for the week, which started out at a level over $1 billion.
Read more: Bitcoin plunges below $4k, loses $2 billion market cap

---
Source
---
Back to the list
Similar news