Back to the list
MakerDAO April Financial Report: Net Income Crosses $12 Million
beincrypto.com
03 May 2021 10:25, UTC
Reading time: ~2 m
---
MakerDAO has released its financial report for April 2021, recording excellent growth between March and April.
Decentralized finance (DeFi) giant, MakerDAO, has released its financial report for April 2021, and the various statistics show strong performance. Among the most notable highlights is a 44% increase in net income in the past 30 days.
MakerDAO reported a total of $12 million in net income for April, spurred by the market's rallying.

The report covers several subjects, including detailed information on its lending, trading, and liquidation businesses. It also sheds some light on MKR's valuation, real-world asset growth, and liquidity pools.
MakerDAO recorded the figure from its interest, trading, and liquidation revenue, which far exceeded those seen in March 2021 by a healthy amount. For some more perspective, net lending income grew by 48.5% from the same time last year.
Among the three business lines, lending was the biggest revenue stream by a large margin.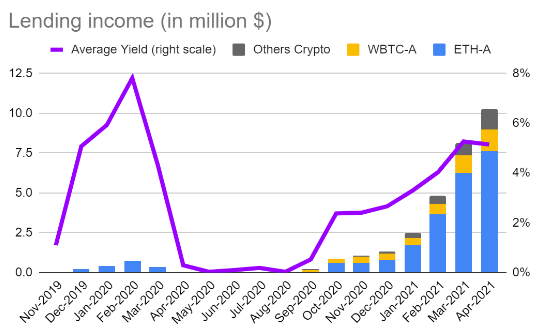 The lending revenue stream is the best it's ever been, though average yields are not quite as high as in 2019. The average yield currently stands at 5.15%, down from 5.27% in March. ETH-A makes up most of its lending business.
Trading revenue, however, has gone down considerably compared to last month. Peg Stability Module (PSM) revenue dropped by 61% to $159,281 from $407,721 in March.
MakerDAO a key DeFi protocol
The Maker Protocol and the DAI stablecoin are two cornerstones of the DeFi sector. In a market where things happen at a rapid pace, MakerDAO has managed to play an important role since its inception. The MKR token is now valued at approximately $5,540, a significant rise over the years.
And all of this is expected to continue going forward, with DeFi showing no signs of slowing down. While non-fungible tokens (NFTs) may have taken the world by storm, and are more accessible, DeFi shows steady growth all across the board.
Total value locked (TVL), the number of protocols being actively developed, and myriad technical solutions are giving DeFi even more momentum. Some of these developments include algorithmic stablecoins and fixed-rate P2P lending DeFi platforms. On top of that, new liquidity mechanisms are also filtering in slowly.
MakerDAO currently has $9.75 billion in TVL according to DeFi Llama. This represents an astonishing rise from the start of the current bull when its TVL was around $2.3 billion in November 2020.
---
Source
---
Back to the list
Similar news