Back to the list
Reddit Trader Risks Entire Net Worth To Make $1,000,000 on Dogecoin
dailyhodl.com
26 April 2021 19:32, UTC
Reading time: ~2 m
---
Crypto trader Glauber Contessoto says his investment in Dogecoin (DOGE) has grown to over $1 million after betting his entire net worth on the meme cryptocurrency.
The 33-year-old tells CNBC Make It that he decided to invest in Dogecoin after learning about it on Reddit. He also admits to being influenced by Tesla CEO and tech entrepreneur Elon Musk, who aggressively promotes the coin on Twitter.
"A reason why I put my savings into Dogecoin is Elon Musk…
I think the guy is a genius."
Contessoto did not have disposable income to buy DOGE, so he used all his savings, sold all of his stock holdings including Tesla and Uber shares, and invested on margin to place over $180,000 in Dogecoin.
He bought five million Dogecoin at about $0.045 on Feb 5th and held on to the cryptocurrency despite criticisms that the coin is a pump and dump scheme and is highly speculative.
Two months later, the price of Dogecoin surged by 400%. It eventually hit a record high of around $0.45, increasing Contessoto's DOGE holdings to $1,081,441.29 on April 15th.
The trader also shared a screenshot of his Robinhood account on the subreddit r/dogecoin with a caption that says he just became a Dogecoin millionaire.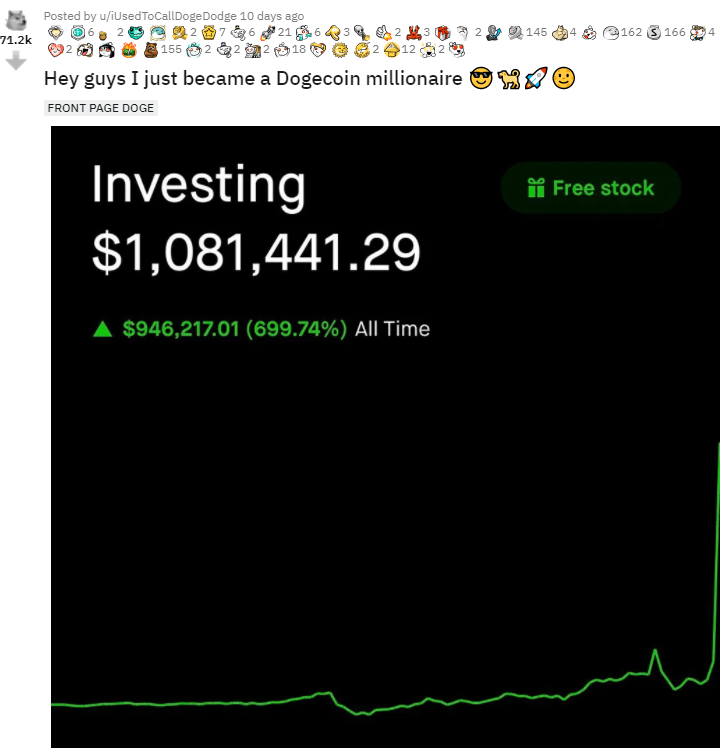 At time of writing, the price of Dogecoin is down to $0.264, but Contessoto thinks that the digital asset will continue to grow. He says he is not selling his holdings any time soon.
"My plan is, once I hit $10 million, then I'll take out 10%. This stuff is going to continue to grow."
---
Source
---
Back to the list