Back to the list
Biggest Altcoin Boom in History Has Arrived, Says DataDash Founder Nicholas Merten – Here Are the Assets on His Radar
dailyhodl.com
08 February 2021 14:20, UTC
Reading time: ~3 m
---
DataDash founder Nicholas Merten is shining the spotlight on three digital assets as he says the largest altseason in history is in full swing.
The DataDash founder tells his 382,000 subscribers that, despite the recent altcoin pumps, he's confident that the crypto market is just in the early innings of the bull cycle.
As altcoins show signs of strength, Merten is using the market cap of Ampleforth (AMPL) to track its performance. With a market cap of under $400 million, the trader believes AMPL can significantly grow into a multi-billion-dollar valuation as it repeats the three phases of its 2020 bull cycle.
"Generally speaking we've got a really nice technical build-up that was made throughout 2020, and that was one of the top DeFi (decentralized finance) performers, Ampleforth or AMPL, one of the rebasing or elastic supply cryptocurrencies.
The great thing about Ampleforth, overall, here is its technical pattern that it builds. It has its initial phase here, its first wave of its bull cycle here from its lows… We have the descending channel here, almost a bull flag if you will, and along with that, the follow-through, the mass move of the cycle.
Well, we've had the first phase here in this case. The secondary phase, the consolidation… and now, we're starting to play into the early stages of phase three, just like what we saw over here…
It's very realistic to assume that Ampleforth here could go towards being a $1 billion, $2 billion, $5 billion cryptocurrency. At this rate, it's very very reasonable."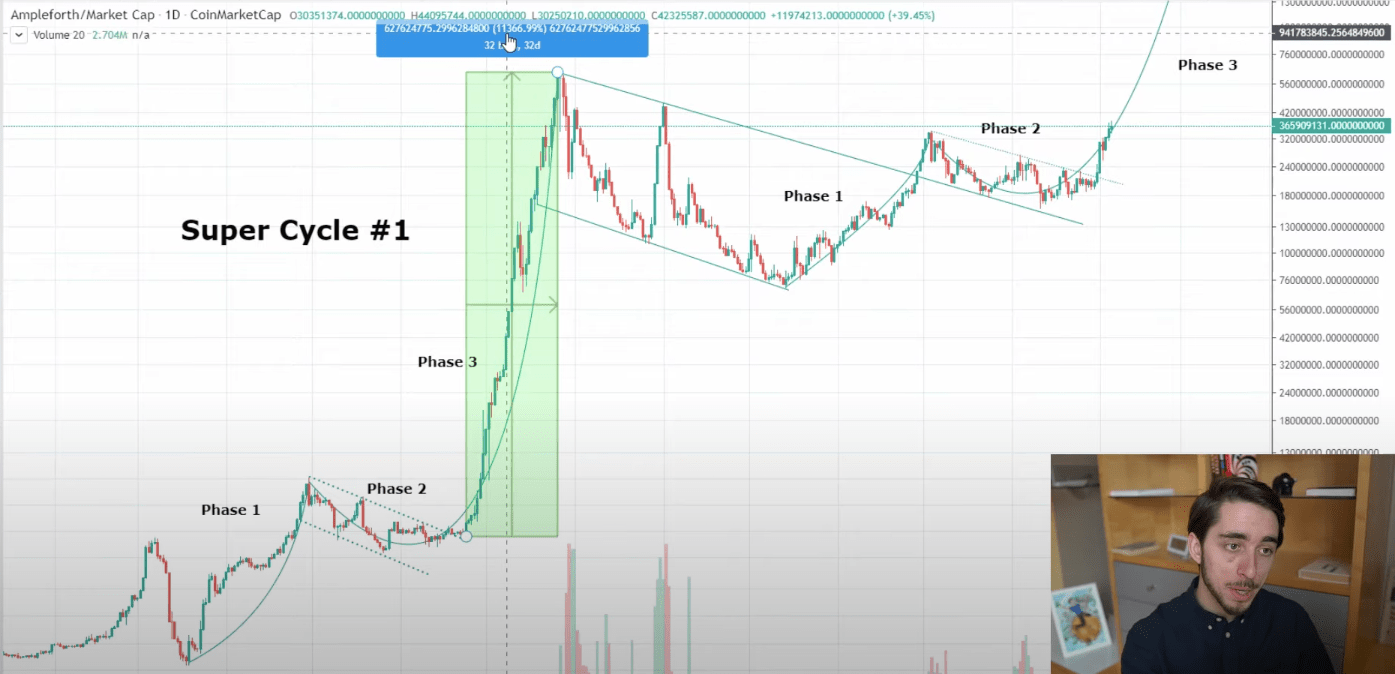 Another coin on Merten's radar is Benchmark Protocol (MARK), which he says can reasonably compete with Ampleforth because of its unique methods of rebasing.
"Unlike Ampleforth which just tries to peg itself to the dollar or an inflation-adjusted dollar from 2018, in regards to Benchmark, they're utilizing things such as the SDR (special drawing rights) as their peg, and for rebasing they're utilizing volatility measures in the market like the VIX in order to determine whether or not to rebase and provide more of the native currency, in this case to its holders in order to combat volatile moments as well as reduce supply when there's not volatility or below our historic means."
The third altcoin on Merten's list is decentralized exchange Uniswap (UNI), which he says can increase over 177% from its current price of $18.
"A lot of people are curious about, you know, am I still sticking to my guns about the $50 price target? And, I am. I'm still confident here that we're going to be getting somewhere near $50… The major thing we want to focus on here is the trend. On the logarithmic chart, it's been very clear here. We had a large mean away from the line of support here, and then we started to consolidate along this logarithmic line of support and now again we had started to break away as optimism came in and eventually I think we're going to get a pop here very very soon here where the overall price is going to start moving higher yet again."
---
Source
---
Back to the list