Back to the list
Dogecoin Price Jumps 70% as Retail Investors Try to Recreate Gme's Rally
www.cryptoglobe.com
28 January 2021 20:57, UTC
Reading time: ~3 m
---
The price of Dogecoin (DOGE) has surged by over 70% as retail investors have started eyeing the meme cryptocurrency after helping the price of GameStop (NYSE:GME) surge in a battle against short sellers.
The surge for Dogecoin seemingly started after a parody account on Twitter going by WSB Chairman asked whether the price of DOGE had ever hit $1. The tweet quickly gained attention as some of its followers associated the account with the popular WallStreetsBets subreddit.
While the account claims in its description there is no association, the use of a similar image may have misled users. The WallStreetsBets subreddit, it's worth noting, has seen investors pile into GameStop after activist investor and Chewy Inc Ryan Cohen joined its board, and in a bid to fight back against huge levels of short interest that were holding at about 140% of the float. Shorts bets by firms including Melvin Capital and Citron Research are facing a short squeeze.
Melvin Capital, according to CNBC, ended up taking a "huge loss" in its GameStop position and has now closed it, even after seeing Citadel and others infuse over $3 billion into the firm.
The price of GameStop shares surge from about $17.7 to over $380 before correcting. GME is currently trading at $355 after plunging more than 60% in pre-market trading. Traders may have rallied to buy DOGE in a bid to help the crypto's price surge as well.
Available data shows Dogecoin's price broke out of a downtrend at about $0.0077 and surged by more than 70% to $0.0131 at press time, after enduring a small correction at a $0.0143 peak.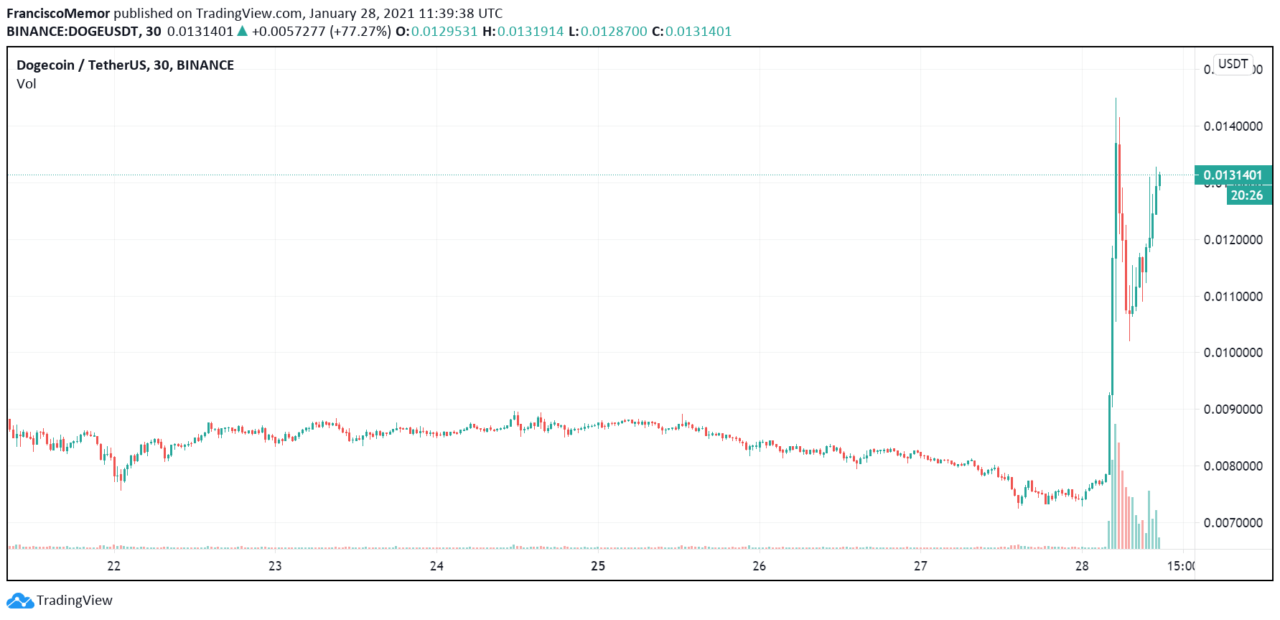 Hashtags associated with Dogecoin and getting the cryptocurrency to trade at $1 have been trending over the last few hours. It's worth noting DOGE has in the past seen similar pumps, including one seen after Elon Musk, a co-founder of PayPal and current CEO of Tesla and SpaceX, ironically promoted the meme-based cryptocurrency.
In July of last year, a viral video on TikTok from a user asking others to buy the cryptocurrency so everyone could "get rich" on the platform saw retail investors pile on the cryptocurrency again. Each was investing $25 to, at the time, buy 10,640 DOGE, in a bid to pump the cryptocurrency's price to $1 and have over $10,000 as a result.
The TikTok price pump, along with many others, failed to bring the price of DOGE to the $1 mark. The cryptocurrency's all-time high was $0.0187 and was seen in January 2018, before the entire crypto space entered a bear market.
Featured image via Pixabay.
---
Source
---
Back to the list