Back to the list
Will Litecoin Be the Coin for Payments?
www.altcoinbuzz.io
26 March 2022 16:34, UTC
Reading time: ~3 m
---
The entire blockchain and cryptocurrency space is on a roll. There's been increased awareness and adoption of this truly innovative technology. Other arms of the blockchain and crypto space like NFTs, Metaverse, DeFi, etc. have also helped to grow awareness and adoption.
Peer-to-peer (P2P) cryptocurrency Litecoin has also grown exponentially amidst the growth of the blockchain and crypto space. This article covers in-depth details about Litecoin and the role it would play in the global payment ecosystem.
The foremost use case of the blockchain and cryptocurrency space was for financial transactions and seamless cross-border payments. While more use cases have been brought to life, cryptocurrencies as a global payment tool is still valid. Interestingly, one of the world's foremost cryptos, Litecoin, is set to become the "OG" of global payments. Many have touted the crypto as the "future of global payments."
The blockchain and cryptocurrency space is on the rise. This truly innovative sphere has recorded explosive growth over the last few years. A recent report by Business Insider disclosed that crypto adoption increased by an estimated 881% in 2021 alone.
Despite the increasing use cases of blockchain and cryptos, the use of cryptocurrencies as a global payment tool is one that can not be ignored. Simply put, the global digital payment sphere is simply exceptional. It is also one that speaks to the general populace, especially in developing and under-developed nations of the world. Notably, most of them are more interested in sending and receiving funds for their daily sustenance than actually investing in cryptocurrencies. Hence, the increasing interest in a peer-to-peer cryptocurrency like Litecoin.
Litecoin – A Crypto for Global Payments
Launched in 2011, Litecoin is one of the first alternatives to Bitcoin. It is, however, quite similar to Bitcoin with its decentralized, open-source blockchain. Litecoin also faced several issues with adoption. However, in 2019, the cryptocurrency grew exponentially, attracting both global attention and adoption. The P2P cryptocurrency recorded growth from 9.3 million transactions to a whopping 42.5 million completed transactions in 2021. The "King Crypto" Bitcoin, on the other hand, recorded a decrease from 119 million transactions to 97 million transactions within the same time frame.
The graph below by Glasnode shows Litecoin's increasing awareness and adoption as compared to that of Bitcoin.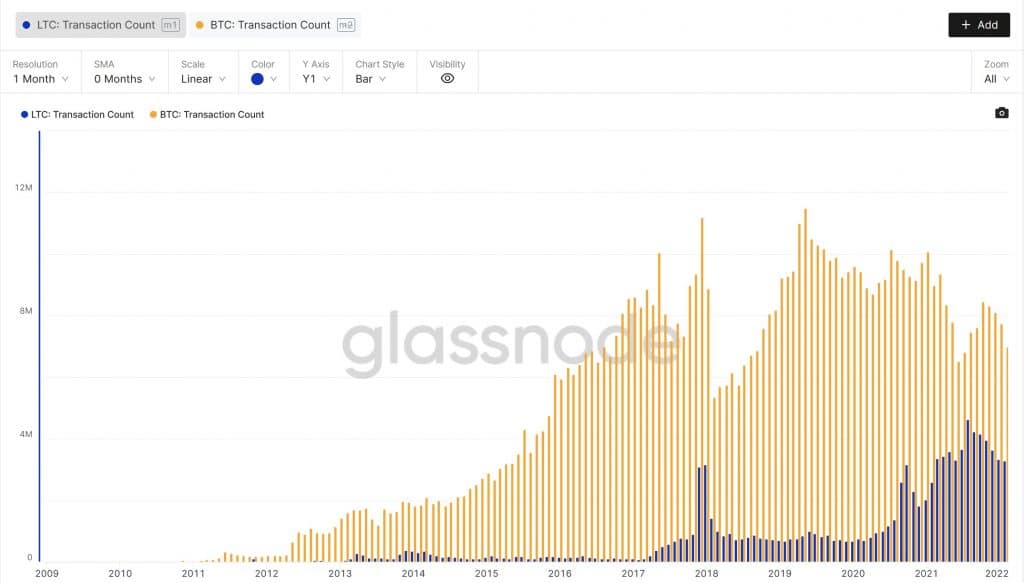 Another clear pointer to Litecoin's increasing growth is its 352% increase in activity as compared to the decrease recorded by Bitcoin. Also, Litecoin currently records an estimated half of BTC's total transaction amount. Compare this to its previous 1/10th representation in 2019. Litecoin also currently lists on top crypto exchanges like BitPay and Coingate. Data from its listing on BitPay shows that the crypto is currently the most transacted on the exchange. Also, it currently accounts for an estimated 15.2% of all of BitPay's transactions.
Spending Litecoin is easier than you think. Ways to use your #Litecoin on everyday purchases. #PaywithLitecoin
⚡Pay directly to merchants that accept $LTC
⚡ Buy gift cards via @Bitpay
⚡ Transfer funds with a P2P transactionhttps://t.co/cEXp6r6ZfE

— Litecoin Foundation ⚡️ (@LTCFoundation) March 21, 2022
On Coingate, Litecoin is also the second most transacted cryptocurrency. Also accounting for an estimated 13.4% of all of Coingate's transactions. Several e-commerce merchants have also added support for Litecoin. Therefore, making it possible for their customers to make payments using Litecoin (LTC).
The above data and information clearly show that Litecoin lives in a strategic place to become the crypto for global payments.
In conclusion, Litecoin has a lot of positives. That is, from its fast transaction time to its near-zero fees and increasing fungibility. Also, increasing awareness and adoption makes it possible to accurately describe the crypto as the "Future of Global Payments."
LTC Price
At the time of writing, Litecoin was trading at $124.92, with a market cap of $8,730,856,943 and a 24-hour trading volume of $589,007,144. The token price is down by 0.6% in the last 24 hours.
---
Source
---
Back to the list