Back to the list
King of the Hill: Top Crypto Investor Explains Why Altcoins Are Highly Risky
www.newsbtc.com
29 March 2020 09:00, UTC
Reading time: ~3 m
---
As surprising as this may seem, Bitcoin has been underperforming its crypto ilk over the past few weeks; data from CoinMarketCap shows that Bitcoin dominance — the percentage of this market made up by BTC — has fallen from 66% to 64.9% in the past three days.
To further contextualize this, as of the time of this article's writing, Bitcoin has fallen 6% in the past 24 hours while both Ethereum and XRP have posted relatively strong performances of -3%. 
There's little to explain this trend; in fact, a top crypto investment fund recently reduced its exposure to altcoins and increased its allocation to Bitcoin. Here's why it did that.
Crypto: Will Bitcoin Outperform In This Crisis?
In "Crypto In This Crisis: Pantera Blockchain Letter, March 2020," Dan Morehead and Joey Krug of blockchain-centric fund Pantera Capital explained that Bitcoin will "probably out-perform other tokens for a while," explaining that it is one of the crypto projects that are entrenched and doesn't rely on funding per se:
It's a project that's already built, it works, it has an 11-year track record. Many newer blockchain and smart contract projects are still in development and might be stressed to raise funding to complete their development.
They further explained that "there's typically a flight-to-quality" or flight to safety "where people want to put money in the mega-caps, the safest asset, "the Treasuries" of the industry." In the case of crypto assets, Bitcoin is a Treasury bond, as it is much more liquid than the rest.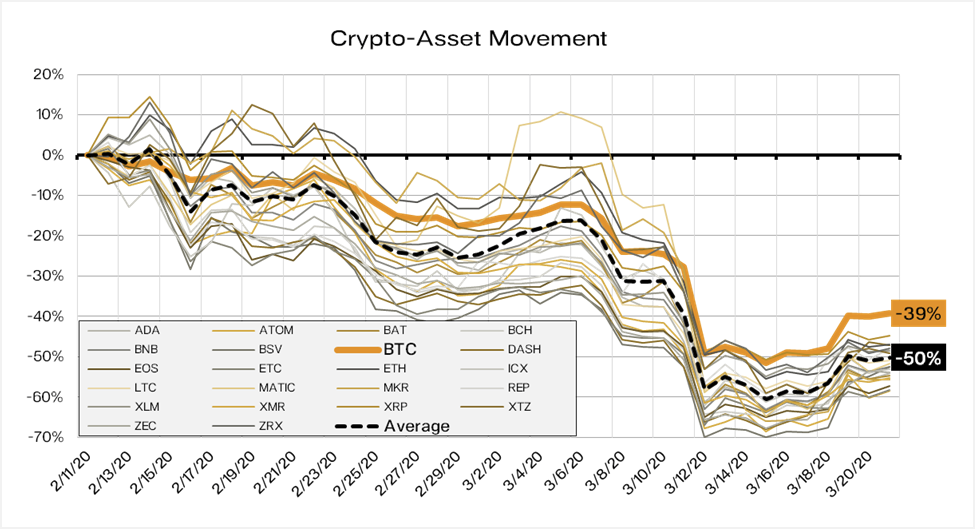 Bitcoin Could Hit New Highs Within a Year: Pantera CEO
Pantera doesn't only think the crypto market will begin to recentralize around Bitcoin, the fund also thinks the leading digital asset will outperform amid these times of crisis.
Earlier in the letter, Morehead explained that the unorthodox monetary and fiscal response to the crisis will be extremely bullish for Bitcoin. He wrote:
As governments increase the quantity of paper money, it takes more pieces of paper money to buy things that have fixed quantities, like stocks and real estate, above where they would settle absent an increase in the amount of money. The corollary is they'll also inflate the price of other things, like gold, bitcoin, and other cryptocurrencies.
As to how exactly it will affect Bitcoin, Morehead explains that with this backdrop, it will take around 12 months for the BTC price to "set a new record" above $20,000, which would mark at least a 230% rally from the current price point of $6,200 in under a year's time.
Featured Image from Shutterstock
---
Source
---
Back to the list