Back to the list
Internet Computer price prediction: ICP heads to a 12% jump
invezz.com
04 January 2022 12:15, UTC
Reading time: ~2 m
---
The Internet Computer (ICP/USD) price popped on Tuesday as the demand for the coin bounced back. The coin rose to an intraday high of $31.75, which was the highest level since December 9th. It has risen by more than 50% from the lowest level in December.
ICP fundamental analysis
Internet Computer is a blockchain project that was developed by Dfinity, a Swiss-based company. The network's goal was to change how developers build decentralized applications (dApps).
Shortly after its launch, the ICP price jumped to an all-time high of $97. It even became a top-ten cryptocurrency on the same day it was launched. Today, the coin has dropped by more than 67% while its ranking among the biggest cryptocurrencies has dropped to $35.
The Internet Computer is different than other smart contract platforms like Ethereum. For one, its network is structured into four layers known as peer-to-peer, consensus, message routing, and an execution layer that executes canisters when messages are received.
Today, many developers have embraced the Internet Computer network although the usage is still below that of Ethereum and Binance Smart Chain. For example, while Uniswap is built using Ethereum and Polygon, its front-end is built using Internet Computer. 
Other well-known platforms built on Internet Computer are Osmosis, DStar, and Earth Wallet. Still, the biggest challenge for Internet Computer will be attracting big developers to the network.
It is unclear why the Internet Computer price jumped on Tuesday. It could be that some buyers are buying the recent dip. Also, it could be that they are cheering last week's launch of a bridge that connects Internet Computer and Ethereum. 
The bridge, known as Terabethia, enables a cross-chain communication and asset transfers across the two blockchains. 
Internet Computer price prediction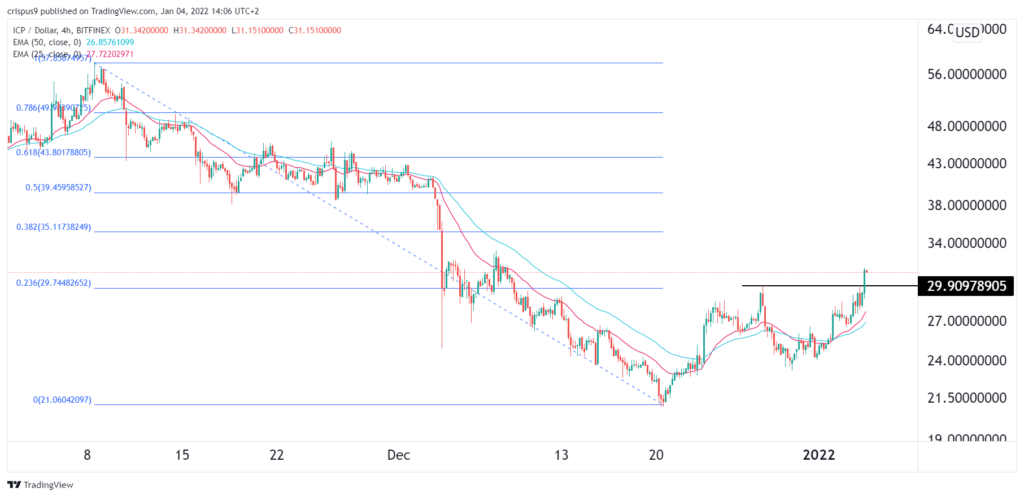 The four-hour chart shows that the ICP price has done well in the past few weeks. As a result, it has managed to move above the 23.6% Fibonacci retracement level. It also rose slightly above the key resistance at $29.90, which was the highest level on December 27th. 
The Internet Computer price also rose above the 25-day and 50-day moving averages while the Relative Strength Index (RSI) is pointing upwards. Therefore, there is a likelihood that the coin will keep rising as bulls target the 38.2% retracement level at $35.
---
Source
---
Back to the list