Crypto whales have been capitalizing on the recent industry swings and positive macro events to scoop some altcoins for potential gains in October 2023. On-chain analysis beams the spotlight on 3 mega-cap cryptocurrencies that are whales buying.
The crypto markets have reacted positively to vital macro events, including the recent Fed rate pause and Ethereum Futures ETF approval. Will these 3 large-cap altcoins deliver expected gains for crypto whales in October?
Crypto Whales are Driving Bitcoin Cash (BCH) Up Once Again
Similar to the initial bullish price rally that saw it claim a yearly peak of $329 in June 2023, crypto whales are driving Bitcoin Cash (BCH) up the top gainers' charts again.
BCH price broke above the $250 mark this week. On-chain data shows that a historically price-savvy cohort of crypto whales holding 100,000 to 1 million BCH has emerged as one of the main drivers behind this rally.
As depicted below, the whales have acquired 150,000 BCH between September 21 and October 3.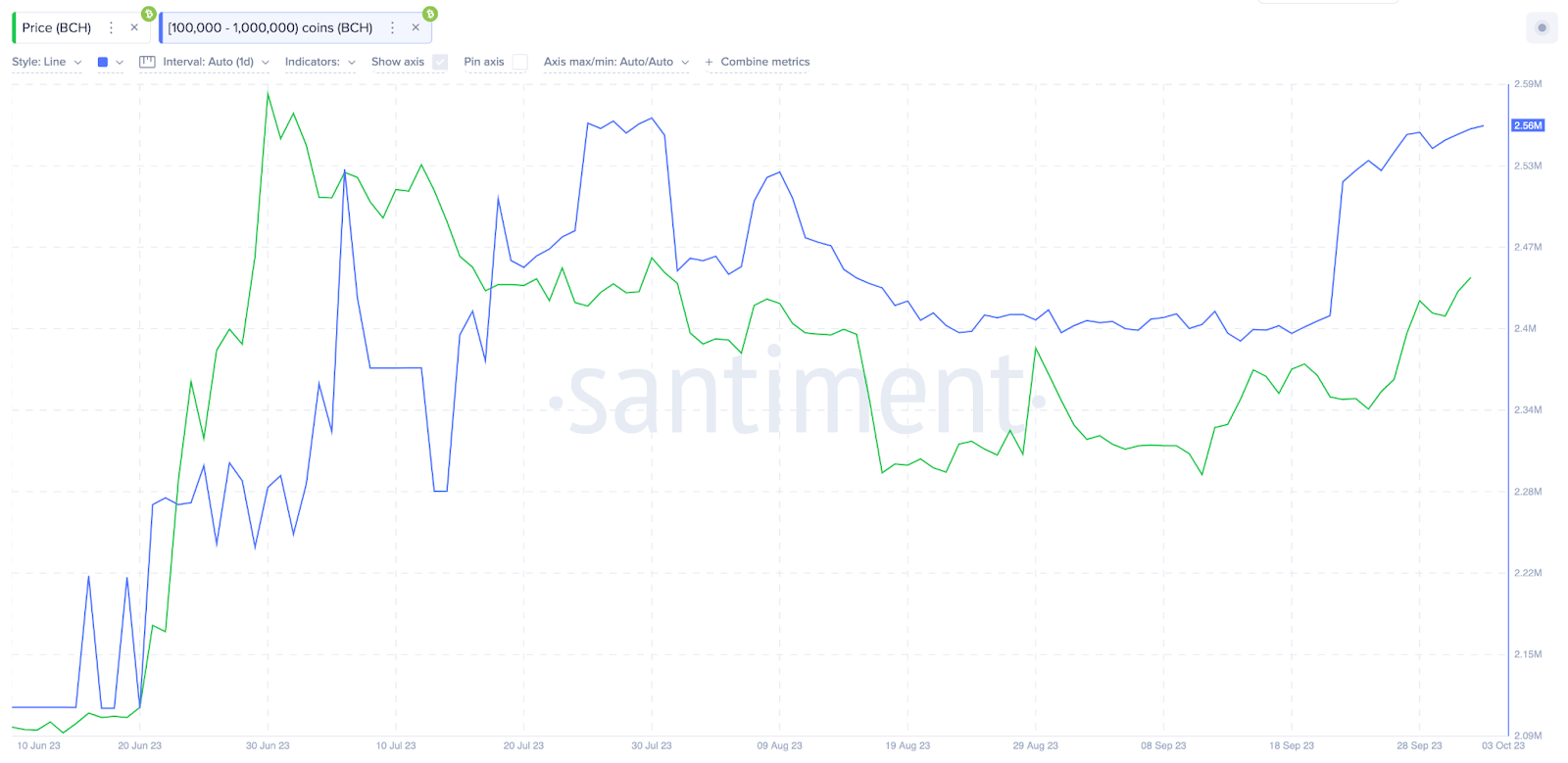 Bitcoin Cash (BCH) Whales Wallet Balances vs. Price | Source: Santiment
This cluster of crypto whales spent the last week of September stacking up their BCH bags. At the current price of $240, the newly-acquired 150,000 BCH coins are worth approximately $36 million.
Notably, this particular whale cohort had timed the June 2023 rally fairly accurately. They bought a whopping 420,000 BCH between June 20 and July 6, when the BCH price skyrocketed by over 150%.
However, it remains to be seen if the whales will keep buying Bitcoin Cash in October or diversify into lesser-cap alts as the bull market matures.
Large Investors are Shifting Capital Inflows into Chainlink (LINK)
With a 30% upswing, Chainlink (LINK) emerged as one of the September top gainers in the top 20 crypto rankings.
A successful Tokenization dress rehearsal with SWIFT and the boom in the Real World Assets (RWA) sector appears to have been central to LINK's recent ascent. And on-chain data shows that crypto whales have been paying close attention.
As such, the IntoTheBlock chart below shows how Whale Transactions rose from 30 transactions to 218 transactions between September 17 and October 2.
Notably, the 218 whale transactions recorded on October 2 were the highest since July 24, 2023.

Chainlink (LINK) Whales Wallet Balances vs. Price | Source: IntoTheBlock
As the name implies, Large Transactions are the sum of the daily number of confirmed trades that exceed the $100,000 mark.
For several reasons, such a persistent increase in whale activity is typically bullish for an asset's price. It boosts market liquidity, enabling spot market participants to execute their trades efficiently.
But more importantly, when crypto whales buy, it encourages other strategic retail investors to maintain a positive disposition.
If the Chainlink whales keep up this level of trading activity, the recent retracement below $8 could soon abate. If this prediction holds, LINK holders can expect similar gains in October, as they booked last month.
Institutional Entities are Turning to Maker For Profits After Fed Rate Pause
Maker (MKR) price is another major crypto that received a macro event boost in September. Shortly after the US Fed announced a rate pause on September 20, the number of Large Transactions on the Maker network began to rise.
The chart below shows that the Maker network recorded only 9 confirmed whale transactions on September 19. But since then, it has consistently increased, hitting a 6-month peak of 102 Large Transactions on October 2.

Maker (MKR) Whale Transactions vs Price | Source: IntoTheBlock
The noticeable Large Transaction spike in the chart above shows the MKR whales swung into action once the Fed rate pause was announced. Hence, this suggests that institutional entities increasingly turn to Maker for the attractive 8% DAI savings rate.
Notably, the next Fed meeting will be held on November 1. Hence, the bullish MKR whales could have ample room to drive the price further forward in October.
In summary, crypto whales are buying Bitcoin Cash (BCH), Chainlink (LINK), and Maker (MKR) for potential gains in October 2023.
If historical data trends repeat, holders can expect the recent whale demand to translate into noticeable price upswings. However, the bears could regain control if the bullish sentiment in the crypto market does not hold.