Back to the list
Two Reasons Why Tezos ($XTZ) Would Make a Good Investment Now
www.altcoinbuzz.io
07 October 2021 17:41, UTC
Reading time: ~3 m
---
The Tezos blockchain and its native $XTZ token have been getting good market momentum recently, and there are plenty of reasons why.
In 2020, Tezos went out of fashion among cryptocurrency traders. Then, in mid-2021, this happened again due to the NFT boom and an explosion of new yield generating tokens.
However, Tezos is back to the mainstream again now with the emerge of the $XTZ token to an all-time this week. In contrast, many of those DeFi tokens are in retreat. In this article, we will explain why we think Tezos could still grow.
Reason 1:Tezos Fundamentals  
This week, the big news was that Arab Bank Switzerland announced that it would be integrating the Tezos blockchain. This would enable it to offer trading, staking, and custody services for the XTZ token.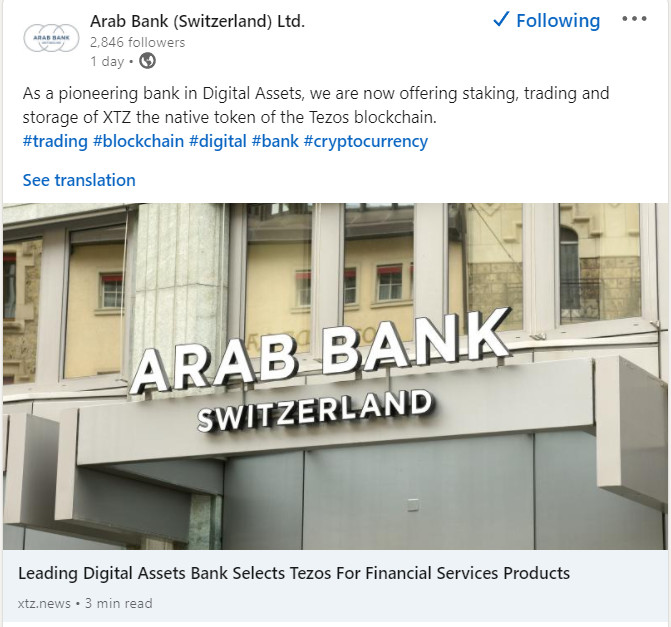 Source: Linkedin
Managing Director of Arab Bank Switzerland, Rani Jabban, commented that crypto assets are the cornerstone of its strategy as it targets institutions, corporations, and high net-worth individuals.
On the other hand, Tezos has been onboarding NFT platforms to provide faster and cheaper NFT minting and trading options. Tezos NFT marketplaces have attracted several prominent artists, such as American musician Doja Cat.
Also, in a September ecosystem update, the Tezos team said, "Tezos is rapidly becoming the artists and collectors platform of choice." On-chain activity is also at record levels, with contract calls for September topping 5.8 million. This increase represents a growth of over 56% from the previous month, and a lot of it is NFT based.
Likewise, the DeFi sector continues to gain traction, with the Plenty DeFi yield farming platform reaching over USD 62 million in TVL.
#Tezos is paving the way for a global, decentralized, and community-governed digital future.

Explore one of the fastest growing ecosystems for #art, #finance, and #gaming innovation.https://t.co/E2WTUnkqjb pic.twitter.com/zYT8uyGw83

— Tezos (@tezos) September 21, 2021
The latest proposed protocol upgrade called Hangzhou will also usher in several improvements to the ecosystem.
Reason 2: Solid Staking Rewards
Tezos still offers solid staking rewards, which is why token holders tend not to sell their $XTZ but stake them for passive income.
According to Staking Rewards, staking $XTZ can earn 4.74%, similar to ETH 2.0, with the added advantage of not locking the assets up. There is currently 75.5% of the $XTZ supply staked with a value of around USD 5.3 billion.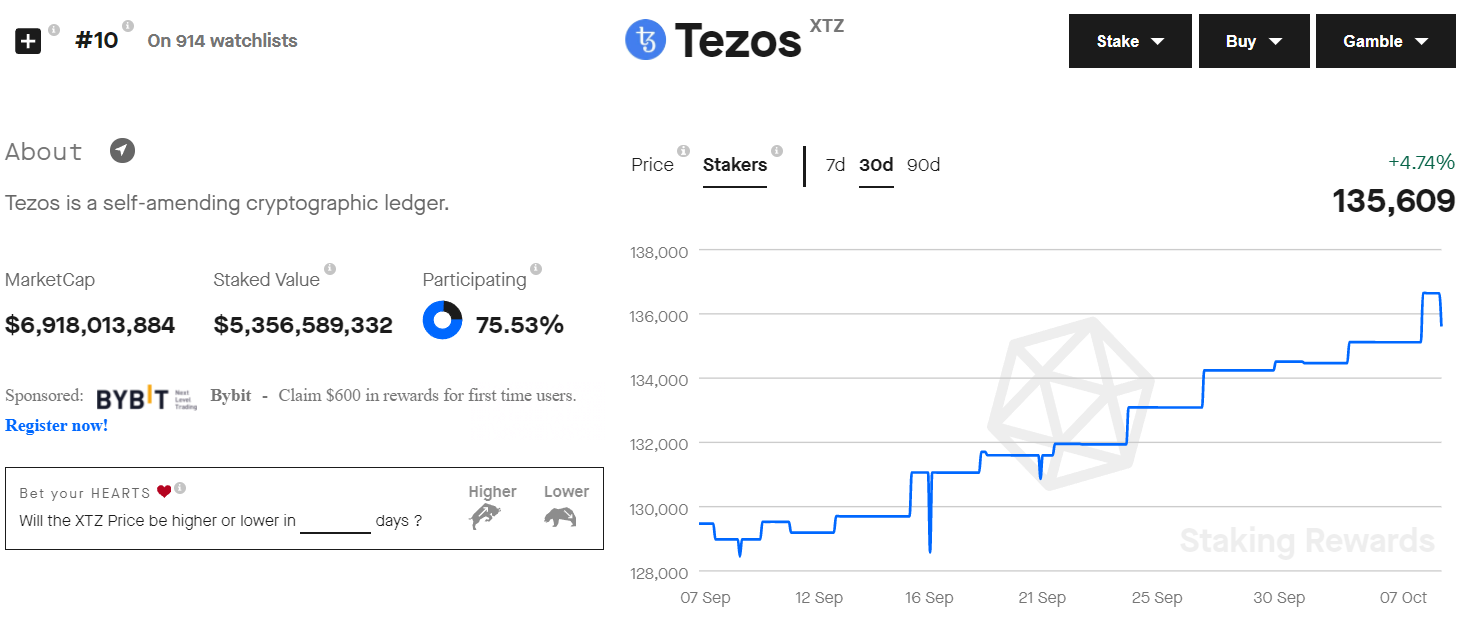 Source: Staking Rewards
$XTZ Price
On October 4th, $XTZ prices hit a peak of USD 9.12. This is again of 350% increment since the beginning of 2021. When writing this article, the $XTZ token was trading at USD 7.92, following an increase of 37% since last week.
On the other hand, $XTZ has a marketcap of USD 6,861,828,532 with a 24-hour trading volume of USD 1,035,372,922.
---
Source
---
Back to the list