Back to the list
Dogecoin (DOGE) Whale Transactions Jump 152%, Will Price Gain Follow?
u.today
26 May 2023 15:22, UTC
Reading time: ~2 m
---
Dogecoin (DOGE), the crypto ecosystem's first and largest meme coin, is seeing a massive surge in the number of whale transactions on the network as the broader market returns to a profitable path. According to data from IntoTheBlock (ITB), the number of DOGE transactions surpassing $100,000 over the past 24 hours jumped by more than 152% to 1,250.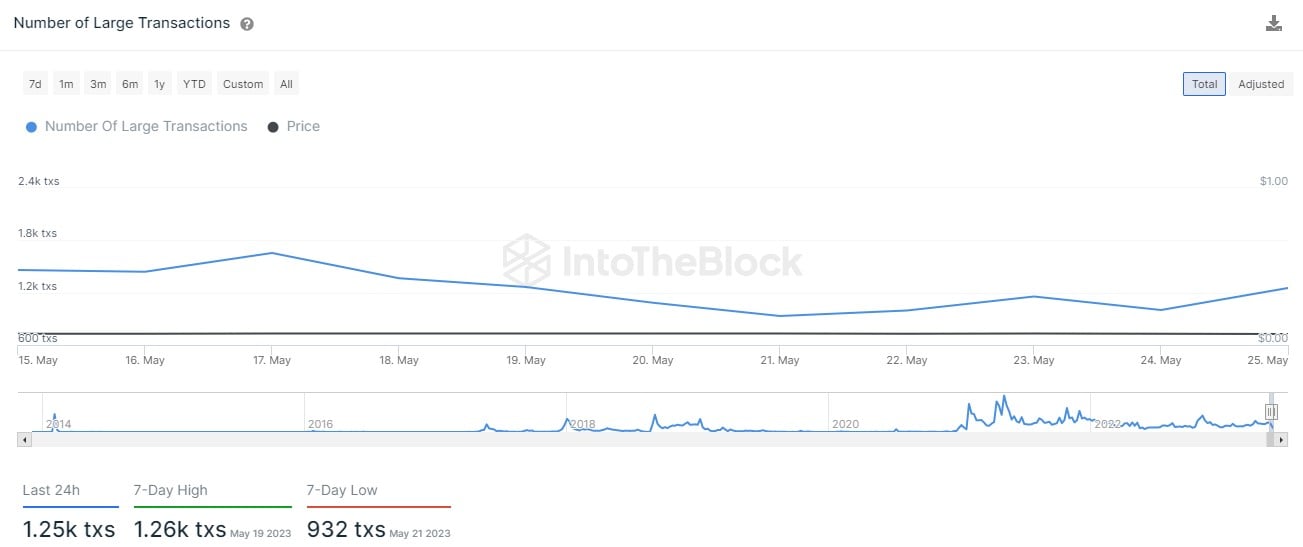 This transaction growth is significant as it shows deep commitment to the meme coin even at a time when market sentiment has tilted into the bearish zone.
At the time of writing, each DOGE is changing hands at a price of $0.07086, down by 0.05% over the past 24 hours at a time when crypto assets are trying to wriggle out of their deep losses accrued all week long. The meme coin's growth was rejected at the $0.075 price level in what shows that the bearish grip on the coin is far from easing.
The growth in large whale transactions has a way of boosting sentiment on the network, by driving the scarcity of DOGE tokens. Should this massive accumulation continue, we may begin to see the much-needed turnaround in the price of the meme coin.
Influence of Dogecoin contenders
Drawing on the slow growth in the price of Dogecoin in the month-to-date period, we can infer that the coin is losing momentum as the favored fun token.
This is in part due to the fact that more low-cap meme coins with the potential to create massive growth in a short time are finding their way into the ecosystem.
With the likes of PEPE, Milady Meme Coin (LADYS) is now taking center stage, and the influence of DOGE and Shiba Inu (SHIB) is waning, but the targeted whale action can help resuscitate interest in the legacy meme coins.
---
Source
---
Back to the list