Back to the list
$ADA: IOG Gives an Update on 'The Health of the Cardano Ecosystem'
www.cryptoglobe.com
25 January 2023 13:15, UTC
Reading time: ~3 m
---
Recently, Input Output Global ("IOG), the blockchain technology firm responsible for the development of Cardano ($ADA), provided some interesting information about Cardano's exciting ecosystem.
IOG started by saying that "Cardano projects are increasing" and that "Cardano has become more interoperable." One example they cited is Milkomeda, which "delivers EVM compatibility to Cardano."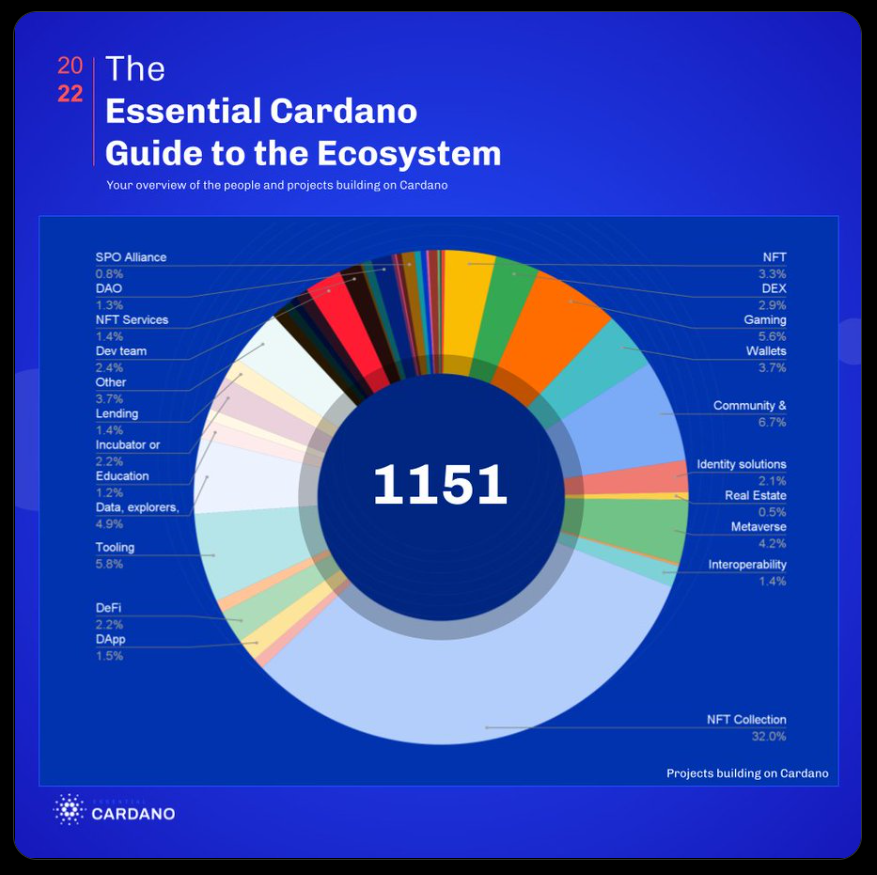 Source: Twitter
They also mentioned that there are currently 14 Cardano-compatible wallets; a few examples are Daedalus, Flint, Nami, and Yoroi. By the way, on 22 January 2023, blockchain startup dcSpark announced an important update to its lightweight and user-friendly wallet for Cardano, which is called Flint. Version 2.0.0 was released on 20 January 2023 for Android and on 21 January 2022 for iOS:
We have been working on this for quite a while!

*Flint 2.0* is out! Why 2.0? What changed?

The goal of Flint is interoperability, so we are very excited to announce this big step:

Milkomeda C1 tokens support is here 🫡

Next stop Milkomeda Smart Contracts and Paima Gaming pic.twitter.com/XBAYtP5y3C

— FlintWallet (@FlintWallet) January 22, 2023
Next, IOG mentioned that "Cardano native tokens can also be stored in hardware wallets for holders to store their private keys offline." Cardano is currently supported by at least four hardware crypto wallets: Trezor Model T, Ledger Nano S Plus, Ledger Nano X, and BC Vault.
Among the Cardano DEXes IOG mentioned were SundaeSwap, MuesliSwap, WingRiders, and ADAX.
🧵1/n

With 1K+ projects #BuildingonCardano, from wallets to DEXs, #DeFi and more, let's look at the health of the #Cardano ecosystem. #Cardano projects are increasing & Cardano has become more interoperable. @Milkomeda_com for example delivers EVM compatibility to Cardano. pic.twitter.com/kK4BYKXeJd

— Input Output (@InputOutputHK) January 19, 2023
On
18 January 2023, popular and respected pseudonymous Cardano ($ADA) influencer "ADA whale" ("cardano_whale" on Twitter) said that there is "an insane amount of cool stuff" coming to Cardano and its ecosystem.
Try to avoid talking about Soon™ stuff on Cardano but just a reminder an insane amount of cool stuff is coming. Two of the most significant stable coin launches, top tier trading platform, eBook mobile dapps, privacy side chain, pooled lending, stable swap, Hydra, governance..

— ADA whale (@cardano_whale) January 18, 2023
Here are a couple of examples of the projects — launching this year — that he is excited about:
Algorithmic Stablecoin $DJED
Check out our latest $Djed FAQ post below! We also plan on doing AMA's and other activities in the future. As usual, we will keep everyone updated!$Coti #Djed $Ada @CardanoStiftung https://t.co/Hfff4WcWPP

— Djed (@DjedStablecoin) May 31, 2022
We are pleased to share another update about Djed's progress and to inform you that the launch is scheduled for next week!

Read more: https://t.co/7kPjfGMNmk$DJED $COTI @InputOutputHK @Cardano pic.twitter.com/mHA5KVblay

— COTI (@COTInetwork) January 24, 2023
Fiat-Backed Stablecoin $USDA
#EMURGO, the official commercial arm and a founding entity of the #Cardano #blockchain, announces the planned launch of its new U.S. Dollar-backed stablecoin, $USDA. USDA is the first fully fiat-backed, regulatory compliant stablecoin in the Cardano ecosystem. pic.twitter.com/PKOwpkdI0y

— EMURGO (@emurgo_io) January 6, 2023
#CardanoCommunity, great feature of $USDA, it is a native asset. This means that there is no need to compute a smart contract when transferring it. ⁦@cardano_whale⁩ ⁦@CryptoIRELAND1⁩ https://t.co/Mq3yJqMEc8

— Chris O (@TheOCcryptobro) January 15, 2023
Image Credit
Featured Image via Unsplash
---
Source
---
Back to the list
Similar news