Back to the list
Threshold's Positive Market Sentiment Skyrockets Price by Over 80%
coinedition.com
24 January 2023 12:00, UTC
Reading time: ~2 m
---
Threshold (T) has been steadily rising over the past 24 hours, with buyers pushing the price to a new 90-day high of $0.05064. As of this writing, the price of T had climbed to $0.04408 following an 83.21% increase due to the market's growing confidence.
As a consequence of the bullish control in the Threshold market, market capitalization and 24-hour trading volume increased by 83.40% and 6184.53%, respectively, indicating substantial market interest.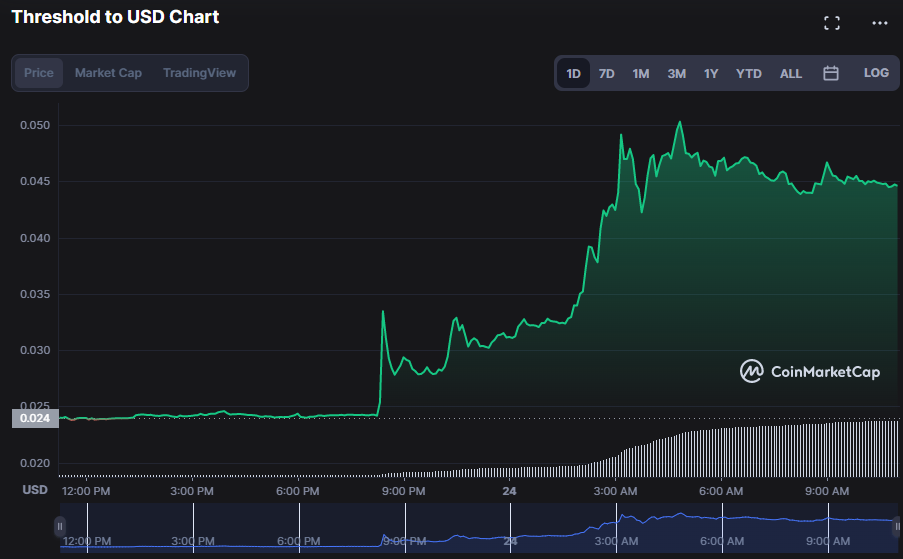 T/USD 24-hour price chart (source: CoinMarketCap)
green candlestick, bullish tenacity is likely to take hold, and the market might push for higher highs.
When the Aroon up is higher than the Aroon down, more strength is in the uptrend, which indicates that market sentiment is favoring a bullish trend. In this case, the Aroon up is 85.71% and the Aroon down is 35.71%, both of which reflect market sentiment in favor of an uptrend in the near term.
T/USD 4-hour price chart (source: TradingView)
The blue MACD's northward progression with a rating of 0.00515 indicates that bullish vigor is increasing. The histogram's positive trend contributes to this perception that bulls have the upper hand in the market, projecting price gains.
The technical ratings indicate a strong buy signal, implying that the T-USD pair will maintain its recent upward trend. By raising traders' expectations for a long-term bull run, this hypothesis increases the likelihood of a break above the resistance level.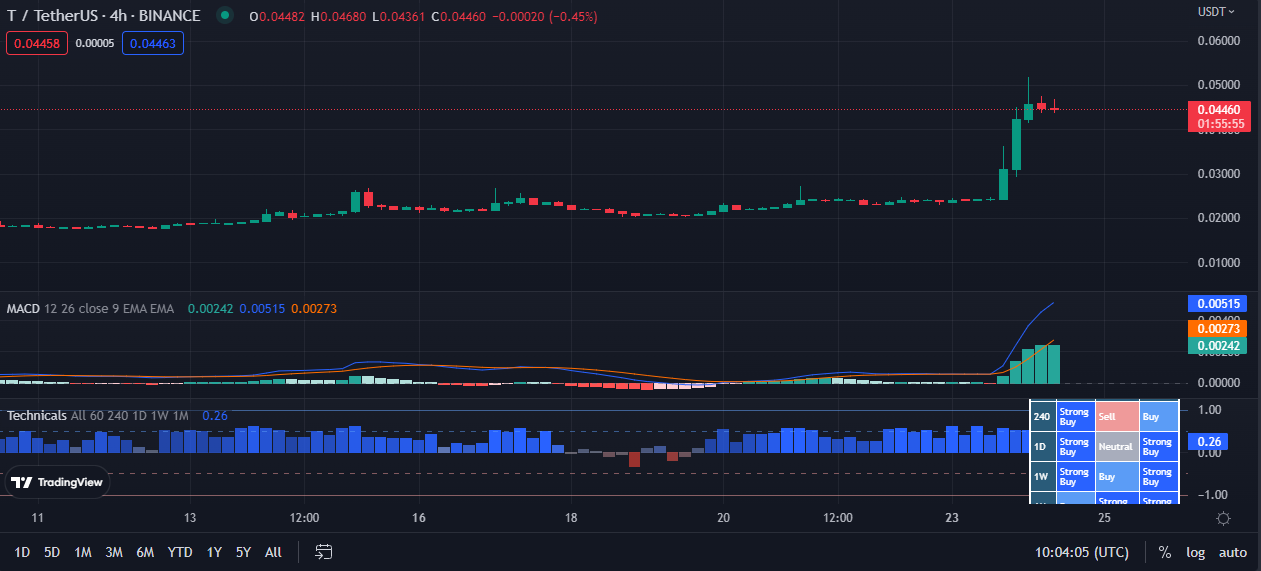 T/USD 4-hour price chart (source: TradingView)
If the bulls can continue to exert their dominance over the market, the technical indicators hint to even greater gains for the T investors.
Disclaimer: The views and opinions, as well as all the information shared in this price analysis, are published in good faith. Readers must do their own research and due diligence. Any action taken by the reader is strictly at their own risk. Coin Edition and its affiliates will not be held liable for any direct or indirect damage or loss
---
Source
---
Back to the list