Back to the list
Wallet Holding 293B Shiba Inu Burns 23M SHIB
thecryptobasic.com
20 January 2023 09:36, UTC
Reading time: ~2 m
---
Mysterious wallets are burning millions of Shiba Inu on daily basis.
Over 26.04 Million Shiba Inu (SHIB) burned in the past 24 hours. A mysterious Shiba Inu Whale holding $3.34 Million Worth of Shiba Inu burned 23.14 Million SHIB.
Shibburn, a SHIB burn tracking platform recently reported that in the last 24 hours, the Community-led SHIB burn initiatives have successfully eliminated a whopping 26,046,094 (26.04M) SHIB tokens from circulation forever through 5 separate transactions.
In the past 24 hours, there have been a total of 26,046,094 $SHIB tokens burned and 5 transactions. Visit https://t.co/t0eRMnyZel to view the overall total of #SHIB tokens burned, circulating supply, and more. #shibarmy

— Shibburn (@shibburn) January 20, 2023
A mysterious Shiba Inu wallet, holding a large amount of Shiba Inu tokens (293.17 billion) with a total value of $3,348,055 ($3.34M) executed a record burn transaction over the past day. The said wallet sent a staggering 23,141,621 (23.14M) SHIB to the "inferno" address in one major transaction. As per data provided by Etherscan.io, the massive burn transaction was executed exactly at 10:51:59 PM +UTC on January 19th, 2022.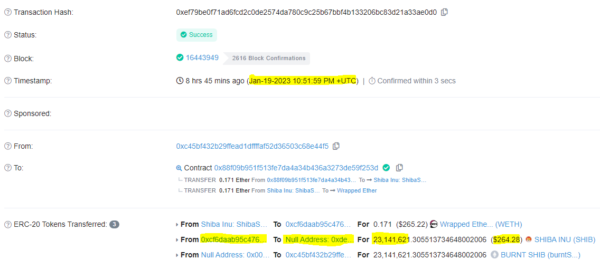 Mysterious Shiba Inu Whale Burned 23.14 Million SHIB
As reported by TheCryptoBasic, On Jan 12th, Mysterious Wallet Holding 1 Billion Shiba Inu Burned 20 Million SHIB, on Jan 17th Unknown Wallet Burnt 36.42M Shiba Inu in One Transaction, and on Jan 19th an anonymous wallet Burned 10 million Shiba Inu.
Moreover, Shiba Inu has seen a remarkable increase in its performance during the past week, with an increase of 20.1%. The surge in price comes on the heels of the announcement made by the development team that the beta version of the Layer 2 protocol Shibarium is going to be released soon. The much-awaited Shibarium – Layer 2 Solution aims to increase the number of transactions and speed them up, while also reducing the cost of transactions, which is expected to attract more users and increase the adoption of the SHIB token.
Apart from this, the development team has also confirmed that every transaction made on the Shibarium network will result in the burning of SHIB tokens, thus reducing the overall supply of Shiba Inu. This is seen as a positive move by the community as it will likely lead to an increase in the value of the remaining tokens in circulation.
As reported earlier by TheCryptoBasic, Robinhood has finally released its long-awaited cryptocurrency wallet, known as Robinhood Wallet to its 1 million waitlisted users with Shiba Inu support.
---
Source
---
Back to the list