Back to the list
Waves Blockchain Founder Sasha Ivanov Promises USDN Revival Plan, New Stablecoin
www.coindesk.com
20 December 2022 11:46, UTC
Reading time: ~2 m
---
Sasha Ivanov, the founder of decentralized, open-source blockchain Waves, said he will unveil another stablecoin after providing a plan to stabilize USDN, the algorithmic, dollar-pegged cryptocurrency of the Waves ecosystem.
"Two things: I will launch a new stable coin – There's gonna be a $USDN situation resolution plan set in motion before," Ivanov announced on Twitter on Tuesday.
While Ivanov did not give a timeline for the introduction of the new stablecoin or any details, he promised that the new coin would be "undepeggable."
Stablecoins are cryptocurrencies with values pegged to an external reference like the U.S. dollar. They can be categorized into four types, identified by the collateral backing their value: fiat-backed, crypto-backed, commodity-backed and algorithmic.
USDN is an algorithmic stablecoin backed by WAVES, the native token of the Waves blockchain. Users need to lock in WAVES in the Neutrino protocol to mint USDN, while redemptions have the opposite effect of taking the stablecoin out of circulation while unlocking WAVES. Neutrino is an algorithmic, price-stable, multi-asset protocol based on Waves facilitating the creation of stablecoins.
USDN, which is meant to trade in line with the dollar, lost its peg last week after South Korea's Digital Asset Exchange Association labeled WAVES as an "Investment Warning" asset.
The stablecoin fell to $0.53 early today, according to CoinGecko data.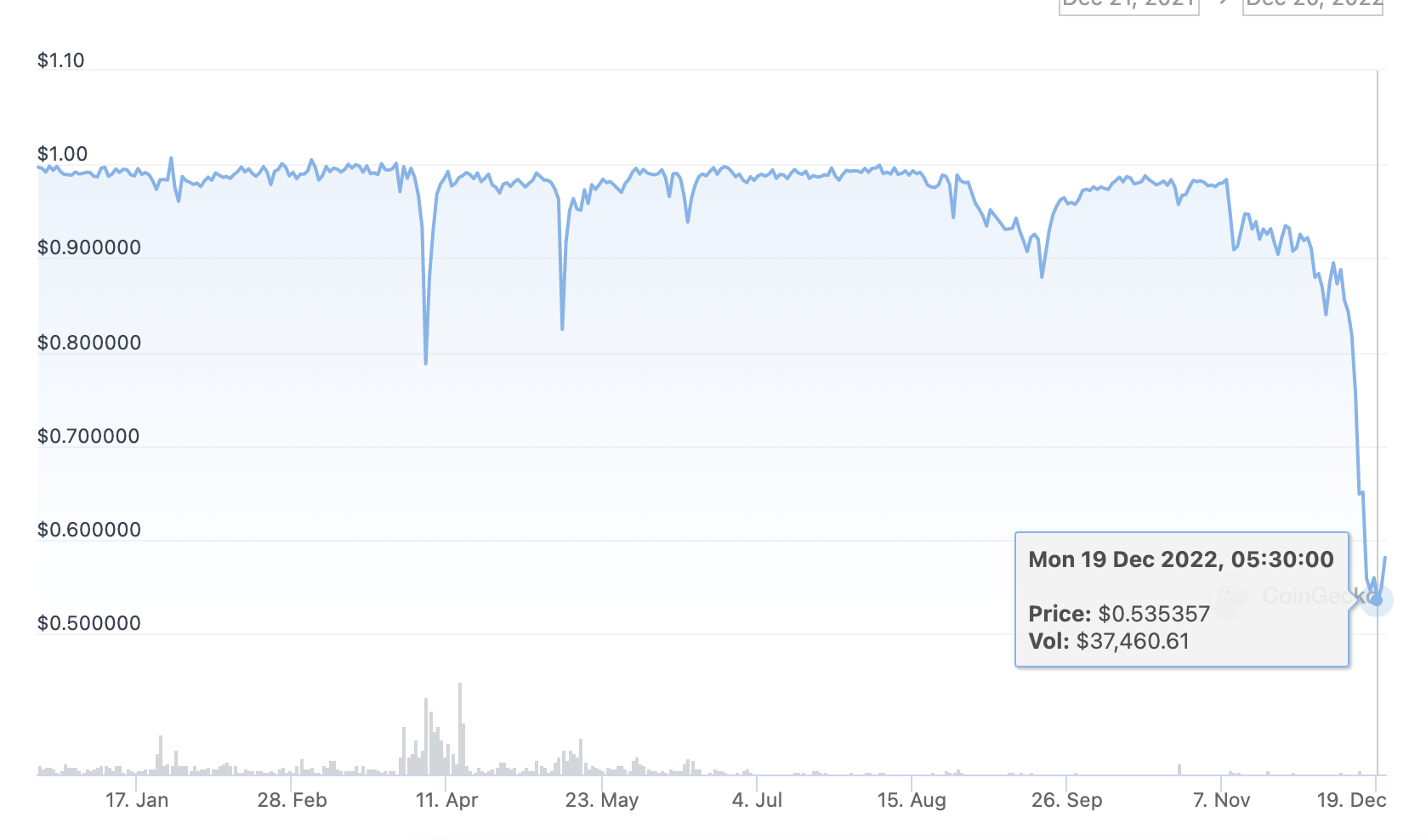 The algorithmic stablecoin of the Waves ecosystem fell as low as $0.53 early Tuesday (Source: Coingecko) (Coingecko)
---
Source
---
Back to the list
Similar news