Back to the list
VOICE is not the only good news, Block.One CTO reveals other updates on EOS
www.chepicap.com
02 June 2019 04:16, UTC
Reading time: ~2 m
---
VOICE is not the only big news from Block.One, EOS CTO, Dan Larimer reveals several other updates on the EOS blockchain.
Block.One just announced the launch of their EOS-based social media platform a couple of hours ago, which brought EOS' price to surge up to 12%.
But, that's not the only updates the company has in store. Speaking at #b1June Event in Washington DC just a couple of hours ago, CTO Dan Larimer revealed several other updates to the participants.
As a follow up to the EOS' Coinbase listing announcement end of last month, an educational program is launched to Coinbase users. Described as "a great resource to share with friends/family who are interesting in EOS and wanting to learn more", the EOS Earn Program covers 5 basic topics, such as what are EOSIO and EOS, what is delegated proof of stake, what is EOS token, CPU, NET, and RAM: Resources on EOSIO and Developing apps with EOSIO.
Larimer then mentioned about EOSIO 2, which he claimed as "the next step". Quoting his statement, "EOSIO 2 for us and the community, is just the next step in making EOSIO, the fastest, most scalable and most useable blockchain software in the world."
With the launch of EOSIO 2, a new web assembly engine designed specifically for blockchain will also also introduced, called EOS VM.
The proposed EOS VM Engine is claimed to be able to increase the speed of smart contracts execution on the EOSIO blockchain by 12 times.
Moreover, the EOSIO 2 will also upgrade the security of the blockchain network as it supports signing transactions with any web browser through YubiKey.
Value-wise, after seeing a significant surge just a mere hours ago, EOS is now losing by -10.4% and is traded at around $7.6 on major exchanges like Coinbase, Binance, Kraken and Bitfinex.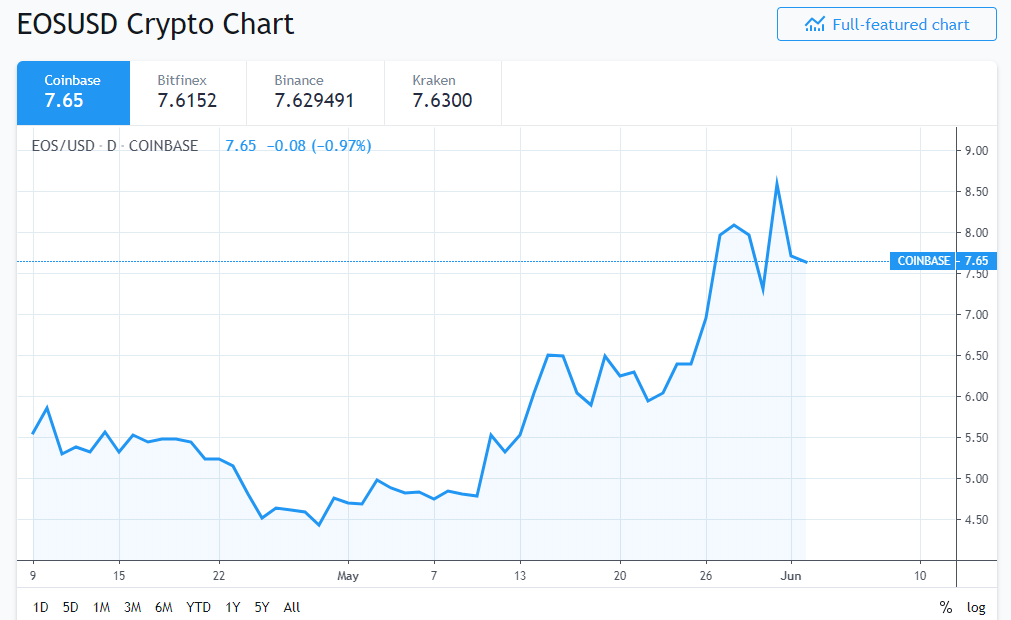 Stick with Chepicap for the latest update from the crypto space.
---
Source
---
Back to the list