Back to the list
EOS, BTT, ETH: These are the top 10 altcoin performers in May 2019
www.chepicap.com
01 June 2019 08:10, UTC
Reading time: ~4 m
---
Despite May ending with the cryptocurrency market in red numbers, we can look back at very bullish price action in both Bitcoin and altcoins in the last month. This is the top 10 of best performing altcoins in the top 100 in the month May.
And with Bitcoin as number 11 on the list, gaining 57.39% in May, this at the same time is an overview of the 10 projects that managed to outperform Bitcoin this month.
10. IOTA (IOT) - 58%
We start the list with IOTA, that gained almost 60% in May in two waves, one starting on May 12 and one starting on May 26. The latest rise of IOTA was the result of an announcement about Coordicide, a decentralized mechanism securing the IOTA Network, that will replace the old Coordinator.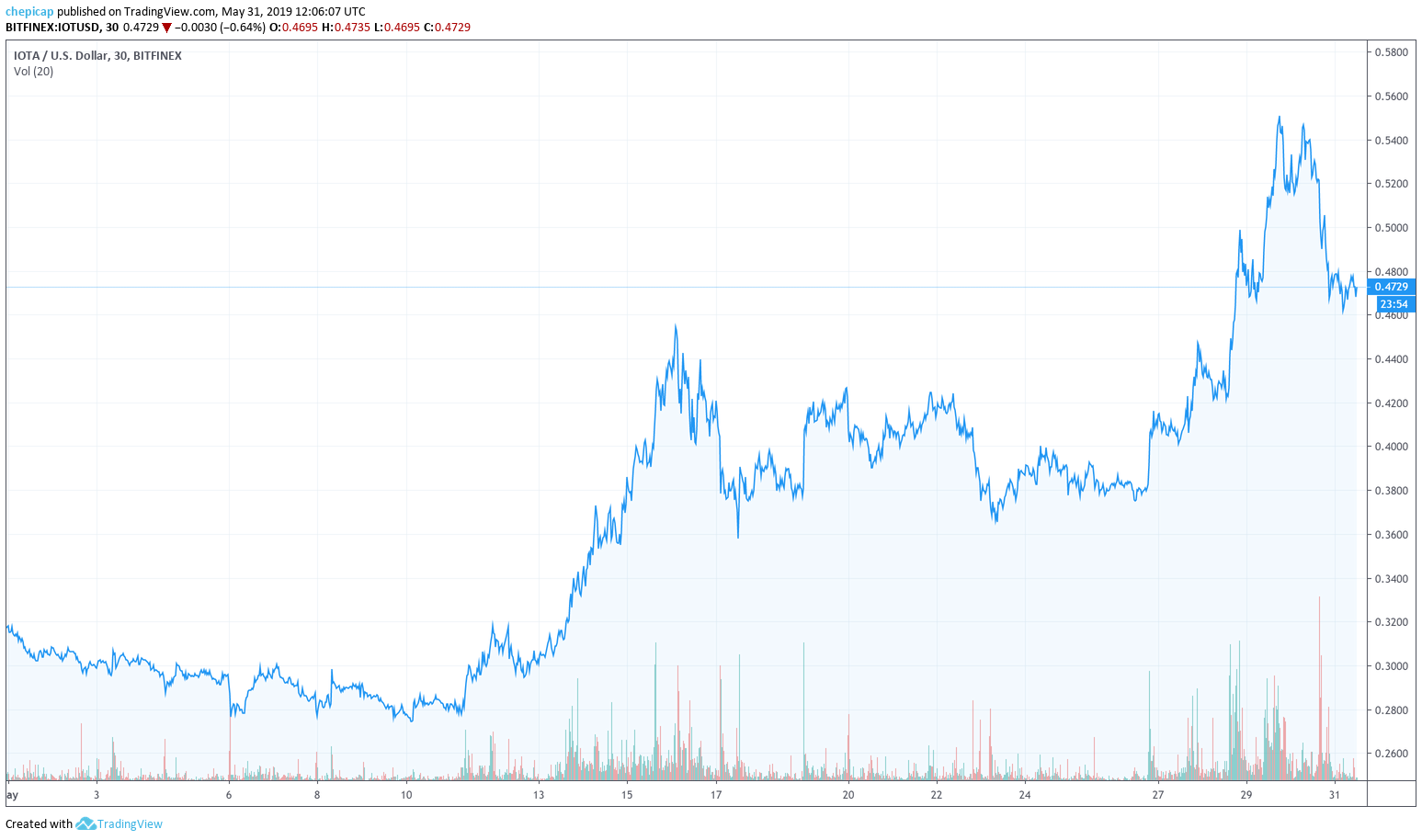 IOTA/USD Chart provided by Tradingview

9. Ethereum (ETH) - 62.82%
Ethereum has slightly outperformed Bitcoin in May, gaining 5% more than the number one in the cryptocurrency market. Year-to-date however, Bitcoin is still on top, gaining 120% while Ethereum has made 89% gains.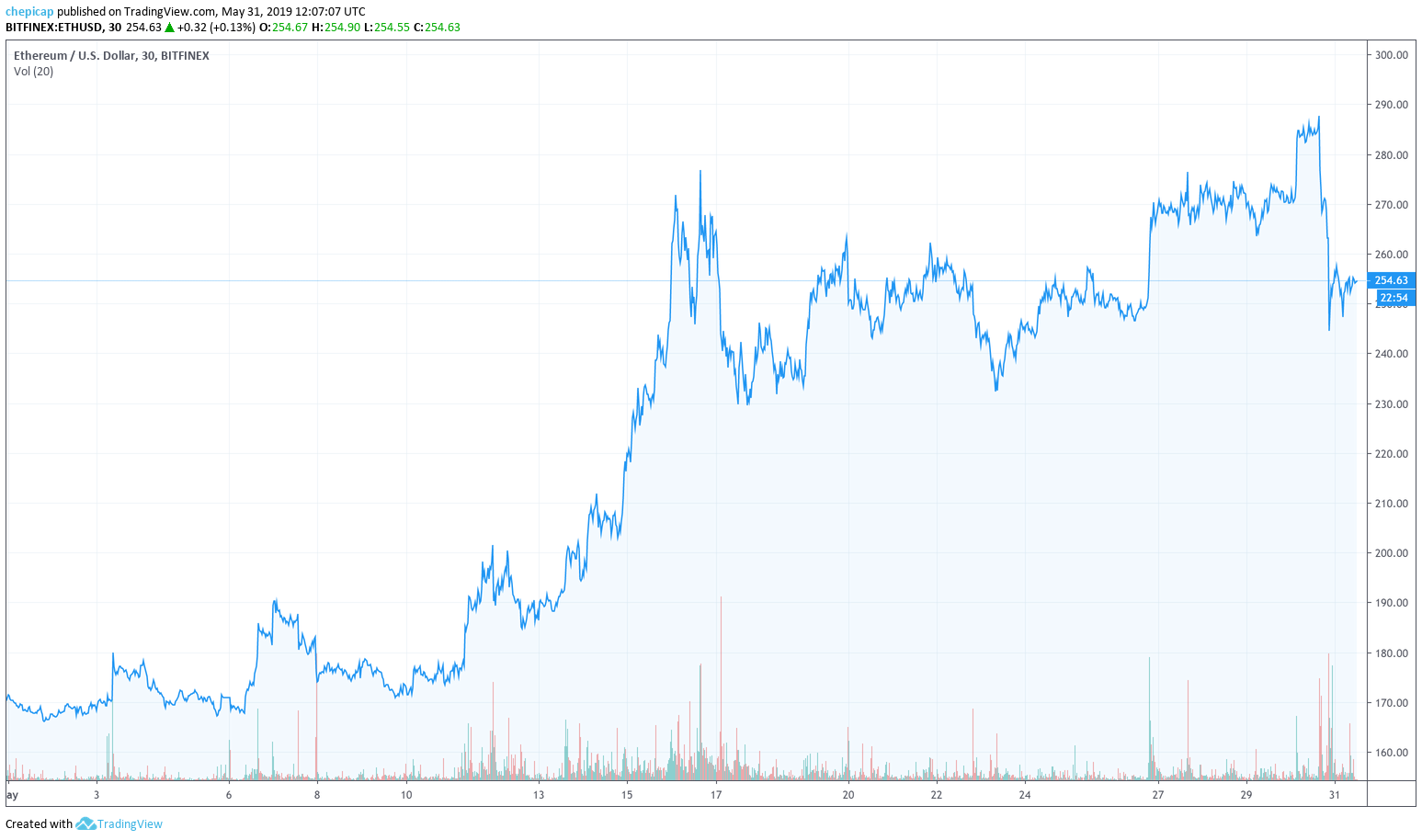 ETH/USD Chart provided by Tradingview

8. EOS (EOS) - 65.52%
EOS has seen a lot of price action in the last week, due to an announcement that will be made on June 1. According to Founder Daniel Larimer, it will be 'the biggest news since the EOSIO announcement'. On May 30, Coinbase announced that EOS is now available on Coinbase.com and the apps. EOS is up 66% in May.




EOS/USD Chart provided by Tradingview
7. NEM (XEM) - 67.25%
NEM has experienced some difficult months, but is back at it in May with the launch of Catapult, the NEM blockchain 2.0, and the Zeux integration, which allows people to spend XEM through Samsung Pay and Apple Pay. As a result, NEM is up 67% this month.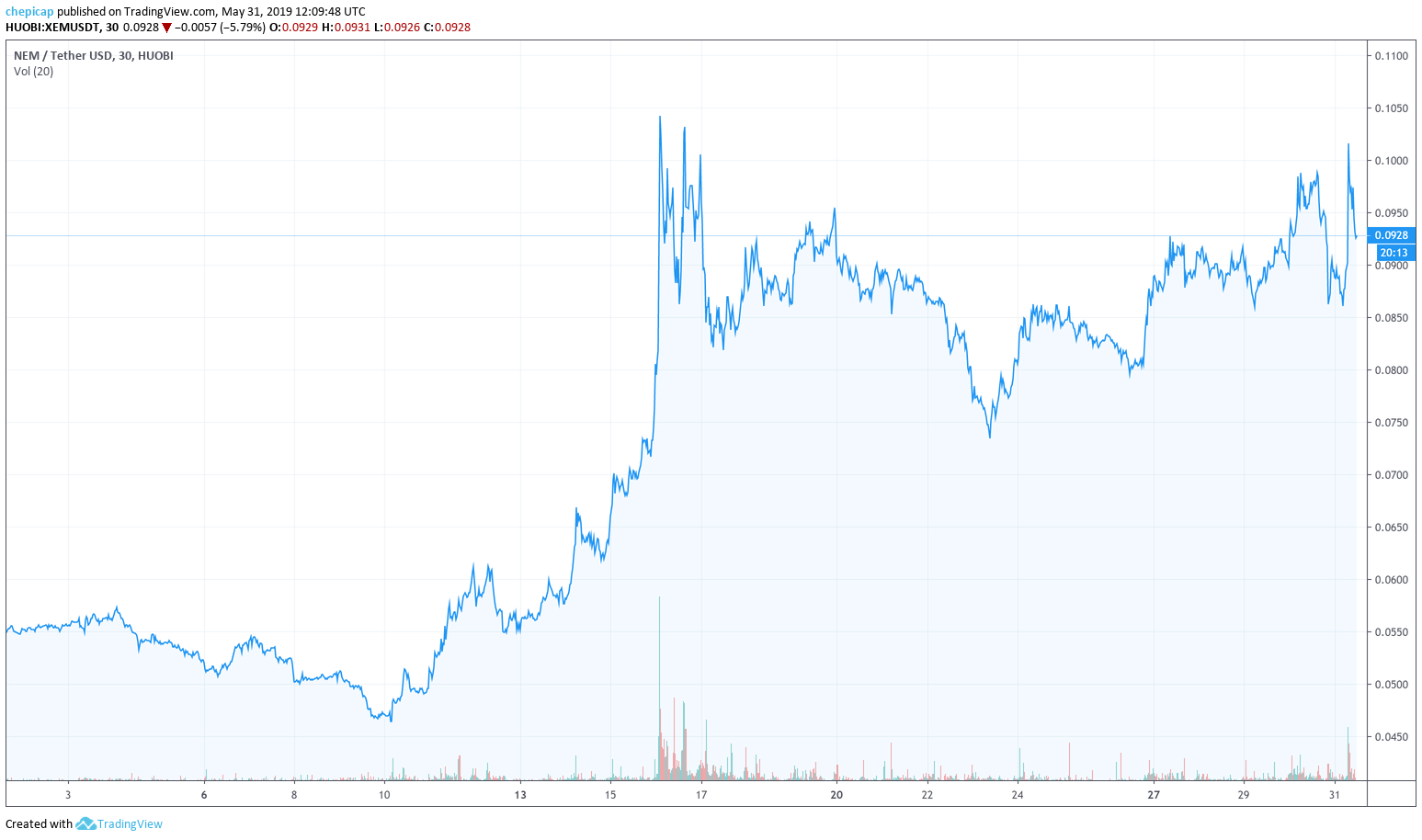 XEM/USDT Chart provided by Tradingview
6. Bitcoin Cash (BCH) - 67.49%
Bitcoin Cash is a steady gainer all year already surging 164% since the start of the year and that bullish performance is no different in may, with BCH jumping 67%. This makes it the sixth best performer of the month.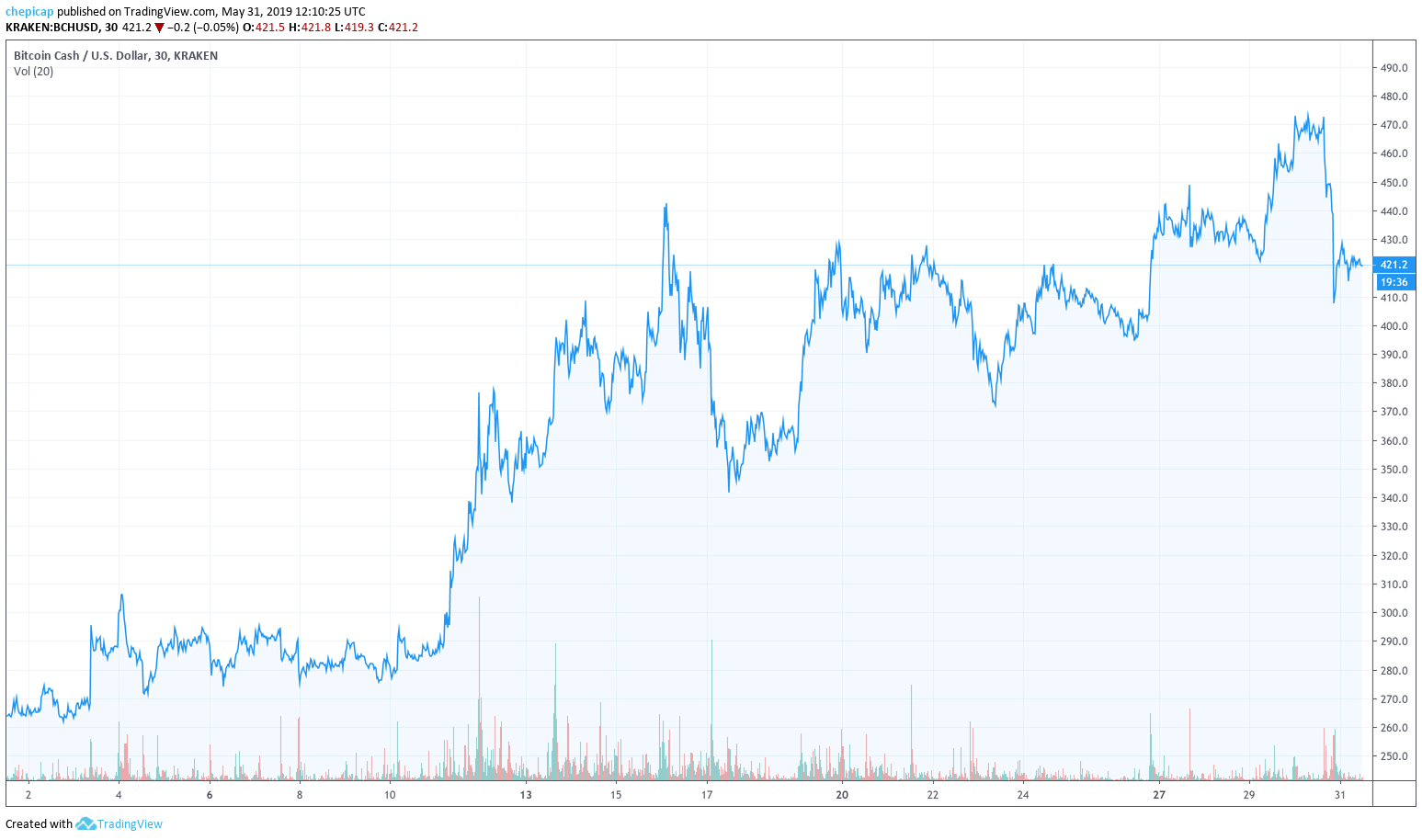 BCH/USD Chart provided by Tradingview
5. Holo (HOT) - 72.77%
Holochain has seen an incredible month, winning the award Disrupter of the Year 2019 on the Malta Blockchain Awards, and seeing its Holo/HOT token gaining over 70%. HOT is now the 34th largest project on Coinmarketcap.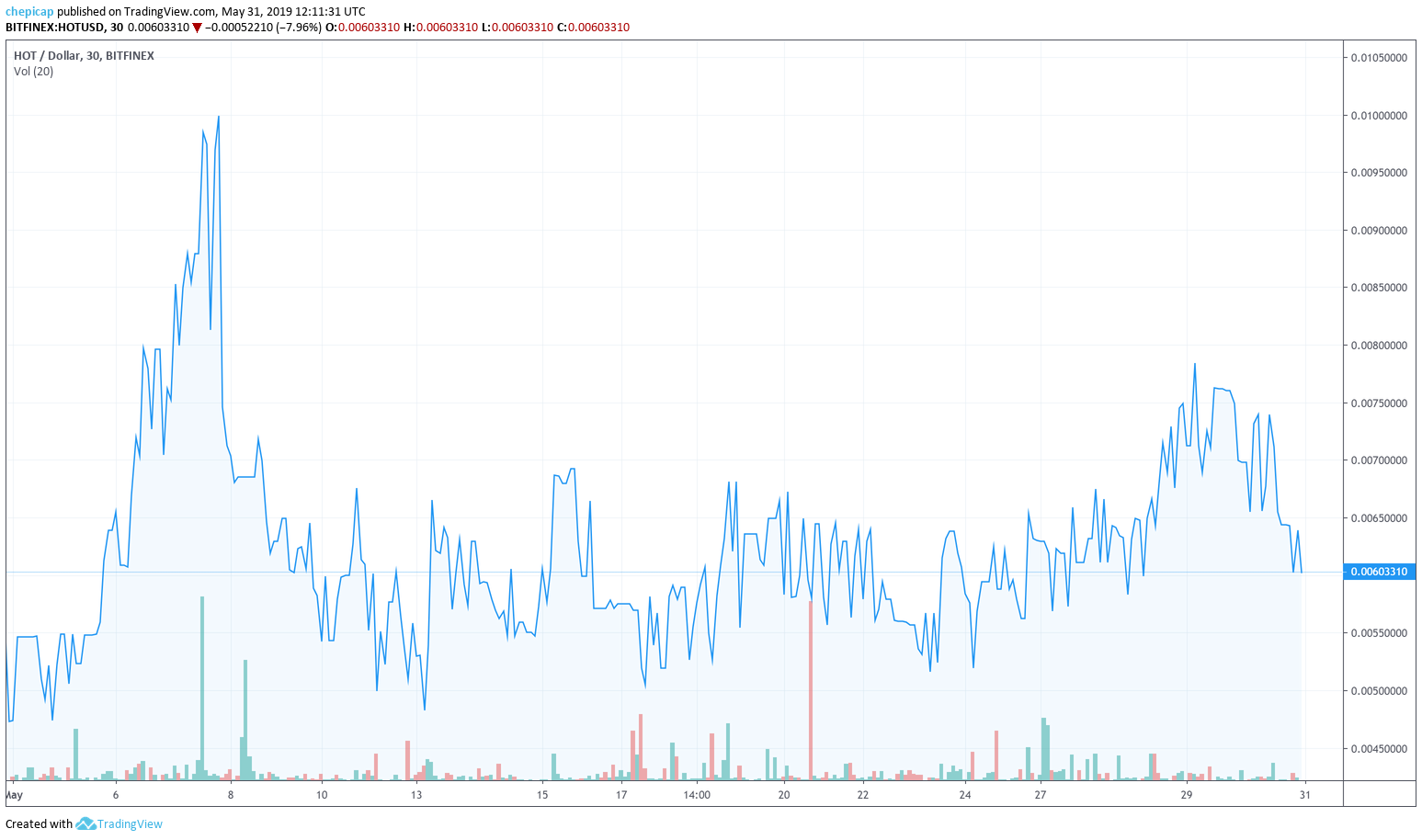 HOT/USD Chart provided by Tradingview

4. Bitcoin Gold (BTG) - 73.72%
Bitcoin Gold is the fourth biggest gainer of the month, gaining 73% in May entering the top 25 on Coinmarketcap. It's one of the three Bitcoin forks that are thriving and outperforming Bitcoin this month.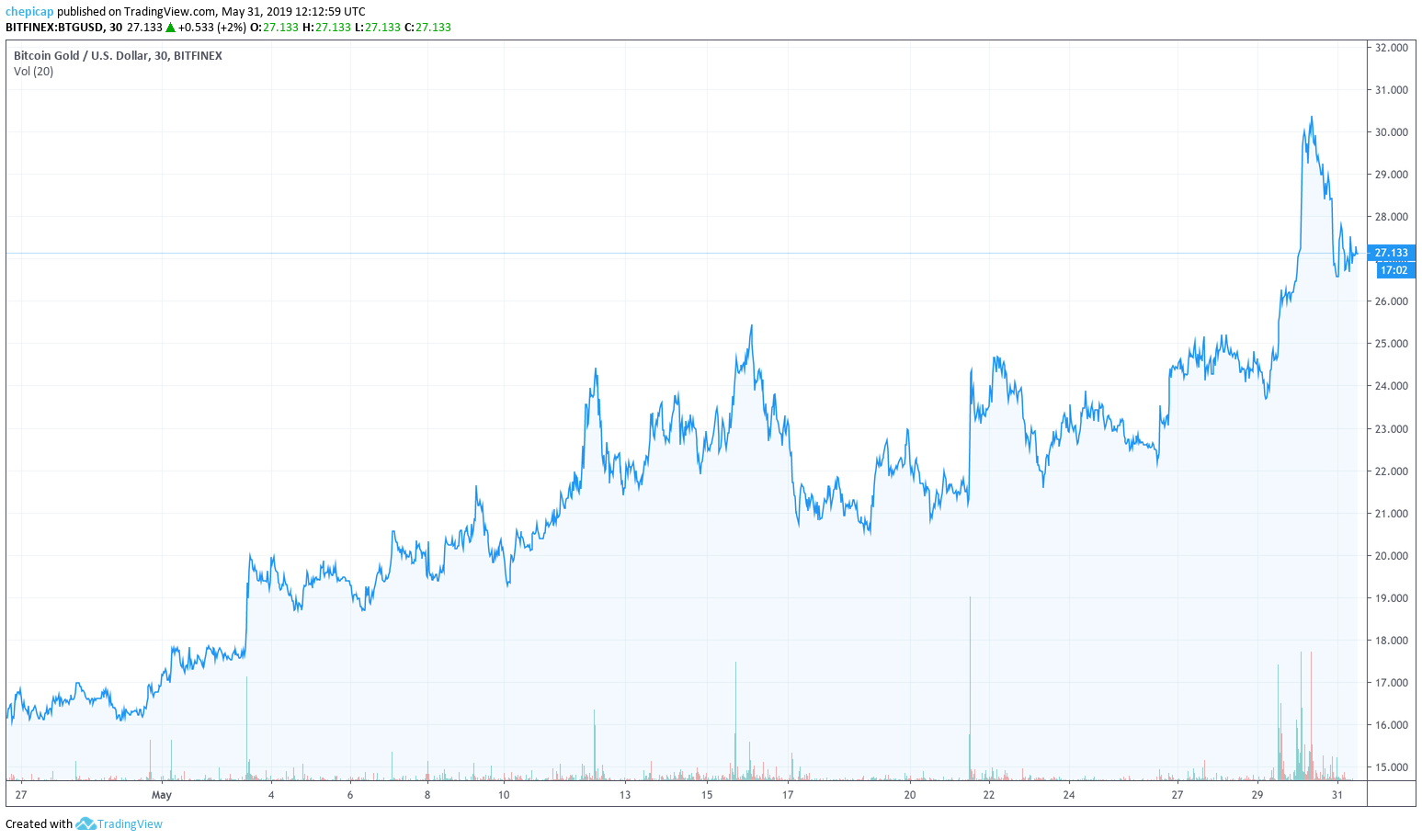 BTG/USD Chart provided by Tradingview

3. Chainlink (LINK) - 110.68%
Chainlink has seen a growth of over 100% following the news that it will release its Ethereum mainnet on May 30. The project made the deadline, and announced on Thursday that Chainlink's decentralized oracles are now live on the Ethereum mainnet.
We're thrilled to announce that Chainlink's decentralized oracles are live on Ethereum mainnet; https://t.co/ydZxZG8t89. Thank you to our community, node operators, developers, and all of our supporters for helping us get to this important point, thank you.

— Chainlink - Official Channel (@chainlink) May 30, 2019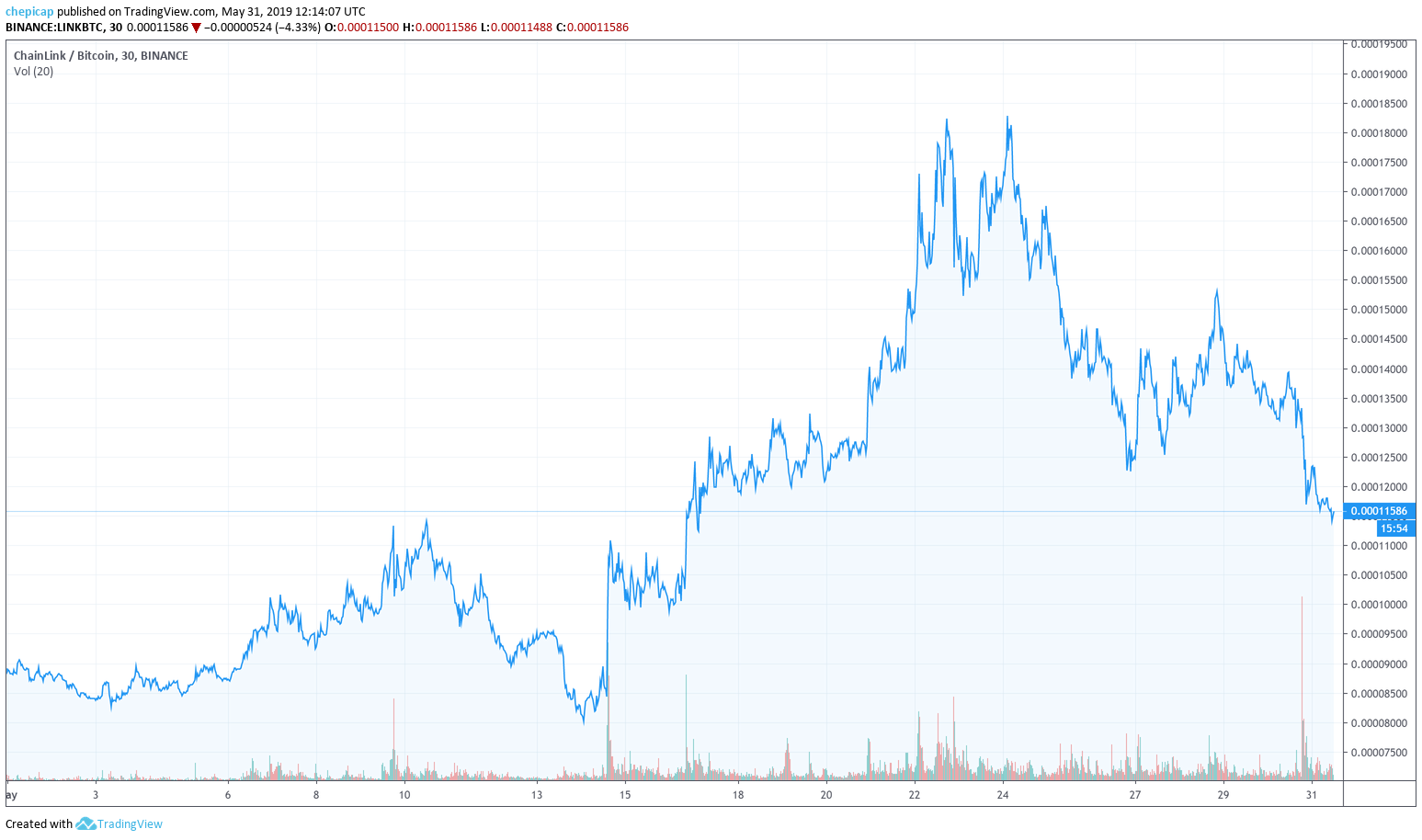 LINK/BTC Chart provided by Tradingview

2. BitTorrent (BTT) - 132.04%
BitTorrent was one of the best performers in May, gaining an astonishing 130% following a series of announcements. The biggest was the launch of the BitTorrent Files System on May 30 and the announcement that the BTFS will integrate BTT in late 2019. Next to that, in Q3 all TRON dApps as well as BitTorrent network transactions will be supported by the mainnet that will be launched in the next quarter.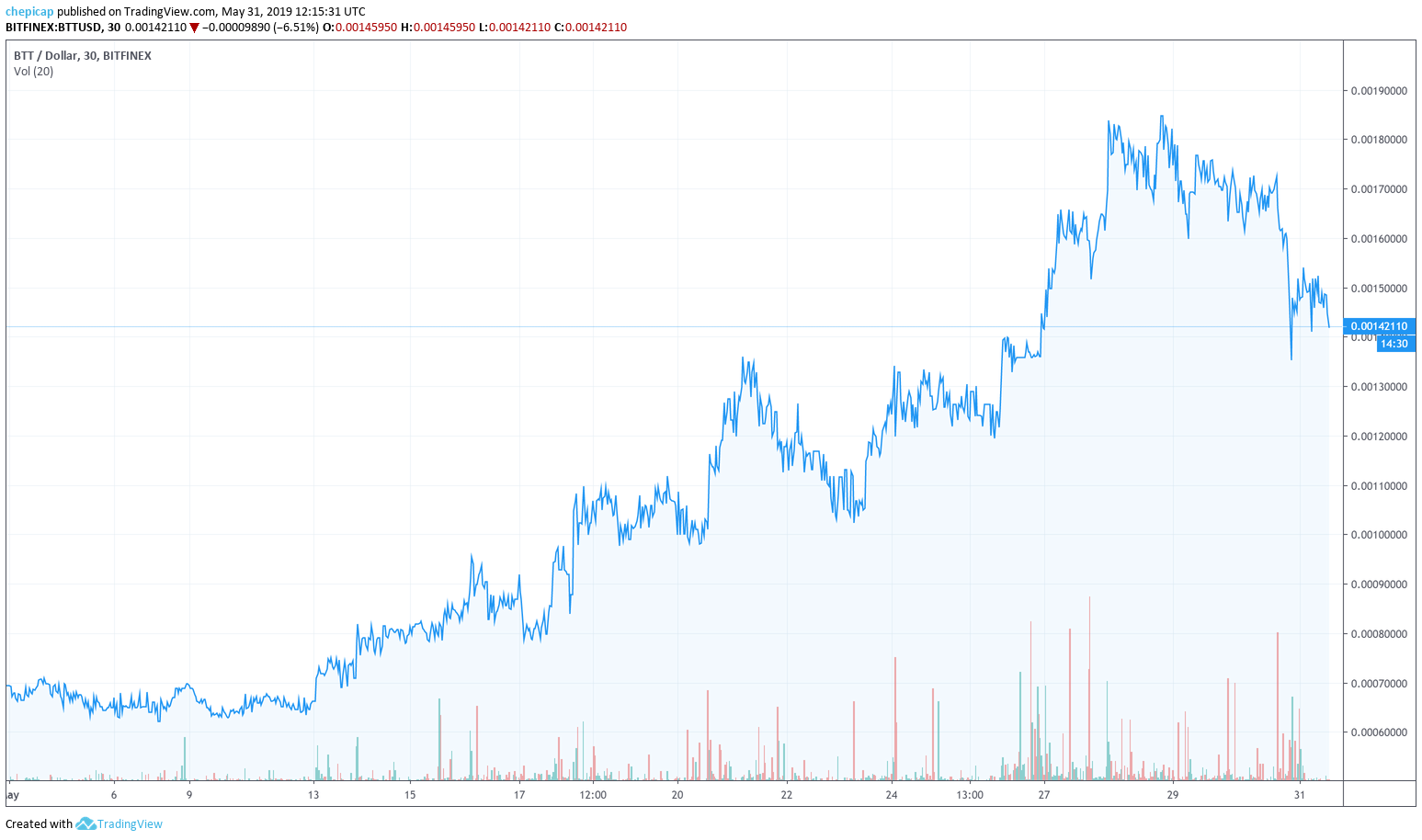 BTT/USD Chart provided by Tradingview

1. Bitcoin SV (BSV) - 230%
Bitcoin SV has seen the most turbulant performance in the last month. BSV's run started following fake news that a US Copyright Office had granted the copyright of the Bitcoin whitepaper and code to Craig Wright, who claims to be Satoshi Nakaomoto but has been nicknamed Faketoshi by part of the crypto community.
The US Copyright Office denied the claims of Wright, and stated that everyone can start a procedure to file for the copyright, but that nothing has been granted. This week, BSV surged again following fake news that was spread in China. Several crypto media in China shared the news that Wright had moved 50K BTC from Satoshi's wallet to Binance, 'confirming he is the real Satoshi. Binance will now relist BSV and make an official apology.'
This again turned out to be fake news, but tricked a lot if investors into buying BSV. Surprisingly BSV managed to hold the levels after the dubious pumps, and therefore saw 230% gains in May.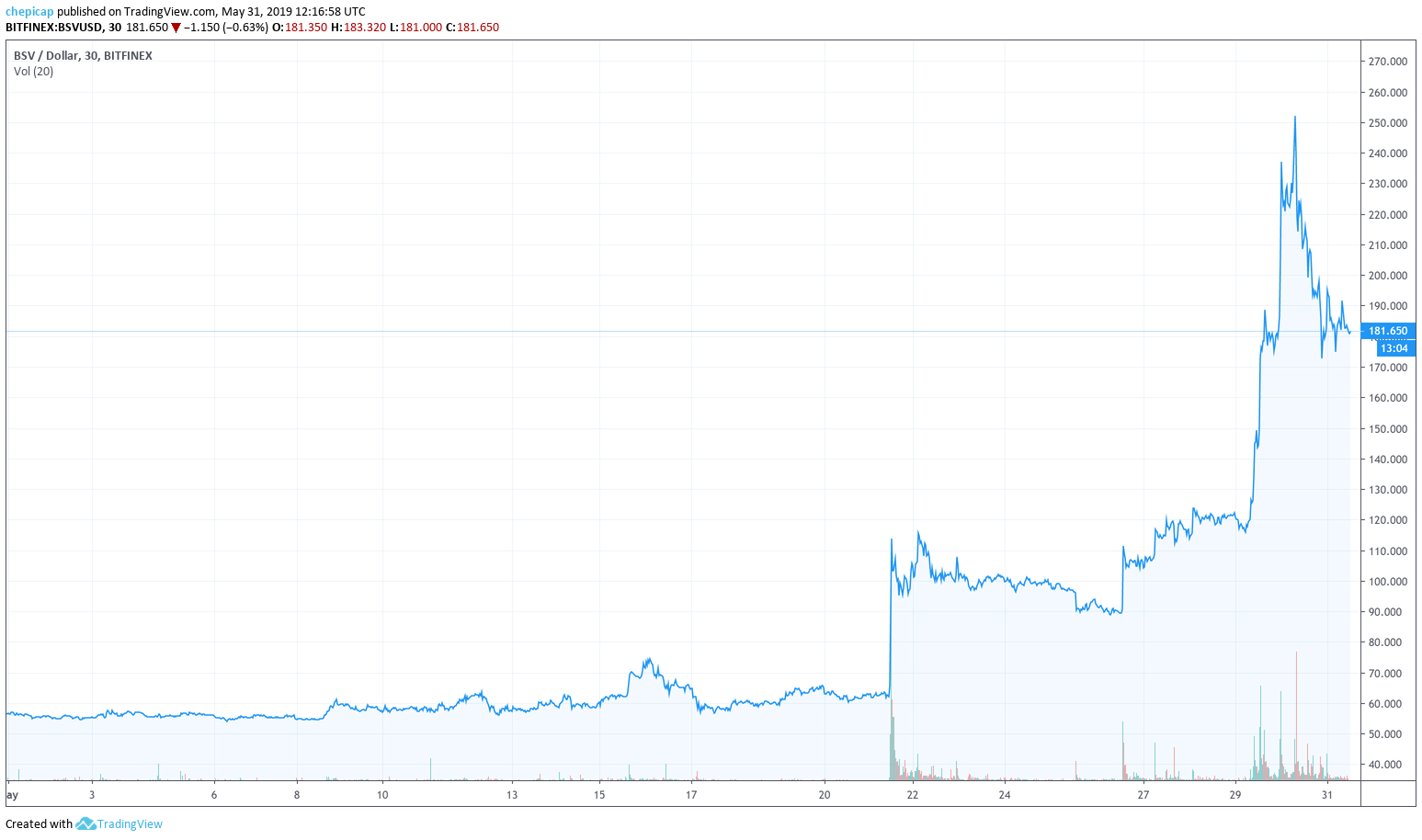 BSV/USD Chart provided by Tradingview
---
Source
---
Back to the list