Back to the list
Polkastarter (POLS) Price Surges Over 29% In a Day
thenewscrypto.com
17 August 2021 20:53, UTC
Reading time: ~2 m
---
Polkastarter (POLS) price surges over 29% in a day.
POLS tokens can be used to pay for transaction fees.
Binance exchange has listed Polkastarter (POLS).
Crypto markets are showing a bullish signal in the past few days. Most of the cryptocurrencies are surging in their prices. Accordingly, Polkastarter's price surges over 29% in a day.
Polkastarter is a blockchain platform designed to provide an easy-to-use launchpad for cross-chain token pools and auctions. Mostly it is used by early-stage blockchain projects that want o raise capital and easily distribute their tokens at the same time.
Polkastarter's native utility token is the POLS token. The POLS token has designed for many uses. POLS tokens can used to pay for transaction fees. Polkastarter anticipates becoming the largest decentralized token launch pool and auction platform in crypto.
Current Market Status
According to Coinmarketcap, the trading price of Polkastarter (POLS) is $2.12, at
the time of writing. The trading volume of $165,949,281for the past 24 hours and POLS has surged over 29% within a day. The current circulating supply is 72,301,332.00
POLS.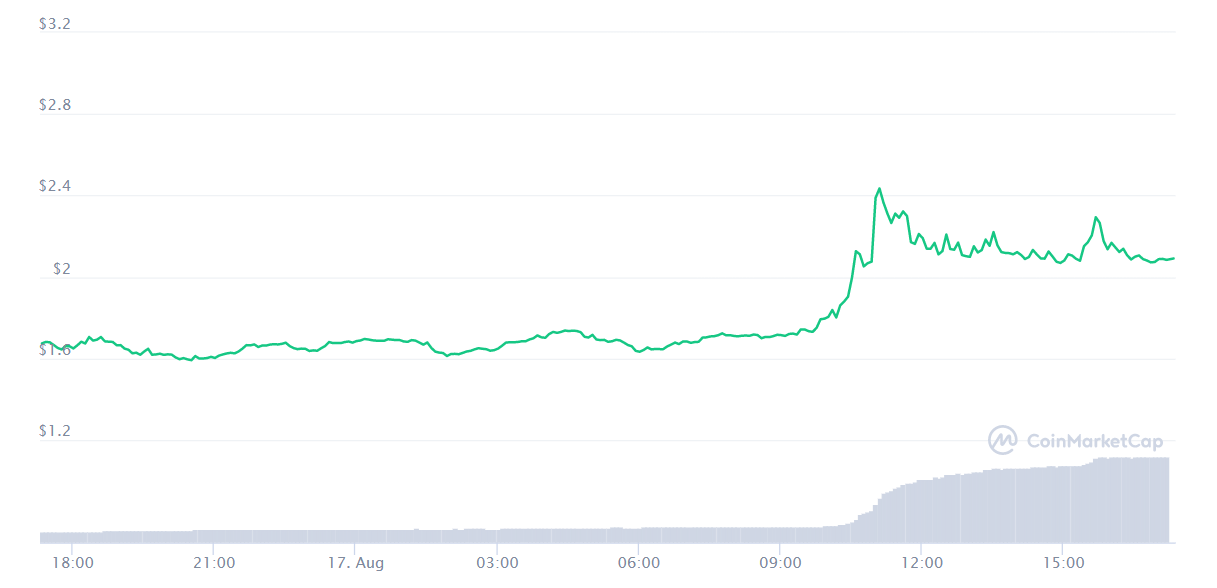 The above chart shows the bullish price over Polkastarter(POLS) for the last 24 hours. POLS have surged over 29% and they're also more likely to reach more heights. Henceforth, Polkastarter can trade in cryptocurrency exchanges such as Binance, Tokocrypto, OKEx, Huobi Global, and Hotcoin Global.
Polkastater (POLS) Listed on Binance
Leading exchange Binance has listed the Polkastarter (POLS), Initial Dex Offering (IDO) platform. Binance also opened trading for trading pairs like POLS/BTC, POLS/BUSD, POLS/BNB, and POLS/USDT.
Accordingly, Binance users can trade Polkastarter (POLS). Furthermore, this might be one of the reasons for the price surge of Polkastarter. Moreover, with the development and upgrades of the platform, we can expect more surges in the upcoming days.
Disclaimer: The opinion expressed in this article solely author's. It is not interpreted as investment advice. TheNewsCrypto team encourages all to do their own research before investing.
---
Source
---
Back to the list