Critics Slam Kusama Despite His Immense Contributions Towards Shiba Inu Growth.
The Shiba Inu team has been working relentlessly to release useful features for the ecosystem. While the team's efforts are largely commended, critics still do not think Shiba Inu is putting much effort into making the project successful. 
Kusama on Discord said he has been receiving criticism over Shiba Eternity, and some people call him a scammer.
"A fudder got to me, and I want to explain why it hurt. It's fine if you don't want to play the game, but to hear people still call me a scammer after I have put my heart, soul, and time into this project is bewildering," Kusama said. 
He added that critics had asked him to "step down" from leading Shiba Inu's development.
"People say I should step down, and I say they should step up.
I am only trying to build a structure we can all use, and it's proven to be tricky, difficult, taxing, and dangerous," he added.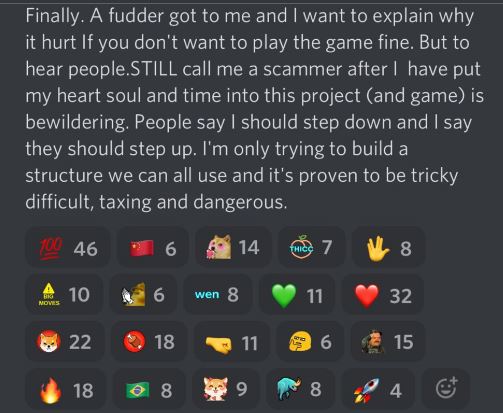 haters call shib lead developer to step down
Critics are everywhere, and they have a very simple task to criticize others sitting in front of their laptops or with mobile in hands while building nothing. Any person committed to a project and serving it with sincerity always gets hurt when criticized uselessly.
In our opinion, So far, there is no doubt Shib team has shown an extreme level of attachment and devotion to Shiba Inu. They are far above Doge, Babydoge, Floki, and other coins in building their ecosystem. Under the leadership of Kusama, if the team carried on constructive momentum, they would surely excel extremely fast than many other crypto projects.