Back to the list
ChaoEX, with $131 Million 24H BTC/USDT Volume, Allegedly Pulls Exit Scam
newslogical.com
24 December 2019 08:00, UTC
Reading time: ~4 m
---
Estonian licensed cryptocurrency exchange, ChaoEX, with more than $131 million 24 hours BTC/USDT trading volume, has been alleged of pulling an exit scam. Par information available on Reddit, the digital currency exchange carted away multiple millions as at the time of exit.
Although, ChaoEX first revealed it was going on a maintenance on December 19, 2018, the exchange has since been offline with its mobile app and two websites down since then.
Redditor who first briefed crypto followers has not been able to withdraw his 9 ETH since the exchange went offline.
ChaoEX says it is based in Hong Kong, but licensed in Europe with more than 70 team members. As revealed on one of ChaoEX's website, the platform posts that it will temporarily and urgently be maintained on December 19 2019, claiming that the technical team is working on recovery.
Since then ChaoEX has been offline without any communication from the team. There is conflicting information about the exchange, indicating that there's a high chance the faceless team has pulled an exit scam, carting away with an enormous amount.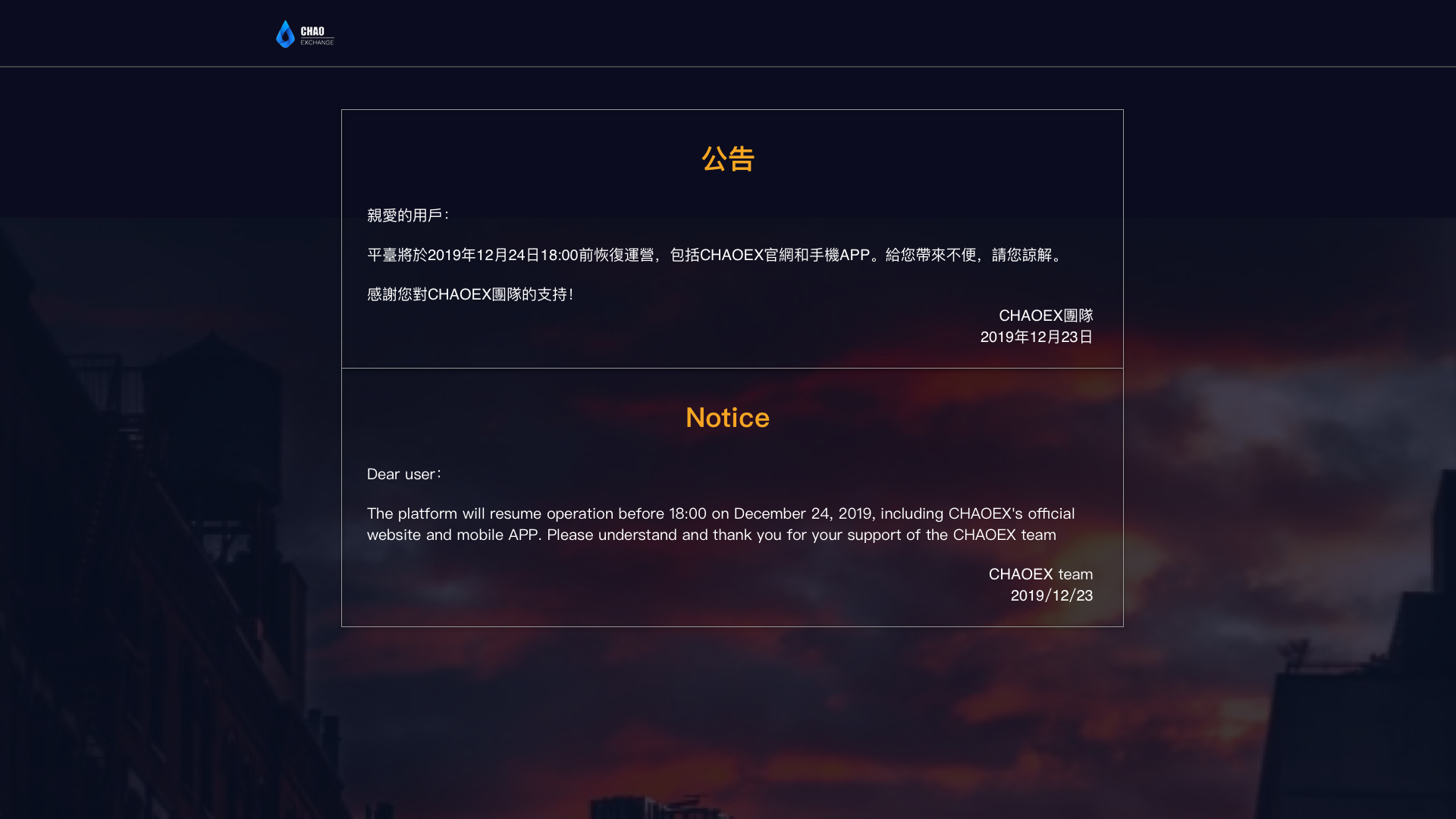 CoinMarketCap last pulled information from the platform 114 hours ago, available information indicates that $131,582,223 worth of Bitcoin was traded on the platform within 24 hours before going offline.
As well, $2,737,249 worth of Litecoin, $1,223,934 worth of ETH/BTC Pair, $1,768,138 ETH/USDT Pair, $4,434,577 HT/USDT pair, and $1,398,337 BSV/BTC were also traded on the platform within the same period
Both chaoex.com, chaoex.io, chaoex.info are all offline at the time of filing this report.
Where's ChaoEX's CHE Token?
CHE is an Ethereum token with 500 million total supply. The digital token is worth $0.0037 at the time of filing this report. Information from Etherscan indicates that 612 addresses hold CHE.
However, the two sites linked to CHE (chaoex.io and chaoex.fund) are offline at the moment. There's no reasonable information about the token on CoinMarketCap.
CHE is CHAOEX Global official token issued by CHEX foundation. The digital token is said to be majorly used to build and inspire global CHE community, platform ecology, project incubation, and public welfare activities.
ChaoEX Hacked
In September, ChaoEX first claimed it suffered a hacker attack with few coins carted away.
However, the exchanged claimed no user would be impacted by the hack. During that time, ChaoEX was not transparent enough to reveal the amount of cryptocurrency stolen by the faceless hacker, causing withdrawal issues.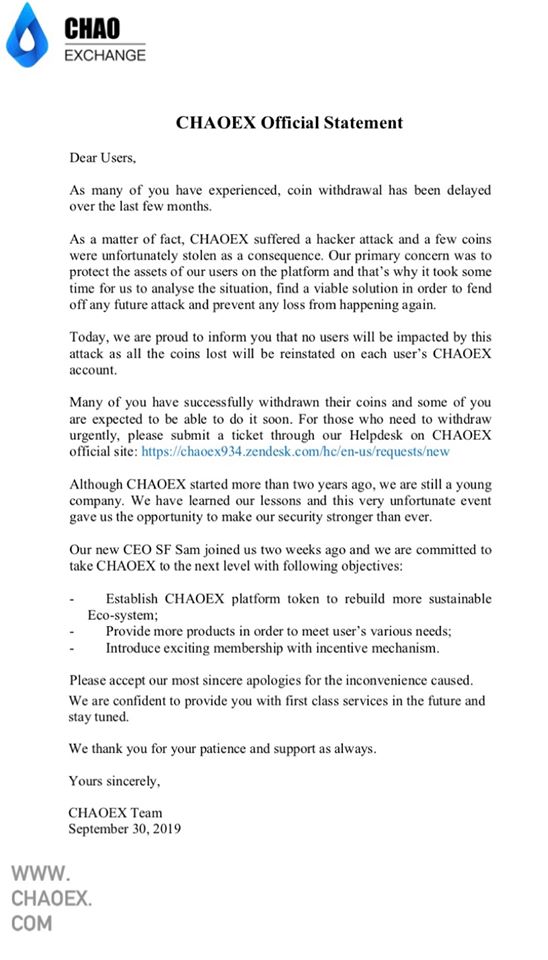 Who's Behind ChaoEX
On June 29, Asia Blockchain Review released an interview it had with Founder and CEO of ChaoEX, Matt Kim.
The exchange, which was launched in June 2017, started fully in September 2017 and was said to be regulated by the Estonian government. Information on CrunchBase revealed ChaoEx raised $2.5M.
According to the interview, ChaoEX perfected its Pre-A round of financing in early 2018 and received enormous support from KIM's Capital and the CHEX Foundation.
ChaoEX, in a post, also claimed it was founded by UNIQUE Network Technology (Hong Kong) Co.Ltd., invested and controlled by Mr. Jin Jingguo, who's the legal person of XYHJ Network Technology (Hong Kong) Co., Ltd.
The firm claims the exchange's head office is located in Hailian Building, 221–226 Gloucester Road, Causeway Bay, Hong Kong, China.
In another interview, one Jason Wong also claimed to be the Chief Executive Officer of ChaoEX, and said the exchange was funded by Cherubic Venture in 2018 before the platform conducted a crowdfunding where it gained 3000 BTC in just a week but refunded 2700 BTC to investors because the CEO thought "it's not fair to evaluate a start-up company with such a high value".
ChaoEX is a member of the Pow Alliance Network, and said to be regulated by the Estonian Government and relevant EU laws with a license number FVR000397 has full independent intellectual property rights.
---
Source
---
Back to the list
Similar news