Bitcoin ETF Delayed Again, What Now?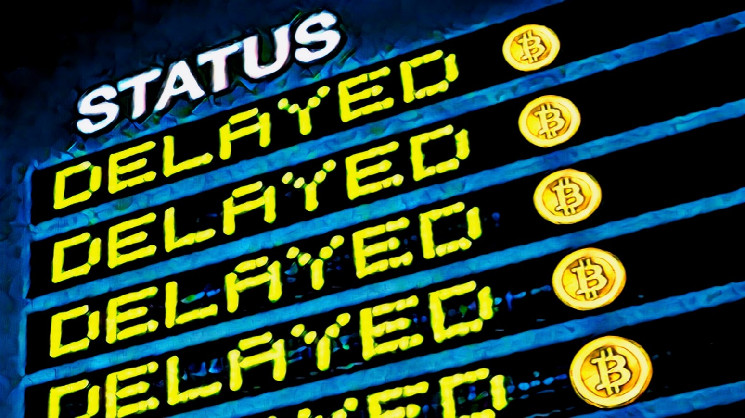 www.investinblockchain.com
2019-05-15 15:33
Reading time: ~2 m
---
Once again, the United States Securities and Exchange Commission (SEC) delayed the decision on whether or not to approve a Bitcoin exchange-traded fund (ETF) on Tuesday, according to an official report.
The delayed Bitcoin ETF comes from the Bitwise ETF proposal that was filed with NYSE Arca in January of this year, was postponed in March, and now is being postponed again in May. The ETF approval deadline has now been pushed back to August 14.
As expected, the SEC has delayed its decision on the Bitwise ETF. The new deadline is August 14. The SEC can delay one more time to a final deadline of October 13.

Curiously, the SEC hasn't made a decision on VanEck yet, but it will likely be delayed too.https://t.co/MeCJSxCHW7

— Jake Chervinsky (@jchervinsky) May 14, 2019
What Now? Will a Bitcoin ETF Ever Get Approved?
There is still a chance that the Bitwise ETF is approved in August. As of now, the SEC is soliciting comments on the decision to approve a Bitcoin ETF, and has already accepted 25 comments.
Per the notice regarding the Bitwise ETF denial, the SEC is asking for comments on the following:
Does Bitcoin resist hacking?
Is the Bitcoin market resistant to price steering?
Is the Bitcoin futures market properly regulated?
What is the relationship between the Bitcoin futures market and the cash market?
A view on the report on Bitcoin spoofing
Is it possible to arbitrage on 10 exchanges approved by BitWise?
Are the 10 exchanges mentioned above compliant with the regulatory authorities?
Answers to the above questions can be submitted to the SEC for 5 weeks until the BitWise ETF application appears in the US Federal Register.
Until the cryptocurrency market matures, grows, and receives clear and concise regulation, the chances of a Bitcoin ETF approval appear to be pretty slim.
However, with institutional platforms like Bakkt, Fidelity Digital Assets, ETrade, and Ameritrade delving into crypto, the crypto industry is in the process of maturing and growing. This will bring about more regulation and a better reputation to the entire crypto industry in the eyes of the SEC.
Therefore, while a Bitcoin ETF may be off the books for now, perhaps one will be approved towards the end of this year or next.
When do you think the SEC will approve a Bitcoin ETF? Let us know what you think in the comment section below.
---
Source