A Bitcoin Developer, a Goldbug and a TV Host Walk Into a Bar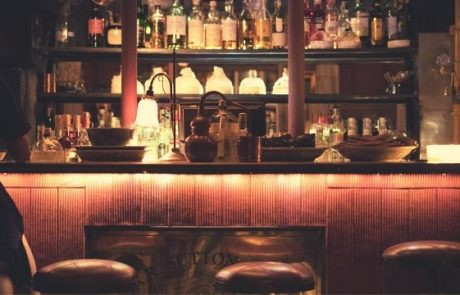 cryptopotato.com
2020-06-27 23:00
Reading time: ~3 m
---
The CEO of SchiffGold, Peter Schiff, responded to claims by RT news host Max Keiser that he would end up panic-buying Bitcoin when its price hits $50,000. Schiff suggested Bitcoin's dollar value would drop as low as zero – although implied Keiser might consider selling at $2,000.
Shortly afterward, Bitcoin developer and Blockstream CEO, Adam Back, jumped in to claim that Bitcoin will one-day "flippen" the market cap of gold. In the meantime, says Back, it makes sense for goldbugs to allocate at least a small portion of their investment portfolio to BTC.
Twitter Cat-Fight Over Bitcoin Price
Responding to Max Keiser's Tweet barrage the previous night, Peter Schiff launched a Twitter poll on June 27, which asked his followers to name the price at which Max Keiser would sell his Bitcoin. Schiff offered a narrow range of choices, with Bitcoin doing no better than $2,000 and no worse than zero.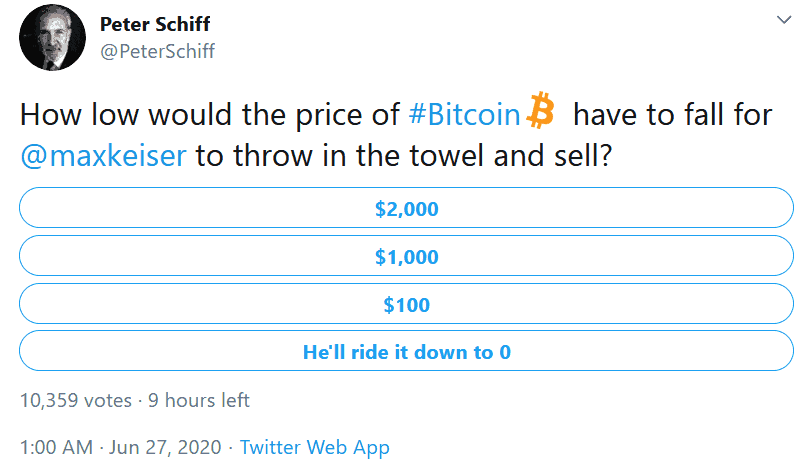 Schiff's Twitter poll was in reaction to a similar poll run by Max Keiser the previous night. Keiser claimed that Bitcoin skeptics such as Schiff, Jim Rogers, and Mark Cuban represented "huge pent-up Bitcoin buying demand," and that they'd soon find themselves panic-buying Bitcoin.
Seen below, Keiser suggested Bitcoin would have to reach $50,000 before it could break through Schiff's obstinate cynicism.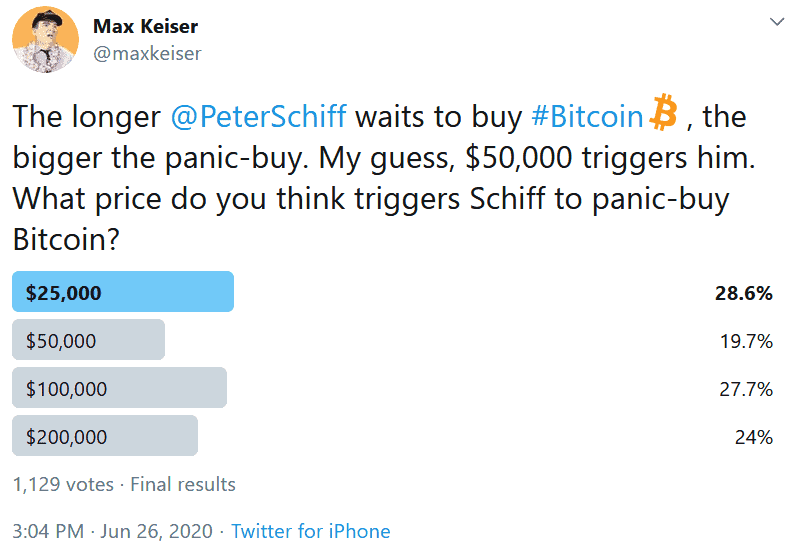 Enter the Bitcoin Dev
Bitcoin developer and Blockstream, Adam Back, gave his take on Schiff's anti-Bitcoin stance, suggesting Bitcoin would one day "flippen" gold. Back's only query was whether Schiff would buy-in before, or after the "flippening" occurs. He tweeted:
I wanna know if @PeterSchiff will add a BTC allocation before or after #bitcoin flippens gold. And I like gold, have a small hedge in portfolio. Just don't see the logic, goldbugs should natively understand, and Bitcoin has one-off early adoption upside. https://t.co/cEzEfn6q52

— Adam Back (@adam3us) June 27, 2020
Back went on to reveal that he owns some gold himself, and said a 1% allocation of Bitcoin in a goldbug's portfolio should be a no brainer. Back tweeted:
"IMO an asymmetric hedge is a no-brainier (sic). A number of Bitcoiners have a small gold allocation, goldbugs should do likewise with Bitocin. And if their 1% Bitcoin allocation becomes 10% or 25% good for them. 1% loss if they are wrong doesn't make much difference."
---
---
Source