Back to the list
Bullish Crypto Analyst: 'Pathetic' Bitcoin Search Numbers Raise Potential Red Flag
dailyhodl.com
10 August 2019 11:00, UTC
Reading time: ~3 m
---
Joe Saz, crypto analyst, Bitcoin maximalist and BlockTV reporter, joined veteran Wall Street trader Tone Vays for an in-depth analysis of Bitcoin's technical trends for both short and long-term traders.
The analysts dissect Bitcoin's price action relative to other indicators, such as 'Bitcoin buy' searches, to make predictions about the flagship crypto's next moves.
Says Vays,
"We're about to get the second-highest monthly close in Bitcoin's history assuming, of course, we close at the current price."
Adds Saz,
"Fundamentally speaking I just see volume is increasing into this month and the price is looking bullish. Like you said, on a monthly, we're nearing all-time highs. It looks like we're supported by the short-term moving average… It's very possible that we could just be working our way up out of a bear market and it might be time for everyone to just keep accumulating and stop trading. I think that that's very much on the table."
However, Saz and Vays take a look at recent Google Trends searches for the term "buy Bitcoin" and notice strikingly low results.
Vays compares the number of queries today an earlier bull cycle when he was picking up hundreds and thousands of new subscribers a day as retail investors dove all in.
"None of that is happening. You can look at it as a positive and say, 'Hey, there is no FOMO. Just wait till the price goes a little higher and then everybody FOMO's in. But you can also say – I don't like using the word 'manipulation' – but you can also say this is people with Bitcoin. It's people inside the community that are messing around with the price, moving it up only to drop it back down and crush people. So there's definitely reasons on both sides."
Indicating the Google Trends chart, Vays adds,
"I didn't expect the numbers to be this low. That's weird."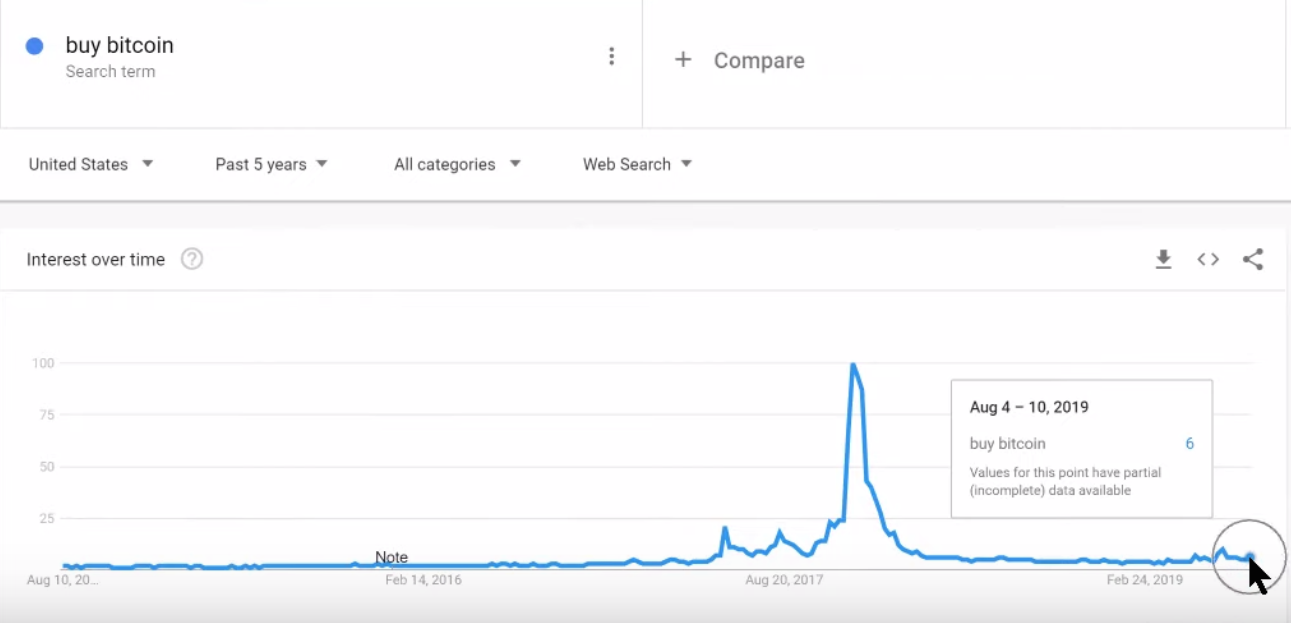 Saz comments,
"They're pathetic. These are terrible numbers relative to the price action we have. And I would say, if you're able to pull it up – coinmarketcap.com – this is an important thing to take note of. We're talking about where's the money coming from. That's something that's always a big question to me.
We have an obvious Google Trend in 2017 that correlates to what I mentioned about the Coinbase user account increase in the month of December alone – seven million new users. That's people buying hundreds of dollars, tens of dollars, thousands of dollars and even six-figure dollar amounts. And that is very consistent with the parabolic run-up. We know where the money was coming from in that run.
This one is very speculative, on the other hand. This one is, well, could this be institutional investors? Could it be Bitcoin on the radar as a new parking lot for people that are worried about global trade scenarios? What is the speculation that is driving the price into what is really a steep parabolic run-up? We broke from $3,000 to $14,000 in a matter of months coming out of a bear market which is really a bit of a red flag, in my opinion."
---
Source
---
Back to the list