Back to the list
Chinese Bitcoin Miners Struggling to Keep the Lights on Amid 'Frozen Card Tide'
beincrypto.com
17 November 2020 03:00, UTC
Reading time: ~2 m
---
Chinese Bitcoin miners are experiencing difficulties in paying their electricity bills as law enforcement engages in major card freezing operations.
From supply chain disruptions caused by the coronavirus lockdowns to excessive flooding during the Sichuan monsoon season, Bitcoin (BTC) miners in China are enduring a challenging 2020.
74% of Chinese Bitcoin Miners Struggling with Electricity Payments
According to the Chinese crypto news source, @WuBlockchain, about 74% of Bitcoin miners in a recent survey reported difficulties in paying for electricity. Tweeting on Nov. 16, Wu Blockchain revealed that card freezing measures are severely limiting bill payment options for miners.
Since the start of 2020, China's government has gone on the offensive against money laundering with law enforcement specifically targeting the telecoms and crypto industry.
As previously reported by BeInCrypto, Chinese police detained Star Xu (Xu Mingxing), co-founder of OKEx as part of a broader financial crime clampdown.
The government's action has resulted in a widespread freeze on card payments. According to reports on the Chinese social media platform WeChat, banks are freezing cards associated with crypto transactions.
Thus, Chinese miners are facing difficulties in liquidating their mined BTC and other cryptos for local currency. With limited access to the yuan, Bitcoin miners in China are increasingly becoming unable to pay for electricity.
The card freezes and subsequent logistical headaches may cause miners to migrate to other countries. With the block reward halved back in May, operational efficiency is driving the hash rate war now more than ever.
Challenging China's Hash Rate Dominance
According to the Cambridge Bitcoin Electricity Consumption Index (CBECI), China accounts for about 65% of the total global hash rate distribution.
A significant miner migration from China could see the US, Russia, and Kazakhstan control a greater share of the worldwide Bitcoin mining hash rate map.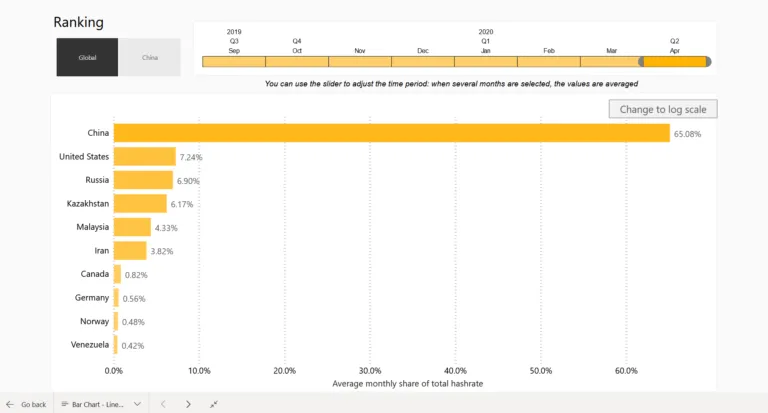 Kazakhstan is already positioning itself as a viable destination for Bitcoin miners. Apart from cheap electricity tariffs, the country also has zero tax on crypto mining revenue.
Iran, another emerging crypto mining hub is also creating policies aimed at attracting more Bitcoin miners. Back in May, the country's President Hassan Rouhani called on the central bank to devise a national cryptocurrency mining strategy.
Iran legalized crypto mining back in Aug. 2019 with major power companies even selling electricity to Bitcoin miners. Aside from backing crypto mining activities, Iran is also pursuing a structured cryptocurrency regulatory framework reversing previous anti-virtual currency policies.
---
Source
---
Back to the list
Similar news