Mapping out the world's cryptocurrency exchanges by region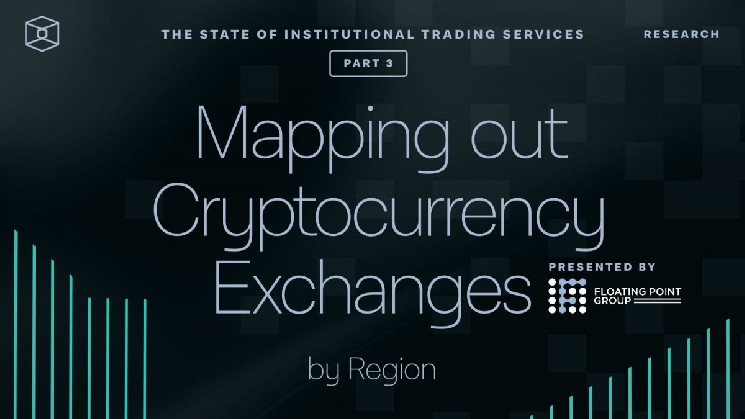 www.theblockcrypto.com
2020-11-26 12:00
Reading time: ~6 m
---
Cryptocurrency exchanges have been among the most profitable business types within the blockchain/crypto vertical, employing thousands of employees.
Over the past decade, the rising popularity of digital assets sparked a simple business model: the provision of a platform where users can easily buy, sell, and or trade them.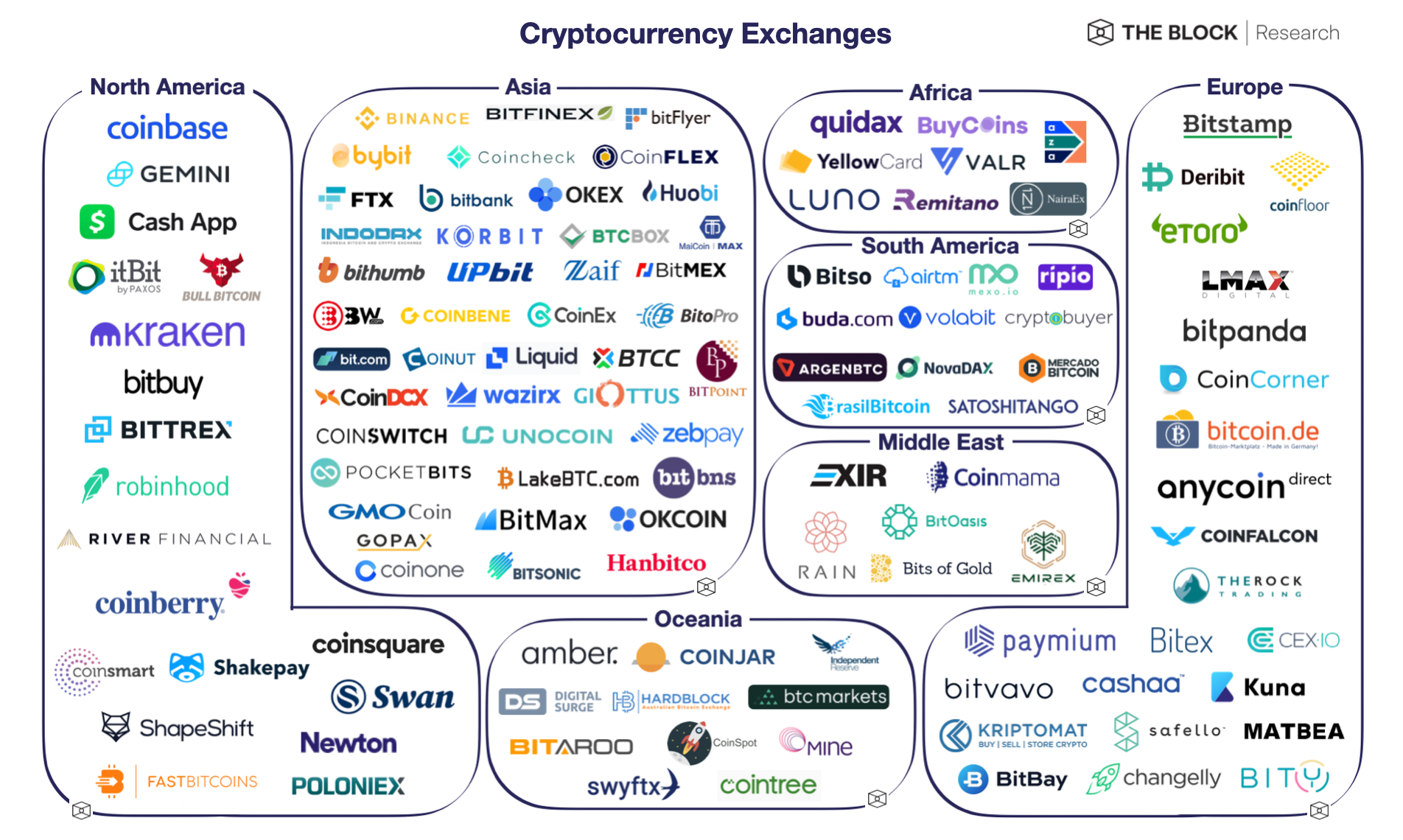 The Block Research analyzed 123 cryptocurrency exchanges (spot and derivatives) that either cater to specific regions of the world or operate internationally. For this research release, we broke down our sample of exchanges into the following areas: Africa, Asia, Europe, Middle East, North America, Oceania, and South America.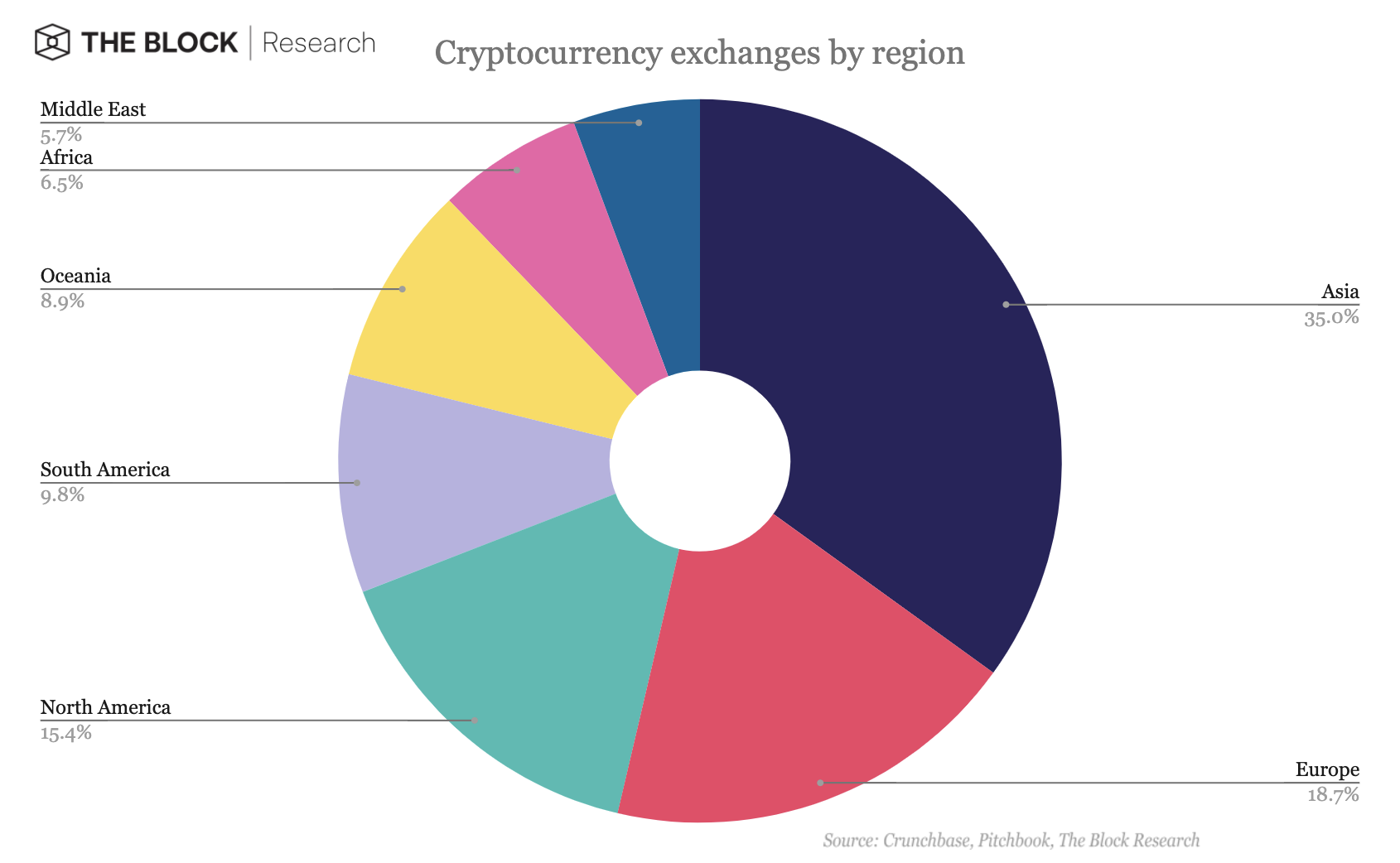 Three regions - specifically Asia, Europe, and North America - are the most catered-to areas for cryptocurrency exchanges, in which they make up roughly 69% of the businesses in aggregate. Asia is the most populous region, at 35%, due to demand from countries such as China, India, Japan, Singapore, and South Korea.
Investment in cryptocurrency exchanges by region (YoY)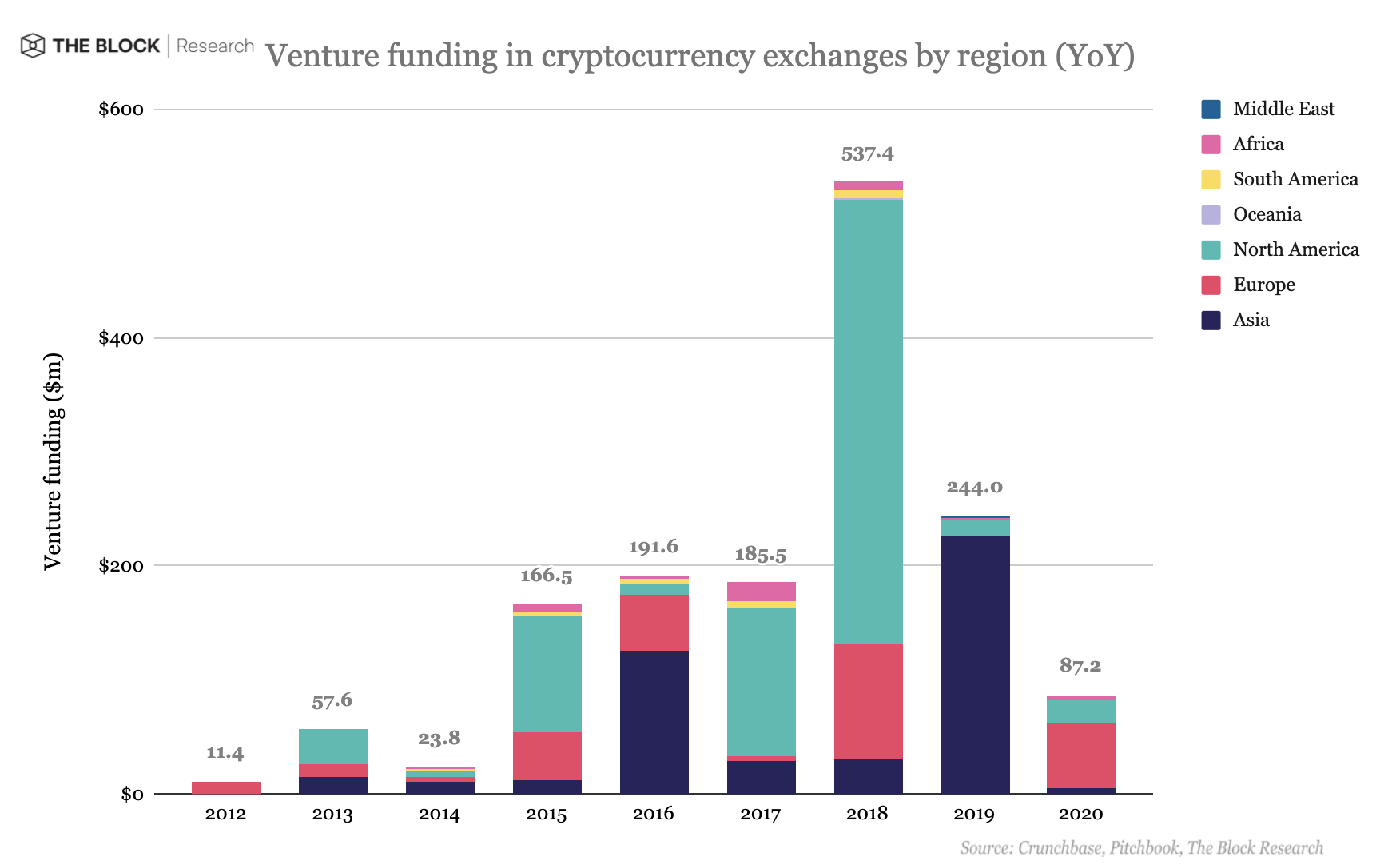 Since 2012, roughly $1.5 billion in venture funding has been allocated to cryptocurrency exchanges across 200 investment deals.
Despite North America being behind both Asia and Europe in terms of the number of exchanges, the region has garnered the most funding, or 47% of all venture funding.
The total investment to North America is in large part due to just three cryptocurrency exchanges. Coinbase, Kraken, and Paxos (itBit) have raised $647.9 million in aggregate, or 91% of all the region's funding.
Asia has been the second most attractive region for investment opportunities. Roughly $456.2 million has been allocated to exchanges in this part of the world, making up approximately 30% of all investment. Compared to the North American exchange space, funding in the region has been less concentrated to a few companies. However, Bithumb's $200 million Series A in April 2019 accounts for roughly 43% of all investment. Binance, Bitfinex, bitFlyer, Bithumb, BTCC, CoinFLEX, FTX, Liquid, OkCoin, Zaif, and Zebpay have fun each completed a deal of $5 million or more.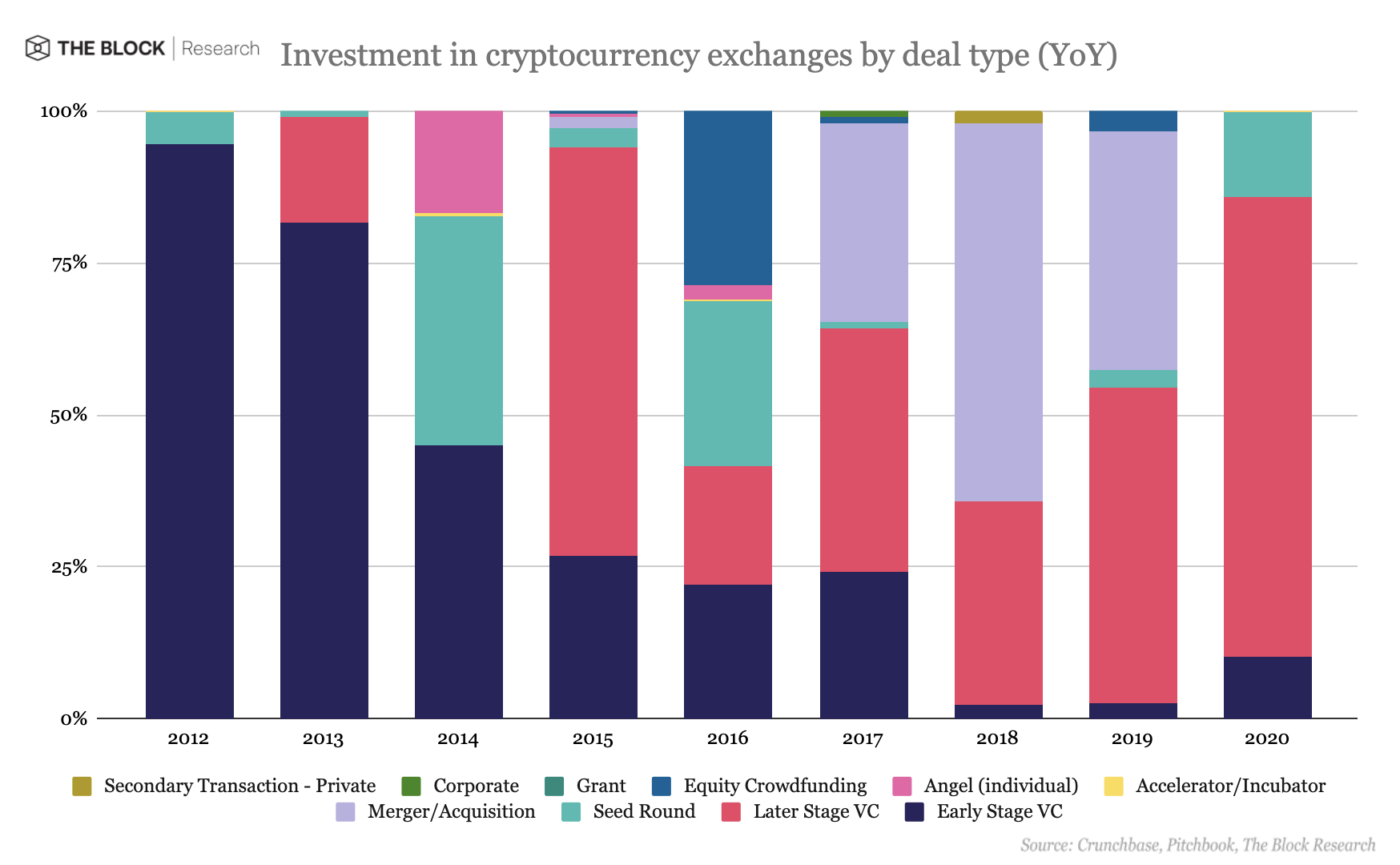 Early-stage deals
A total of 67 early-stage deals involving cryptocurrency exchanges have been completed. Dating back to 2012, the average deal size for an early-stage venture has been approximately $5.4 million, and the median deal size has been roughly $3 million.
Early on, new exchanges flooded the market, but each consecutive year, investment in early-stage exchanges dwindled, and by 2018 just 2.4% were early-stage deals. Investors instead opted to invest in exchanges that had formed a strong presence in the market and were in the process of raising later-stage deals. Instead, other investors opted to focus on other areas of need, diverging from retail exchanges to institutional-focused products and services.
Seed deals
For the 35 seed deals, the average deal size was approximately $2.9 million with a median deal size of $1 million. Twenty-four out of the 35 seed deals, or roughly 69%, occurred in 2016 or earlier.
Since then, the majority (67%) of seed rounds have involved cryptocurrency exchanges that cater to developing regions.
Investors have turned to exchanges such as AirTM, Buda, and Volabit to focus on the growth of cryptocurrencies in South America. VALR and Yellow Card conducted seed rounds to build out exchange support throughout Africa. The Middle East has attracted investment with seed deals by both BitOasis and Rain. India has also been a popular area of focus, with Unocoin and CoinDCX raising seed investments.
Later-stage deals
Cryptocurrency exchanges have seen a total of 24 later-stage deals. The average deal size for later-stage ventures has been roughly $60.2 million with a median deal size of $27 million. Approximately 75% of the deals occurred in 2017. As the industry began to mature, these transactions started to surface.
Oceania is the only region with at least one exchange to raise a later-stage deal. In North America, Coinbase, Kraken, and Paxos have each raised a later-stage deal. BitFlyer, Bithumb, Liquid, OKCoin, Unocoin, and Upbit all raised later-stage deals in Asia.
In Europe, both Bitpanda and eToro have conducted later-stage deals. Similar arrangements have also been made in Africa with Aza (formerly BitPesa), Emirex in the Middle East, and Bitso and Ripio in South America.
Mergers and acquisitions 
M&A activity for cryptocurrency exchanges began to manifest in 2017, as the competitiveness between businesses began to lead toward consolidation.
In aggregate, roughly $1.1 billion has been spent over 15 deals involving the purchasing of a cryptocurrency exchange. When combined with venture funding, M&A activity made up 32.7% of investments in 2017, 62.1% in 2018, and 39.2% in 2019.
Year-to-date, the reported value of M&A deals has been nonexistent. Still, we expect the trend toward consolidation to continue. More exchanges in developing regions continue to mature and, in time, will become more lucrative to larger firms, similar to Digital Currency Group's recent acquisition of Luno, which gave it exposure to the African region.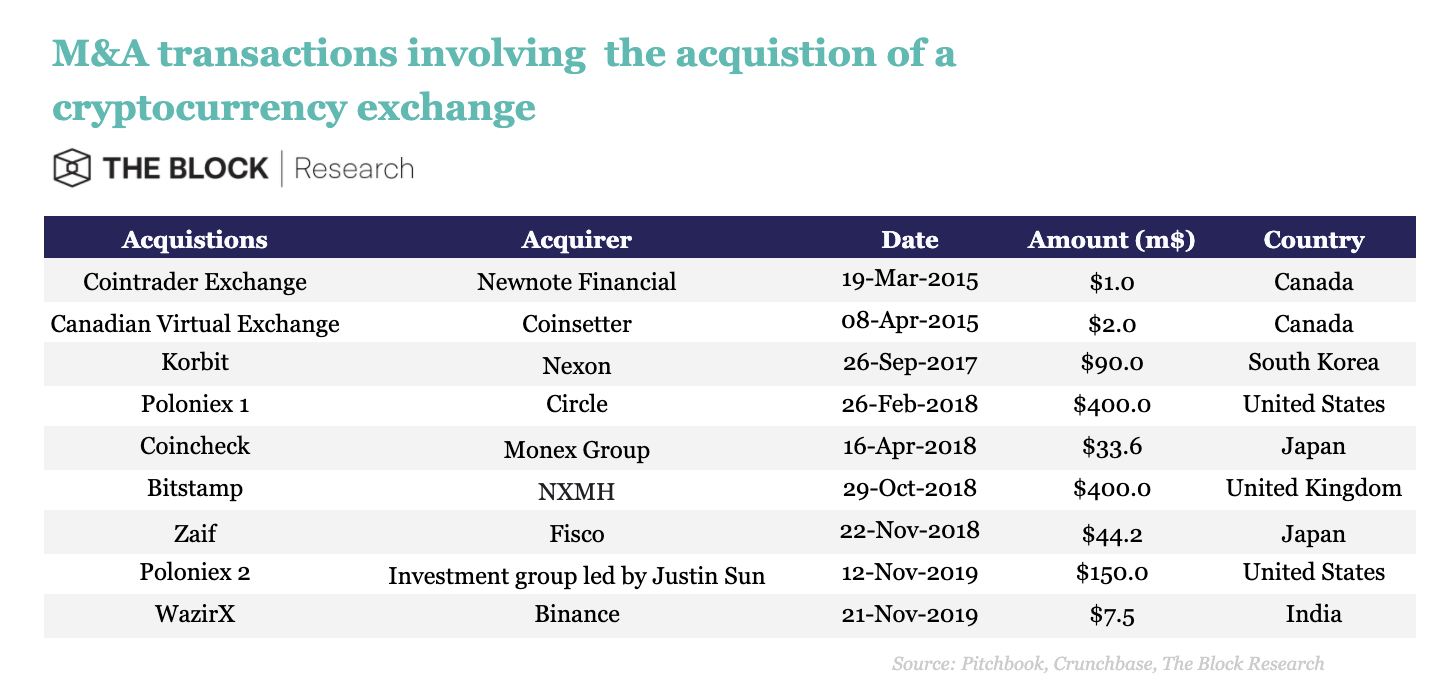 To date, two exchanges within the blockchain industry have been acquired for a reported $400 million. These two deals include NXMH's acquisition of Bitstamp and Circle's acquisition of Poloniex. Poloniex was later obtained a second time by an investment group led by TRON founder Justin Sun for $150 million.
Asia-based acquisitions include Nexon's acquisition of the South Korean exchange Korbit for $90 million, Fisco's purchase of the Japanese business Zaif for $44.2 million, Monex Group's acquisition of Coincheck for $33.6 million, and Binance's acquisition of the Indian exchange WazirX.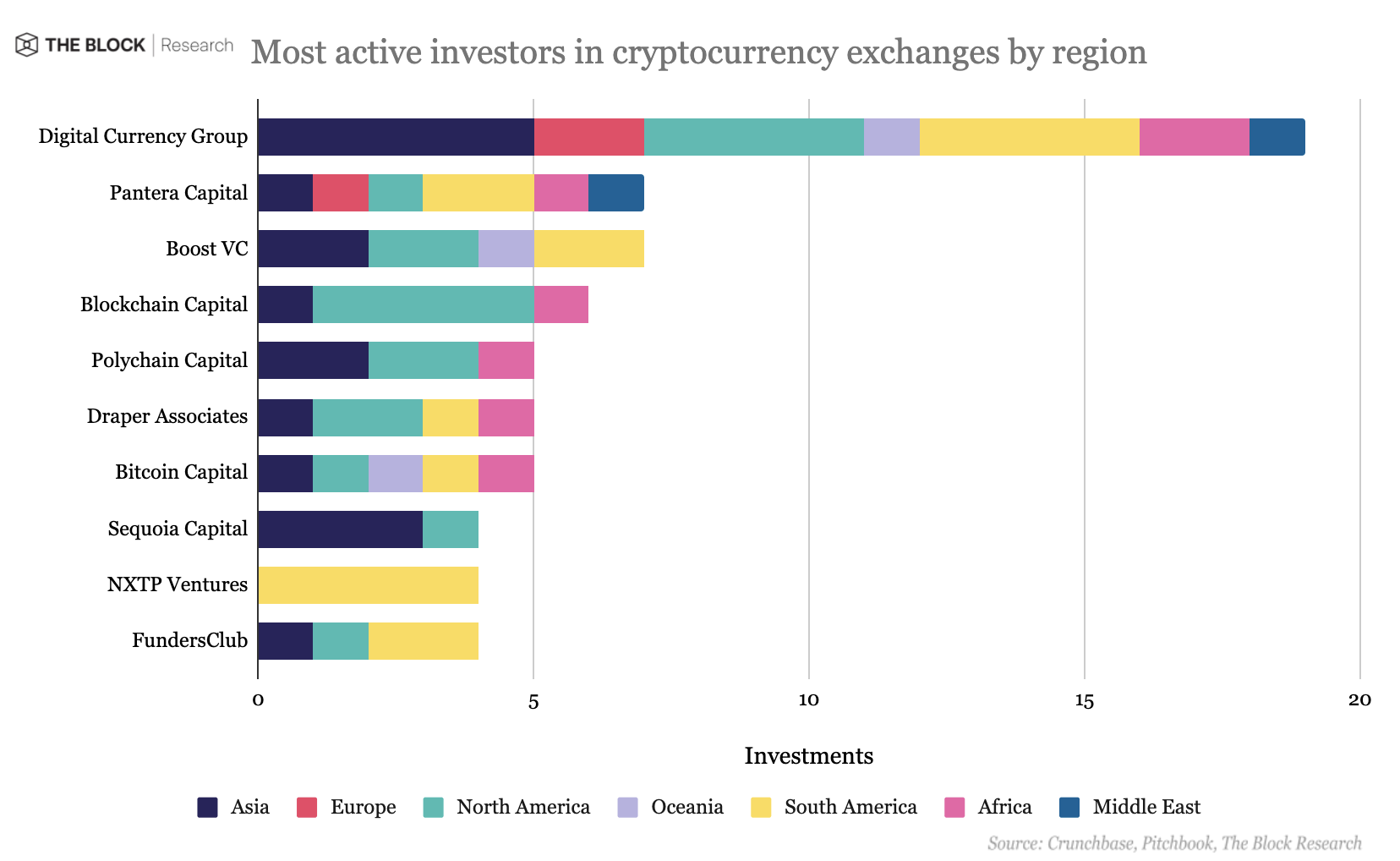 Digital Currency Group has been the most active investor in cryptocurrency exchanges, with 19 total investments. The firm's portfolio consists of businesses across all seven regions, with Asia, North America, and South America drawing the most attention.
The firm's exposure to Asia includes bitFlyer, BTCC, CoinFlex, Korbit, and Unocoin. It has invested in Coinbase, Paxos (itBit), Kraken, and the non-custodial ShapeShift for North American exchanges. For exposure to South America's potential growth, the firm has made investments in Bitso, Buda, Ripio, and Volabit.
Pantera Capital and Boost VC are the second-most active investors, each with 7 investments. Pantera's investments stretch every region except for Oceania, whereas Boost VC has not made an investment in an exchange that focuses on users in Africa, Europe, or the Middle East. 
Sequoia Capital has made four investments in cryptocurrency exchanges. Three of the four investments have been Asian-based, including Binance, CoinSwitch, and Huobi. The firm is an investor of Robinhood, which offers buying and trading services for crypto.
NXTP Ventures, an early-stage venture fund that focuses on companies throughout Latin America, has made four separate investments in exchanges catering to the South American region, including AirTM, Buda, Ripio, and SatoshiTango.
While Coinbase Ventures did not make the chart for most-active investors, the exchange has made three investments of its own in CoinDCX for exposure to India and AirTM and Bitso for exposure to South America.
Both the payments company PayU and its parent company Naspers had made an investment in the African-focused exchange Luno before it was acquired by Digital Currency Group.
© 2020 The Block Crypto, Inc. All Rights Reserved. This article is provided for informational purposes only. It is not offered or intended to be used as legal, tax, investment, financial, or other advice.
---
Source
---