Coinbase May Soon Launch Its Own IEO Platform and a New Token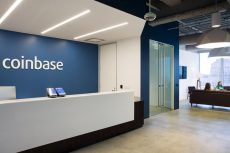 www.coinspeaker.com
2019-09-11 22:00
Reading time: ~2 m
---
Coinbase, San-Francisco based cryptocurrency exchange, is considering the launch of an initial exchange offering (IEO) platform and issuing proprietary exchange token. Such information has been provided by Kayvon Pirestani, Coinbase's head of institutional sales in Asia, during Invest: Asia conference on Wednesday.
According to Pirestani, an initial exchange offering (IEO) platform is one of several capital-formation tools currently being explored by Coinbase. He said:
"We think there's a really interesting opportunity there for Coinbase."
Pirestani added:
"In a nutshell, Coinbase is carefully exploring not only the IEO space but also STOs [security token offerings]. But I can't make any formal announcements right now."
An initial exchange offering is a crowdfunding strategy that relies on an exchange or multiple exchanges. The third-party exchanges make the smart contract, event planning, and some of the marketing campaigns. In the ICO, it is the developer that ensures the smart contract is correct and everything is conducted as planned.
The first exchange to start supporting IEO was Binance. By now, 12 cryptocurrency exchanges, including OKEx, Huobi, Kucoin, and Bittrex, have announced their IEO platforms, and 39 projects have already participated in IEOs.
According to Pirestani, the idea to launch an IEO platform can be brought to life in the next few months. Currently, Coinbase is making steps towards organizing STO campaigns. Earlier, the exchange acquired several third-party firms to become a regulated broker-dealer. As Pirestani has stated, security tokens 'talk a lot, but trade a lot less', that's why the exchange has decided to wait for an increase of interest in such offers on the market before taking action.
Just for a reminder, in August, Coinbase carried out a survey to figure out how the development of digital currencies will influence higher education. As the findings have shown, 56 percent of the world's 50 top universities now offer courses on decentralized technology, which is 10 percent higher than the previous year's percentage which was at 46 percent.
According to another survey carried out by Coinbase in association with Qriously on 732 students over the age of 16, results showed that 249 students which are 34 percent of the subjects, showed interest in studying digital currency. This number is 6 percent higher than the same survey carried out last year.
Recently, Coinbase has also introduced a new system called WalletLink for the Coinbase Wallet. The system establishes a secure bridge between your desktop browsers and the Coinbase Wallet app, which allows Coinbase Wallet users to explore their favorite decentralized applications (DApps) on any desktop browser.
---
Source
---
Similar news